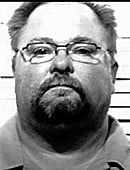 A Davenport man who police say sexually abused two minors over the course of 14 years was sentenced Wednesday to 25 years in prison.
Terry VanHoutan, 49, pleaded guilty in March to one count of second-degree sex abuse and one count of third-degree sex abuse.
He was sentenced by Scott County District Judge Nancy Tabor to concurrent terms of 25 years and 10 years in prison on those charges. He must serve at least 17 years in prison before he is eligible for parole.
"Mr. VanHoutan, this is a very troubling case," Tabor said.
Records state he abused one juvenile beginning in 1996 and another juvenile beginning in 1999. The abuse continued until last summer.
Additional counts of second-degree sex abuse and third-degree sex abuse were dismissed.
VanHoutan pleaded guilty in 2001 to two counts of indecent exposure, records state. He was sentenced to one year probation.
Get local news delivered to your inbox!
Subscribe to our Daily Headlines newsletter.