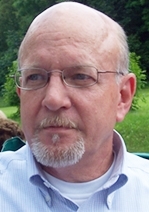 Born into a devout Catholic family, in a Davenport neighborhood full of Catholic households, Mike Uhde was raised to respect priests.
But as an adult, he bravely spoke out publicly in court — using his real name — about the sexual abuse he endured at the hands of a priest. His testimony came against the Catholic Diocese of Davenport, hoping to prevent that kind of abuse from happening to anyone else, his Davenport attorney, Craig Levien, said Thursday.
Uhde, 62, died of cancer Wednesday, more than seven years after becoming the second person to file a lawsuit against the diocese after it made 37 settlements with sex-abuse victims for $9 million in October 2004.
He later represented other sex-abuse victims during the church's subsequent bankruptcy proceedings, Levien said.
"He was willing to be the public face and take the criticism," Levien said of Uhde, adding that, at one point, the diocese blamed him for the bankruptcy. "He's one of the bravest men I've ever met."
In an interview with the Quad-City Times in 2006, just weeks after he won his case against the diocese and a day after the diocese declared bankruptcy, Uhde said he wasn't after money.
"Victims are not the enemy," he said. "We are your sons, your brothers, fathers, uncles, nephews, friends, neighbors. We did not ask for money. We asked for answers. We asked the diocese to help us find out why this happened to us and why the priests and bishops responsible were never punished, but instead in many cases, they were promoted."
A gathering with his family will be 2-4 p.m. Saturday at Halligan-McCabe-DeVries Funeral Home, Davenport.
In an emailed statement Thursday, Davenport Diocese Bishop Martin Amos said, "Mr. Uhde carried the pain of abuse for many years. I pray that he has found peace. My prayers and sympathy are extended to his family and friends."
Uhde enjoyed woodworking, gardening, traveling and spending time with his family. He also liked to golf and "had an extraordinary passion for music," his obituary states.
But some might know him better for the lawsuit he brought against the diocese in July 2005 and his public role in the diocese's bankruptcy, when he served as chairman of the court's creditors committee. He represented the sex-abuse victims involved in the case, attending mediation hearings in Chicago on their behalf.
"He was a leader in demanding church reforms," Levien said.
Uhde's lawsuit stated that he was sexually and physically abused for years by Monsignor Thomas Feeney, a priest who served later as vicar general, or second-in-command, of the Davenport diocese. He died in 1981.
Feeney's abuse began when Uhde was 7 years old, the lawsuit stated. It ended in the seventh grade, when Uhde told his mother and she reported it, he said.
Even though Uhde had been awarded a $1.5 million judgment against the diocese from his lawsuit, he didn't raise his hand to get paid ahead of the 160 other people who received settlements through the bankruptcy proceedings, Levien said.
Uhde also was "very instrumental" in setting up a claim fund for other potential victims who could not meet the bankruptcy deadline. About 40 people have benefitted from that fund, which required Uhde and others to give up some of their settlement money to create it, the attorney added.
In recent years, Uhde retired and was able to reconnect with all of his family before he died.
"I think he was able to die in peace, knowing he had done the right thing," Levien said. "He didn't do this for the money. He wanted to make sure what had happened to him didn't happen to others."