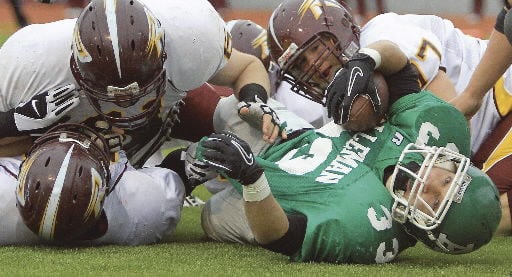 The Mayo Clinic threw its prestige behind a sidelines test for concussions in contact sports Tuesday, calling it the "gold standard" of such examinations.
Known as the King-Devick Concussion Screening Test, it initially was developed several years ago. But evidence of its benefits has been proven more recently in no less than 25 studies, it was reported at a news conference to announce the partnership.
The test objectively measures an athlete's reaction time, eye movement and mental clarity.
"Studies have indicated that the King-Devick test is an effective tool for the real-time evaluation of concussion because it looks at rapid eye movement and attention, both of which are affected by concussions," said Dr. David Dodick, a neurosurgeon and the director of the Mayo Clinic's concussion program in Phoenix.
The recent studies have shown the examination is both quick and accurate, said Steve Devick, the test's founder. It costs $5-$10 for each child in an athletic program. It is based on reading numerals and is used on traditional flip-charts, a tablet or a laptop computer. A smartphone app also can be utilized.
Parents as well as coaches and personnel like athletic trainers can administer the test, which can be used for all team sports with the aim of helping to determine whether an athlete really has to leave a game due to a concussion or not.
Deciding when an athlete should be removed from the field of play is a key to preventing more serious injury, and athletes routinely deny, or do not realize, that they have concussion symptoms. According to the Centers for Disease Control and Prevention, or CDC, an estimated 1.6 million to 3.8 million young athletes per year are concussed.
Dodick, the Mayo Clinic neurologist, expects the CDC estimates to grow since he said that up to 50 percent of athletes do not disclose their symptoms. The test has also been proven to detect unwitnessed, unreported and so-called "silent" concussions.
The King-Devick test is already used at the NCAA Division I college level, including the sports team at the universities of Miami and Florida.
In partnership with the Mayo Clinic, the test was introduced to the Pop Warner youth football leagues in Arizona and at 30 schools around Phoenix.
In 2011, the state legislatures in both Iowa and Illinois mandated that school districts become more proactive in terms of preventing brain injuries.
Quad-City area school athletic directors said they are protecting young athletes as much as they can with current programs, including Vital Signs, a service of Genesis Health System.
However, the various officials note that information about concussions is something that changes often, and they recognize that the new test may be helpful.
"It seems like this may be the next step," said Kurt Kreiter, the athletic director and former football and wrestling coach at Central DeWitt (Iowa) High School.
Kreiter said there has been an emphasis on head injuries at all levels of competition, but the testing and care of the student-athletes is becoming more refined. 
Central DeWitt currently uses the Vital Signs program, as does the North Scott School District in Eldridge and United Township High School in East Moline.
"We are learning as we go," said Mike Tracey, the longtime athletic director at United Township. He termed the concept of the King-Devick test "intriguing" and said school officials likely would take a look at it.
"Anything to keep our kids safe," he added.
Jason Schroeder, the athletic director at North Scott, agreed. "We look at anything that's new and will use what we think is best for the kids," he said.
The Geneseo (Ill.) School District also uses a proactive brain injury program, athletic director Travis Mackey said. That includes a battery of tests — some physical and some cognitive in nature — before a sports season begins.
Like other districts in the Quad-City region, Geneseo routinely uses an athletic trainer and has a physician on the sidelines who can do brain injury assessments. If there is a question, the athlete is kept out of the contest, Mackey said.
Get local news delivered to your inbox!
Subscribe to our Daily Headlines newsletter.