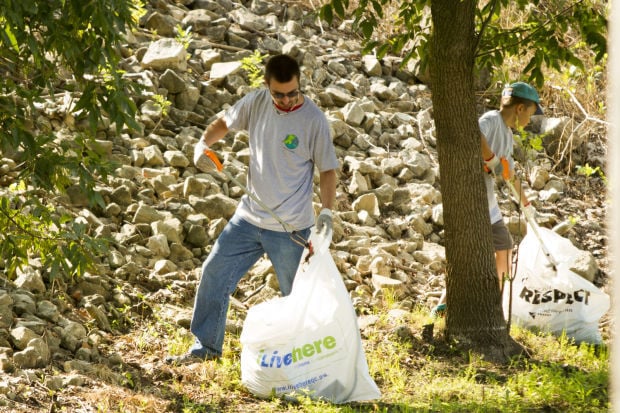 A new initiative has come to the Quad-Cities, aiming to clean the Mississippi River by tracking the litter that has yet to enter its waterways. 
The Mississippi River Plastic Pollution Initiative is calling on volunteers to track the amount and types of litter in certain spots in the Quad-Cities through a debris tracker app, to gather data on pollution in the Mississippi River and the waterways flowing into it. 
Volunteers will use the Marine Debris Tracker app, feeding into a collection of data for the whole area. 
"It will be huge for us to know what litter there is and where it's entering waterways, to take action and prevent that," Waste Commission of Scott County Communications and HR Manager Megan Fox said. 
A news conference where Quad-Cities mayors will formally announce the initiative will be Oct. 15 in Jetty Park in Bettendorf. The Waste Commission of Scott County is the local contact for the initiative, and Xstream Cleanup is facilitating data collection at its cleanup events. 
The Mississippi River basin touches 31 states, and the marine plastic from all those areas breaks down and travels to the Gulf of Mexico, where it enters the ocean. 
Learning what's going into the river will help inform organizations like the Waste Commission of Scott County how to better educate people and advocate for infrastructure that will help catch litter before it gets into the water. 
"This works as a great partnership, to not only clean up but to gather data to take further informed action," Fox said.
Led by the Mississippi River Cities and Towns Initiative and partnered with United Nations Environment Programme, National Geographic Society and the University of Georgia, the initiative has gone through three pilot programs, in St. Paul., St. Louis and Baton Rouge. 
Bettendorf Mayor Robert Gallagher is the past co-chair of the Mississippi River Cities and Towns Initiative and said in two of the three pilot programs, cigarette filters were the most common litter found by volunteers. 
It made sense to bring the tracker to the Quad-Cities after the pilot programs, Gallagher said, since it already went through St. Paul and St. Louis. In the future, the tracker will be implemented in other river regions to get a more complete picture of the state of plastic pollution in the Mississippi River. 
"We hope that the app will be deployed over the river corridor to get information from all over," Gallagher said. 
While the push for volunteers to track litter goes through October, the goal is to have people gather data consistently throughout the year, to get a clearer picture of how plastic pollution entering the waterways changes.