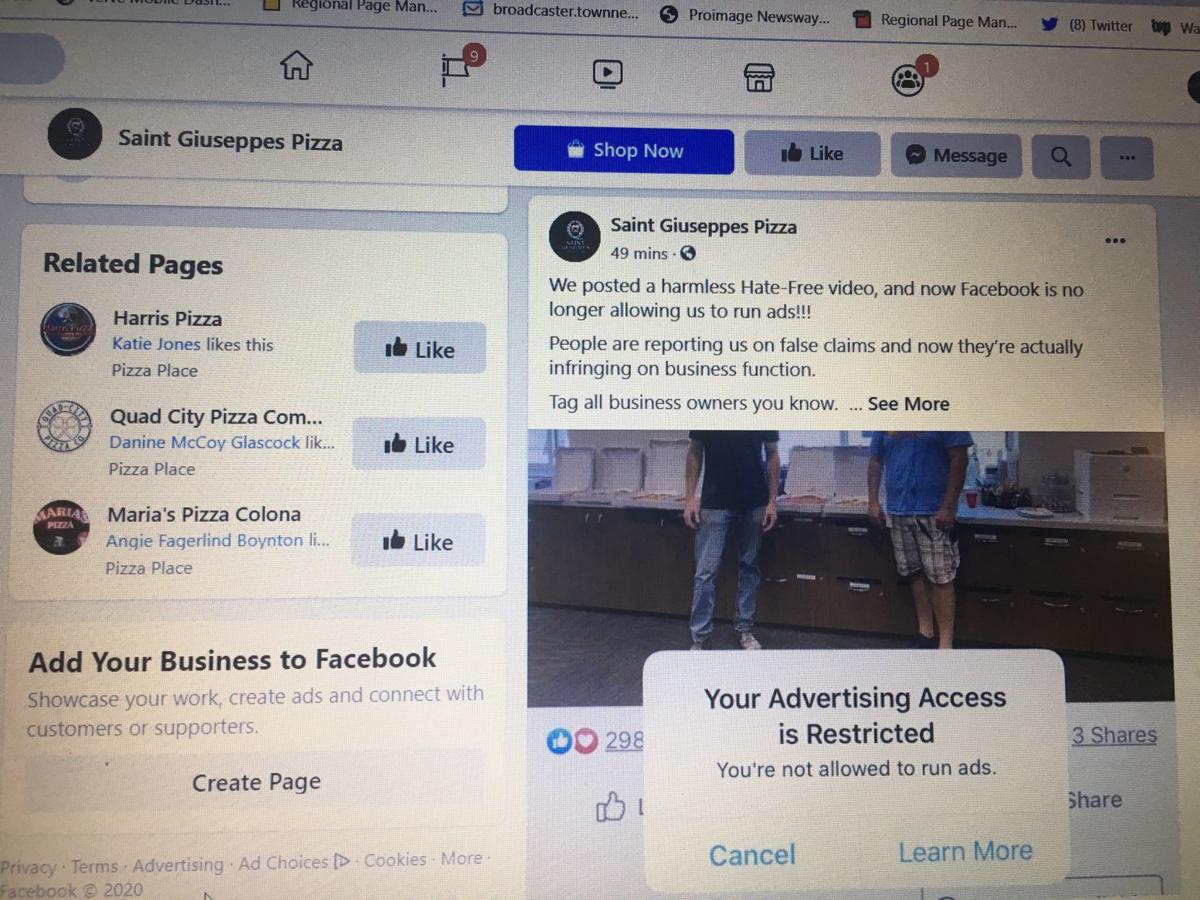 Joe Schilling, the 26-year-old owner of St. Giuseppe's Heavenly Pizza in East Moline, is increasingly mixing pizza and politics.
It's a strategy that's garnered attention from leaders of national fringe political groups. But some customers say the restaurant's social media posts cross a line and have led to threats against patrons when they've complained.
The son of Republican former Rep. Bobby Schilling, Joe Schilling has used the restaurant's Facebook page to blast the protest movement. He has openly flouted Illinois' COVID-19 business restrictions. And most recently, he appeared on an online show on Censored.TV hosted by right-wing provocateur Gavin McInnes, also the founder of the Proud Boys, a political movement that sprung up during the 2016 election and is often accused of being a white nationalist group.
"The two biggest ruses, possibly of all time, are blacks being victimized … hunted like dogs for sport, and this massive pandemic," McInnes said during the segment with Schilling. The restaurateur agreed with both statements.
During the broadcast, Schilling also touted a program where local police officers were delivering his pizzas to "low-income folks."
Not true, say local police. While Schilling has made pizza donations to local departments, none said they were aware of a program with the restaurant. In fact, East Moline police stopped accepting his free pizzas this month when he used photos of the donations to make anti-protest comments online.
"It became clear that Joe Schilling was tying his gifts of pizza to wider political message and maybe using it to sell pizzas," East Moline Police Chief Jeff Ramsey said. "As a department, we just prefer not to be put in the middle of anything. We're here for all people, and we don't ask about politics or anything like that, so we just didn't want to be associated with that."
Schilling did not respond to repeated calls and emails requesting comment for this story. 
He told McInnes he's been a "victim of political targeting."
"There is the clear presence of Antifa where I live," Schilling said during the segment, referring to the left-wing protest group, though police have not said there's any evidence of outside organizers helping with Quad-City protests. "They don't claim to be. But they are. You tell just by the way they act."
Schilling's family has long been tied to far-right politics. His father, the former owner of the pizza restaurant, was a favorite of the Tea Party when he served in Congress but was defeated earlier this month in the Republican primary for Iowa's 2nd Congressional District. Schilling's brother, Terry Schilling, lives in northern Virginia and is the executive director of the American Principals Project, described by the Schillings as an "NRA for family values" that asserts marriage can only be between one man and one woman and rejects any recognition of transgender people. Bobby Schilling also drew media scrutiny in late 2019 when white nationalist Nick Fuentes appeared at an immigration forum where Bobby Schilling also spoke. A marcher in the infamous Unite the Right rally in Charlottesville, Va., Fuentes advocated for a "monoculture" during his remarks and was later denounced by Bobby Schilling.
The restaurant's online rhetoric began to ramp up as the the COVID-19 pandemic unfolded and Illinois officials limited dine-in restaurants to carry-out only. Schilling began to voice his opposition to the rules and claimed " … no matter what party you're from, you shouldn't support this kind of tyranny." Schilling repeatedly said the restrictions were "… destroying my business" and said individuals "… should have the right to choose if they want to go into a restaurant."
Schilling first drew the ire of some customers when he said he and his staff were flaunting all safety requirements developed by the state in response to the pandemic.
In a number of Facebook posts Schilling said he was enjoying "illegal gatherings" in his restaurant with family members or friends. During his interview with McInnes he said he'd "… not once worn a mask once during this pandemic."
On June 5, Schilling offered up criticism of the Black Lives Matter movement. In a video posted to Facebook, Schilling points his camera's phones at people readying to protest and promises they can come for pizza at St. G's.
With the camera pointed at some protesters, Schilling then said, "That's them. Full of hate. Full of hate. Full of fear. And they fear the fearless." 
Schilling's video provoked a number of reactions from customers. Colin Goodman said he first decided to stop being a customer at St. Giuseppe's, then decided to leave a review of the restaurant's Facebook page.
"After I posted, I was promptly greeted by a troll called Gray Man," Goodman said. "We exchanged a lot of words, the way you do on Facebook. Then my girlfriend left a review and Gray Man insulted her.
"So I tried calling the store, but no one picked up. Then friends called me and texted me to say my number had been posted on the St. Giuseppe's Facebook page. Then my phone started blowing up.
"Most of it was harmless. But there was one threat."
Goodman first contacted the Moline Police Department, then the East Moline Police Department, and was told his number was removed from the Facebook page.
Schilling also posted a video deriding Chase Wilson's call that the business be boycotted until the restaurant followed the health guidelines set out by the state for operating during the pandemic. Schilling mentioned that Wilson wanted to lift the boycott he called for if the request was met.
"Talk about social … socialism. Socialism. I can't pronounce it," Schilling said. "Communism, that's what I call it." 
On Thursday, the restaurant posted that Facebook had barred it from advertising on the social media platform after posting another video.