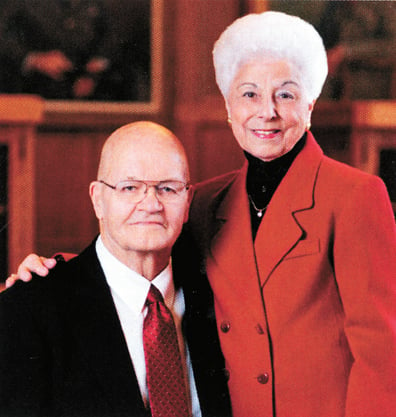 Three years ago, Lawrence Matteson of Moline received a prostate cancer diagnosis for which he was successfully treated at the Mayo Clinic. Now, he and his wife, Marilyn, have shown their gratitude by donating $10 million to make the experience for the institution's cancer patients even better.
The Mattesons decided to grant the money to the well-known clinic's new Proton Beam Therapy Program, feeling it would benefit the most people possible, Marilyn Matteson explained during an interview Monday afternoon at the couple's home.
The clinic also will use matching gift funds to establish the Lawrence and Marilyn Matteson Fund in Cancer Research.
Lawrence, or Larry, was born on an Iowa farm during the Great Depression. In 1971, he founded the L.W. Matteson Inc., a marine construction and dredging company based in Burlington. He sold that business in 2010 and now consults with his son, Lawrence Matteson Jr., at Matteson Marine in Burlington.
"He has worked hard all his life," his wife said. Marilyn is retired from the former John Deere Insurance.
Before his 2009 cancer diagnosis, Larry had previously gone to the Mayo Clinic several times, mostly for check-ups, she explained. Now 82, he and Marilyn, 81, married in 1983 and have three living children, seven grandchildren and are anticipating the arrival of their sixth great-grandchild.
Almost all members of the Matteson family were present for a reception Friday at the Mayo Clinic. The gathering included a couple the Mattesons befriended during Larry's cancer treatment in Rochester, which stretched over a couple of months. His treatments ended in January 2010 and he has felt well ever since, his wife said.
Having been very impressed with the treatment he received, the couple included the Mayo Clinic as they sorted out their philanthropic plans. Larry underwent radiation treatment for his cancer, and the couple views the proton beam therapy as an improvement on that process. The first treatment rooms will be available during 2015 in Rochester and 2016 in Phoenix.
Further, Marilyn was impressed with how the new therapy uses a focused beam of radiation that causes less tissue damage in patients, especially children.
"This gift is going to benefit children who are going through terrible cancers to not have the residual effects they would have with regular treatment," she said. "The side effects won't be something that follows them for the rest of their lives."
The radiation therapy is especially effective in sensitive areas such as the brain and lungs, the clinic says. It works well in children since youngsters are at a higher risk for radiation damage because their bones and tissues are still growing.
"Mr. and Mrs. Matteson wanted a way to show their gratitude and chose to donate funds that will help us to ease the burden that cancer has on patients, especially young children," said Dr. Robert Foote, who chairs the clinic's department of radiation oncology.
According to Mayo Clinic officials, the program will use the most advanced intensity-modulated technology — also known as pencil beam scanning — available. Two centers are being built, one in Rochester and one in Phoenix, and the Mattesons' name will be on one of the four "gantries," or treatment areas, at the Rochester location.
"Mayo Clinic receives gifts starting at $1, so the Mattesons' $10 million gift is a very significant gift," said Dr. Michael Camilleri, the clinic's executive dean for development, adding that it will help many of the approximately 2,400 people who come to the clinic annually for cancer treatment.