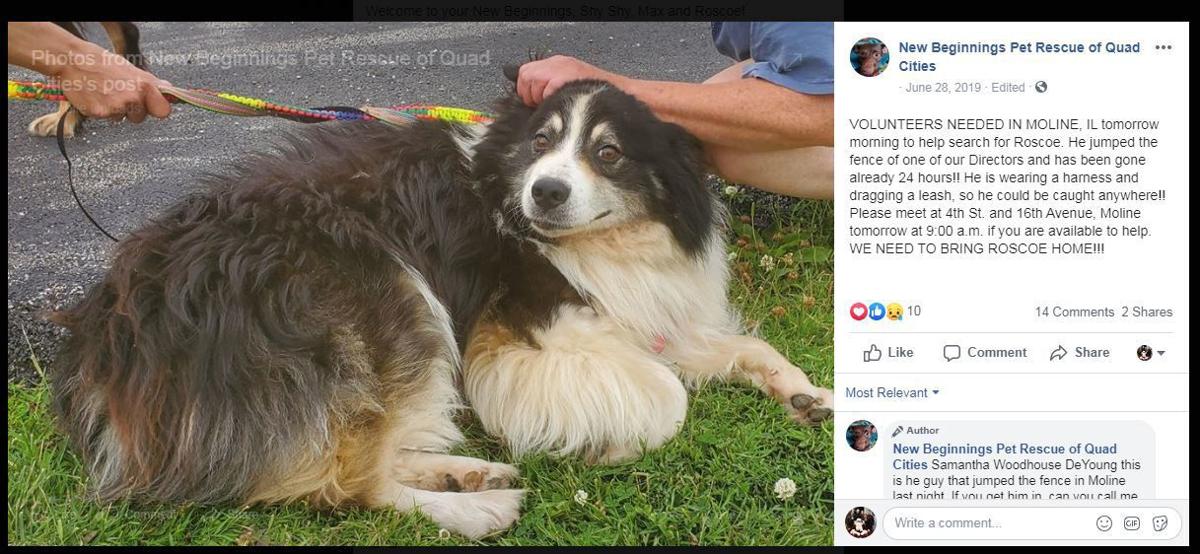 Moline police remain on the case of Roscoe, who has avoided capture since June.
Quad-Citians who want to help should sit. And stay … away. Otherwise, they may be cited for hindering the duties of a community-service officer.
Roscoe, an Australian shepherd or border collie, took off in June and continues to hide out in the eastern part of Moline.
Detective Jon Leach, public information officer, said Monday the best way to help Roscoe, still at large Monday afternoon, is to keep your distance.
Last year, after Roscoe's elderly owners died, New Beginnings Pet Rescue transported the dog from Missouri to find him a new home. On June 28, when he arrived, Roscoe jumped a fence and took off.
He has been hiding out ever since.
"The dog used to enjoy free-roaming, and spent most of his time in a park" in Missouri, Leach said.
You have free articles remaining.
"We encourage people not to approach the dog or feed it," he said. "We're going to start citing people."
Because people are feeding him, Roscoe has a food source, Leach said. So Roscoe can avoid live traps that are baited with food. 
In addition to the live trap, trail cameras are set up in the area. Leach did not want to say what area the dog is in, but that is indicated on the department's Facebook page.
Roscoe is skittish of humans, Leach said, and will run away if he is approached. "When people go up to him, he hides," he said.
Trained professionals from New Beginnings and Quad-Cities Animal Recovery Team (the organization that helped in the recovery of the errant corgi Annie last year) are trying to humanely capture the dog so he can be returned to safety and ultimately find a good home.
"Moline Police Department doesn't want to issue citations," Leach said. "I understand people feel bad for the dog."
A city ordinance prohibits people from interfering with law enforcement who are trying to capture an animal. Additionally, according to the Facebook post, live trapping is prohibited without the written approval from the Moline police chief.
Leach said the dog has been fed all kinds of food, including chicken: "He's actually the first dog in the history of the United States to get fatter since he's been on the lam."