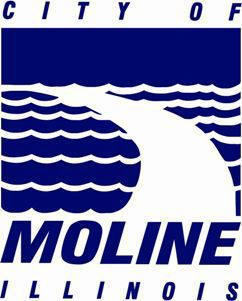 The city of Moline is proposing a tax rate of $2.01 in its 2021 budget, a slight decrease from its 2020 rate of $2.05 per $100 of equalized assessed value, or EAV.  
The amount equals $2,010 per $100,000 of EAV for a homeowner for the city's portion of property taxes. The city collected $15.9 million in property taxes for fiscal year 2020. The 2021 budget will see a decrease of $100,000 in overall property taxes, with an estimated levy of $15.8 million. 
Interim City Administrator Marty Vanags and Finance Director Carol Barnes presented the draft budget to city council members during the committee of the whole meeting Tuesday night.
Barnes said there is enough money available for the library to hire three additional staff members. Alderman Mike Wendt, Ward 3, said it would be a good idea considering the need for additional library assistance as schools move to increased online learning due to COVID-19.
Wendt made a motion for staff to put together a five-year budget for the library and parks and recreation by February. 
"This will allow us to see what the next five years looks like," Wendt said. "It will help assist us in giving them some guidance on the parameters of what the funding sources and amounts will be over that period of time so they can adequately plan for their hiring and long-term liabilities."
Alderman Dick Potter, Ward 4, opposed, but was in the minority, with the motion passing.
"I don't see the need for this," Potter said. 
Alderman David Parker, Ward 2, encouraged the library board to hire someone to fill the vacant marketing position, saying the library depends on grants and fundraising to support its purpose. 
In the 2021 budget, the city anticipates an equal amount of $97.5 million in revenues and $97.5 million in expenditures. 
The main sources of revenues will be $36.1 million in taxes; $26 million in charges for services, such as water and sewer; and $24.2 million in intergovernmental revenue.
The highest anticipated expenses will be $33.4 million for public safety (police and fire); $19.7 million for internal service funds; $16.9 million on business and enterprise; $12 million on police and fire pensions; and $11.5 million on capital improvement projects. 
Property taxes paid to the city are used for library services, parks and recreation, and for the pensions of firefighter and police personnel. The largest portion of the levy — 40.6% — will go to firefighter pensions; 35.7% will go to police pensions; 16.8% will go library services; and 6.8% will go to the general fund portion designated to parks and recreation. 
Get local news delivered to your inbox!
Subscribe to our Daily Headlines newsletter.