After a century of leading boys on wilderness adventures throughout the U.S., Boy Scout Troop 109 in Moline is eager to take a sister troop under its wing.
The enthusiasm swelled this week, leading up to Saturday's public celebration of the troop's 100th anniversary with Sacred Heart Catholic Church in Moline, the group's charter sponsor since 1918.
"Our troop is very family-oriented," said Shellie Houtekier, assistant scout master, whose two sons, Zachary, 12, and Connor, 14, are advancing through the ranks. "A lot of sisters are excited about earning the same badges and awards their brothers have been earning."
Her husband, Jeremiah Houtekier, joined the troop in 1985 and eventually became an Eagle Scout. His wife began volunteering by his side in 1998.
"It just stuck with me," said Shellie Houtekier, an outdoors enthusiast. "I've gone on numerous campouts with the boys, so to me, it just seems natural to have the girls involved."
As of June 11, families were able to enroll their daughters, age 6-10, in Cub Scouts associated with the Illowa Council, which oversees 82 troops in Iowa and Illinois.
"We have three girls who are registered Cub Scouts now at our day camp this week," said Chris Kangas, director of the district that encompasses 24 troops in Rock Island, Henry and Mercer counties. 
Under the new guidelines, existing Cub Scout packs are not required to allow girls into their groups, known as dens. The chartered organization that sponsors the pack may make that decision, establish a new all-girl pack or create one that consists of separate boy dens and girl dens.
Girls ages 11-18 may begin earning the prestigious Eagle Scout rank in February, when Boy Scouts of America officially becomes Scouts BSA. 
Although they may share some equipment and leaders, sibling troops will be divided into all-boy groups and all-girl groups.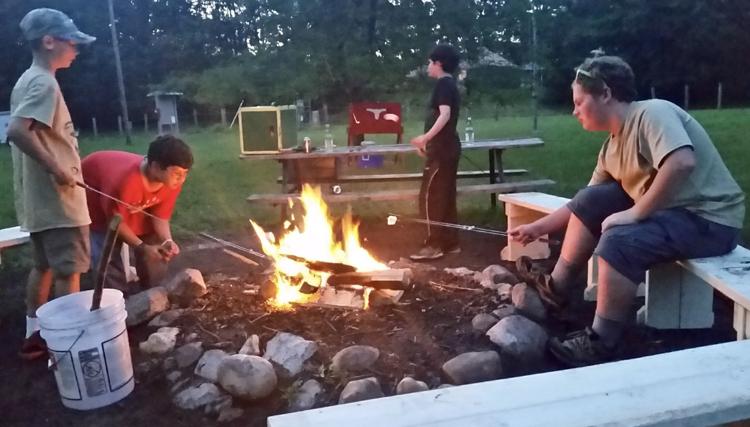 "They might even go camping together, but they'll be at different campsites," Kangas said.
The national organization, which was incorporated in 1910, plans to use its traditional curriculum for its future girls' program.
"The same things we ask of the boys we'll ask of the young women," said Jeremiah Houtekier, Troop 109's church liaison, who supervises fellow adult leaders, among other duties.
John DeWitt currently serves as scoutmaster of the 30-member group.
Troop 109's roots also date back to 1910, but it has continuously rechartered since 1918. In the past century, 107 scouts from the Moline troop have achieved the Eagle Scout rank, a "very impressive" statistic, Kangas said. Just 7 percent of boys who join troops reach that level of scouting, he added. 
Shellie Houtekier said they encourage their boys to pursue the Eagle Scout rank before they get their driver's licenses, when life gets busy with other activities. She enjoys watching the scouts mature as they climb the ladder. 
Merit badge challenges and outdoor excursions around the country teach them a variety of skills, including responsibility, leadership, loyalty and service, Shellie Houtekier said. 
In July, members of Troop 109 will venture to Philmont Scout Ranch in the Sangre de Cristo Mountains — the southernmost sub-range of the Rocky Mountains — of northern New Mexico for hiking and camping. They routinely take trips to the Boundary Waters Canoe Area Wilderness in northern Minnesota as well as the National Scout Jamboree in West Virginia. 
Geneseo Boy Scout Troop 131 hit the century mark last year, and several other groups in the region are approaching that same mark, Kangas said.
"Anyone that's getting up to that level is pretty substantial," he said.