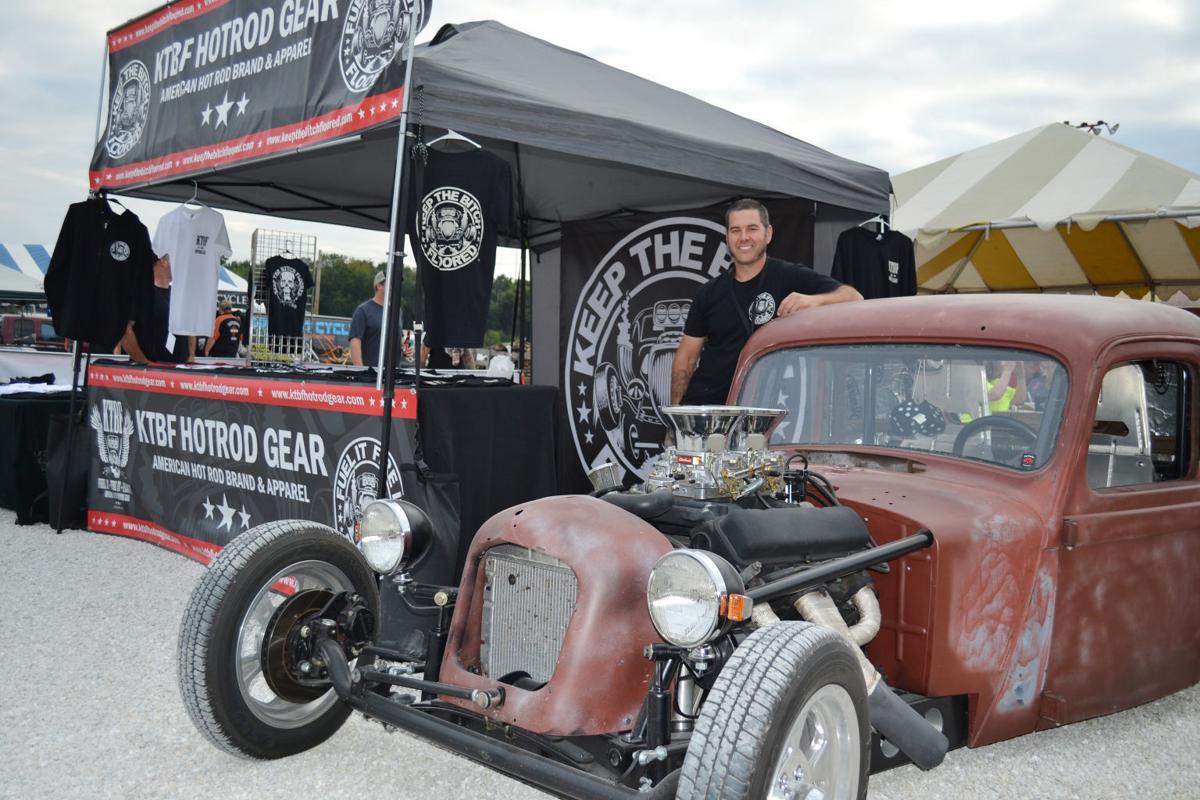 MUSCATINE, Iowa – In the early '90s Travis McConnaha was a hot rod-loving teen cruising to Muscatine High School in his '73 Chevy Nova. He enjoyed sketching cars and monsters, playing in the marching band drumline and in a popular garage band. He loved music, the arts and design, but wasn't quite sure what he wanted to be when he grew up.
"I have always wanted to do my own thing, even when I was a little kid. I always did what I wanted even if I got into trouble," McConnaha recalls.
After years of soul searching, changing careers and shifting gears he's taken a path he never dreamt of: designing imagery for his own hot rod apparel brand "Keep the B**** Floored."
Monsters driving gassers, skulls with slicked back hair and pinstripes are some of the elements in his designs that are geared toward a growing culture of unconventional car lovers.
His old-school-meets-new-school style often starts with pencil and paper or hand-drawn ideas on his tablet and is refined with computer software. Each piece of art typically takes 10-60 hours to design.
First launched as a content site in 2012, his website is now dedicated to the sales of rat rod and rockabilly-themed shirts and decals. Not only does he sell online, McConnaha travels the region as a vendor at car shows and festivals to get his brand recognized on the circuit.
McConnaha has a bachelor's degree in computer graphics and has been a professional designer since 1998. He develops illustrations and logos as a side business away from his information technology job in Cedar Rapids. Conveniently, he also worked in a T-shirt shop in the past, adding to his experience.
"I have branded everything – that's what I am good at. I can work a logo into what the brand stands for, that's probably why I am able to market and advertise the way that I have – I understand branding," McConnaha said.
Since launching his apparel brand with 300 black t-shirts emblazoned with his first logo, McConnaha's KTBF and Fuel it, Fire it, Floor it trademark have garnered 80,000 Facebook fans and 17,000 Instagram followers. In the summer, KTBF's busy travel season, McConnaha spends 40 hours at work and nearly as many working on the new business. This month has been his busiest ever for sales.
In the beginning McConnaha would take the front seat out of his 1968 Ford Thunderbird (which he loves to do burn outs in at car shows) in order to haul his wears, but now he has a trailer to pack full of boxes. His basement at home has turned into a shipping and storage center for his dream job.
Things are heading in the right direction for the artist, who admits that wasn't always the case.
"I lost my job a few times, which was a struggle. At one time I decided to follow my music dream with my band, Cornfed Bruiser. I just needed to find the right thing for me," he said.  "I always had a day job with a side plan. So many times my family thought 'What is wrong with you? You can't sit still…'"
That family – and his home town - is what keeps him going. His friends and his parents Parke McConnaha and Robyn Hogan support everything he has done. His wife, Erin (Lessenger), is one person he can't give enough credit to for holding things together.
"If it wasn't for my wife and the Muscatine support that I have this wouldn't be possible. Muscatine has been the biggest backing for me, it blows me away," he said, "Muscatine is my home and someday I would imagine we would be back there."
In the meantime, McConnaha is working on his connections and has recently met contacts from national publications such as Rat Rod Magazine. He's traveled as a vendor to 13 regional shows in 2015 including Vintage Torque Fest, Rat Rod Build Off, Wisconsin's Symco Shakedown and Kansas City's Greaserama. His goal is to sell his designs at the Viva Las Vegas car show and Texas' hot rod and custom festival, Lonestar Round Up.
"I want to double the shows in 2016," he said. "I want to grow online sales, and in the future, add a kids' clothing line."
He enjoys talking to the patrons of the shows he attends and just "being a nice guy."
"I have committed more time to gaining credibility. I try to treat people nice and I am sincerely happy they are my customers," He said.
McConnaha added that another of his key components is to remain humble and offer top quality apparel that resembles his vison.
"KTBF is part of me. It is my best expression. It is how I am as a person," He said.