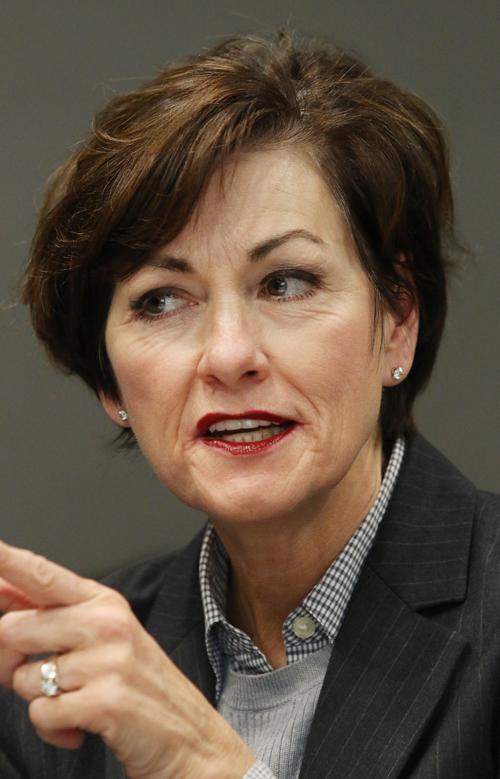 CEDAR RAPIDS – She hasn't started interviewing people to replace her, but Lt. Gov. Kim Reynolds knows what she's looking for in her replacement.
"Trust is huge," Reynolds said Friday as she discussed her likely elevation to the state's top office sometime later this winter – most likely in February or March, she said -- when Gov. Terry Branstad's nomination to be ambassador to China is approved by the U.S. Senate.
She wouldn't mention names of people she is considering, but Reynolds wants someone who will be her partner in the same way she has been Branstad's partner for the past six years – running and serving as a team.
"That was appealing to me because I like being at the table," she said.
"I think there are a lot of misconceptions about the lieutenant governor," she said. "Sometimes the perception is that the lieutenant governor doesn't do that much. I've tried to change that. I've tried to be very active, very visible. I can guarantee you I'm gone all the time."
So the former pharmacist assistant, Clarke County treasurer and state senator is looking for someone to match her enthusiasm and passion for state government.
"I want somebody who works hard, they have to have fairly thick skin, a people person, someone who I trust," Reynolds said. They also have to be an "idea person" with solid knowledge of state government issues, but not necessarily an expert.
Economic development will continue to be a priority so the next lieutenant governor has to be "someone who can market the good things."
And she's looking for a running mate, someone interested in being governor someday.
"I've said all along that if you are going to serve as lieutenant governor that should be something you consider," Reynolds said. "If not, you should step out and let someone else serve in that capacity who would be willing to continue once you make the decision not to run again."
She's not limiting her search to elected officials and people already in state government. Neither is she looking for a "yes man" or "yes woman." While she and the governor are "aligned for the most part … (but) we have some different approaches to how we would handle things.
"There have been times when we've done judicial interviews that we picked different candidates," she said.
For the most part, Reynolds is satisfied that Branstad has been "pretty receptive" to her ideas and she' been able to contribute to policy decisions.
"But he is the governor. I am the lieutenant governor. You have to respect that," she added.
The close working relationship will pay off in a seamless transition whenever Branstad departs for China, Reynolds said.
She also expects the transition to be low-key. Reynolds isn't planning an inaugural ball.
"No, probably not," she said with a laugh. "My family might get together and we might throw a party."