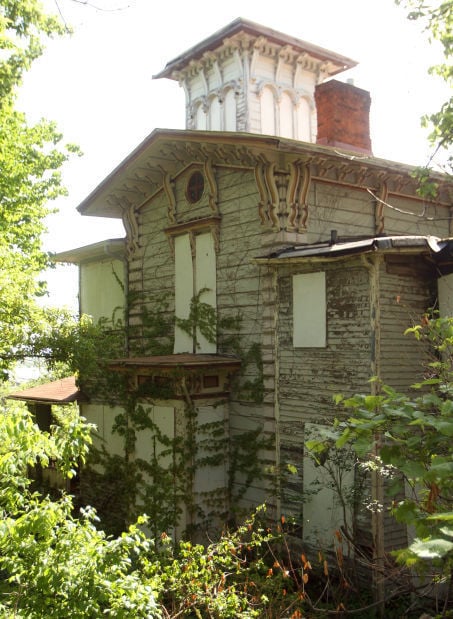 After standing by helplessly for years as one of Davenport's most significant homes — which has local landmark status — fell into ruin, members of a nonprofit group are itching to begin rescue efforts.
Their enthusiasm comes on the heels of a compensation hearing held Monday in which the city of Davenport took possession of the Lambrite-Iles-Peterson home at 510 W. 6th St., paying $34,000 to its owner, Gordon Mueller.
The action by the six-member, court-appointed panel was the last step in condemnation proceedings that began with City Council approval in May.
The goal was for the city to obtain the title and then turn the property over to the Friends of 510 to clean up and stabilize the building, plus find a buyer to renovate it, said Alderman Bill Boom, whose 3rd Ward includes the Gold Coast neighborhood in which the home is located.
The compensation hearing was held at the Scott County Administrative Center and included an adjournment to walk around the perimeter of the nearby house that is marked by overgrown brush and holes in the soffits, said Mike Ryan, who heads up Friends of 510.
The price was determined after a presentation by Brian Heyer, assistant city attorney, and consideration of an appraisal by Integrity Appraisals of Bettendorf, which pegged the value at $34,000.
Mueller attended the hearing, but did not speak, Ryan said.
The house was built about 1857 and is known as the Lambrite-Iles-Petersen house for its significant past owners.
Joseph Lambrite was a sawmill owner, Thomas Iles was the chief surgeon at the Confederate prison camp on Arsenal Island and Petersen was the operator of the J.H.C. Petersen and Sons store in Davenport, a predecessor of the Von Maur department store chain. The home's architect was the prominent J.C. Cochran, whose other credits include Iowa's state Capitol.
The Friends of 510 has secured nearly $40,000 in pledges toward its work, which will include restoring utilities and securing the house against further damage from the elements, Ryan said.
Another immediate step will be to hire a structural architect and conservator to closely inspect the property and give advice on what can be saved, what is too far gone and what the priorities should be, he said.
The group will develop criteria for restoration with estimated costs and potential sources of funding, and also will begin marketing the property.
"I applaud the council's action and would love to use this (condemnation) in other cases," Boom said.
Mueller was described as an "urban pioneer" when he moved into the neighborhood in the late 1970s and the home was a showplace. But it became seriously deteriorated in recent years and was declared unfit for occupancy in 2010. Neighbors offered to help, but Mueller declined.