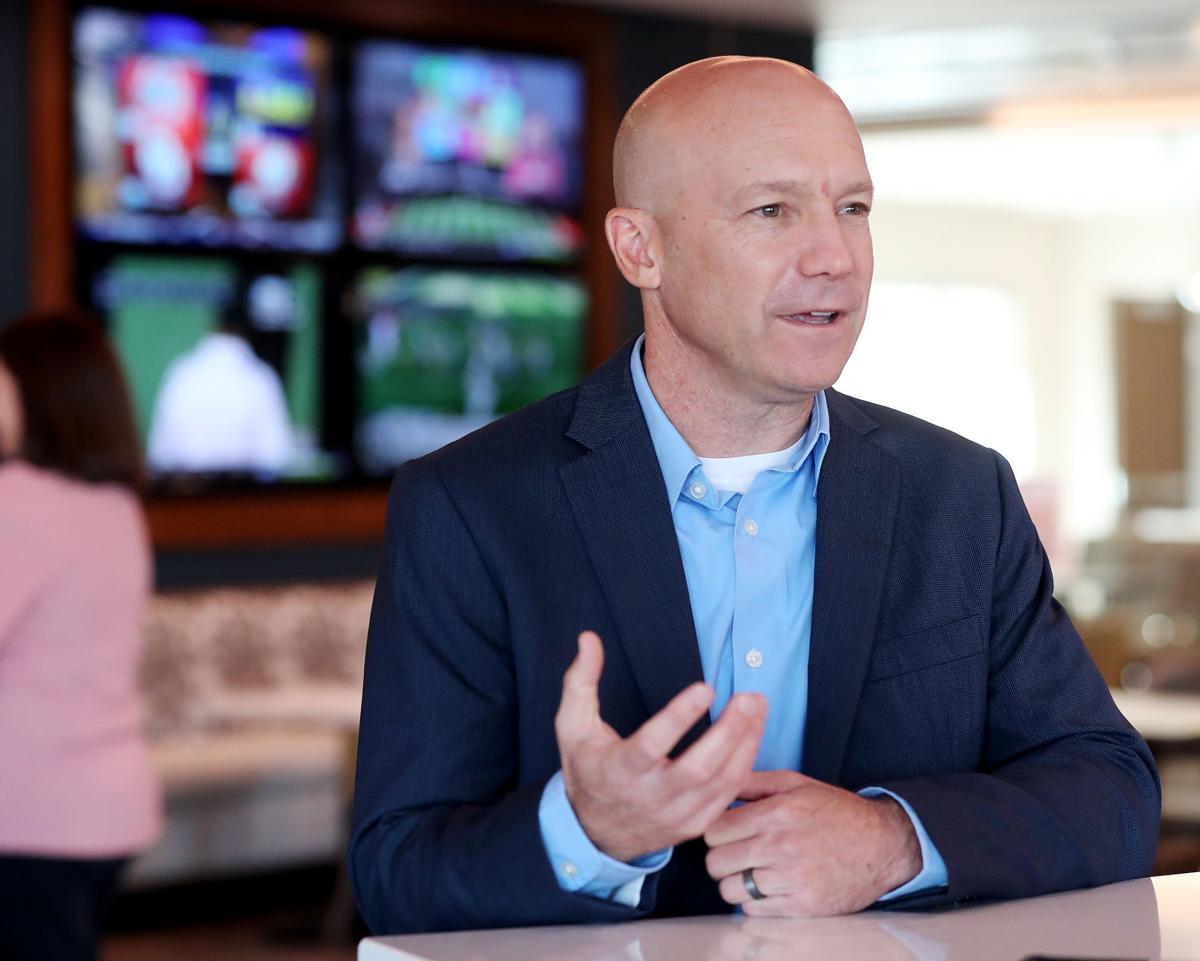 At a recent gathering of international sports personnel in Barcelona, Dave Stow showed off pictures of something 4,533 miles away: the TBK Bank Sports Complex.
Stow has overseen some of the biggest events in sports worldwide, including the Olympics and Super Bowls. He's the new CEO of the 77-acre facility on the upper rim of Bettendorf, a sports complex he said is turning heads "literally around the planet."
"I was showing people this property, and 100% of them were impressed," Stow said Wednesday at his first public appearance in the Quad-Cities.
The story showcases Stow's globe-spanning network, which he's hoping to leverage into business and tourism. He thinks the Bettendorf complex has a place in the worldwide sports chain.
"Maybe there's an international weight-lifting event in Chicago, and someone wants to come out two weeks early and get acclimated," he said. "Why not bring them here?"
The U.S. has hundreds of thousands of soccer fields, baseball diamonds and basketball courts. Part of what distinguishes facilities is quality, Stow said. The other part is services, including entertainment and nearby amenities.
"That's what this place has," Stow said. "That's my background from the Olympic movement. The Olympic training centers are just sports facilities. It's the services that come with it for the world-class athletes."
You have free articles remaining.
Some might balk at the idea of a team driving to east Iowa from Chicago or Des Moines. But Stow sees opportunity. Not only are driving times short, he said, but the distance itself might be a draw for teams looking to unplug.
"Some coaches want to get their team away from everything," Stow said. "If we have a team from Boston swing by, they might have a tournament in Chicago but want to come out four days before to prepare for it. They can come here. We have food; we have fun games, meeting rooms, a hotel in great condition; and they can get away to focus on what they're doing."
Stow has 24 years of experience in sports event management. He has managed events at Olympic Games, Super Bowls and Paralympic Games, among others. Most recently he oversaw the daily operation of the 155-acre Chula Vista Elite Athlete Training Center outside San Diego.
Since it opened in July 2018, the TBK Bank Complex has employed more than 140 people and generated some $13 million in tourism. Area development is also booming. Next door to the complex is the Cambria Hotel Bettendorf, a natural host for teams using the sports complex and their families.
The sports complex also caters to Quad-Citians. Its success will depend on the leisure and recreation habits of locals, including moms and dads.
"If you bring a youth team in here, they can play basketball, then bowl between games, then go back and play basketball, then go have meals — and they never have to get in their car and leave," Stow said. "As a parent, that's amazing."
Though cautious not to over-promise, Stow's eager to begin getting the sports complex on the map.
"Within a week, I'm going to have a sense of how I'm resonating in the industry just by how my phone calls are being received," he said. "There are professional relationships I have regionally, nationally, globally. We're going to get some traction."