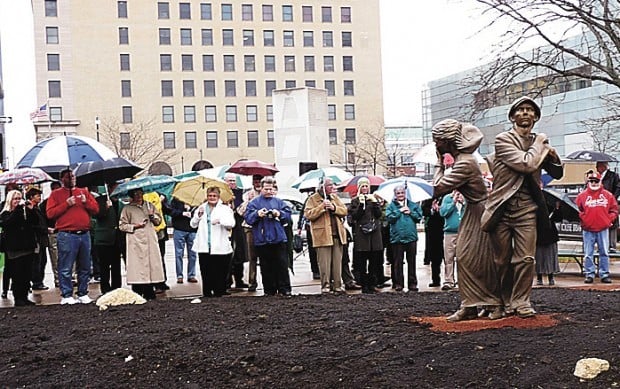 "Typical Irish weather" greeted Rock Island attorney Frank Coyle and about 75 others Sunday afternoon as the St. Patrick Society of the Quad-Cities unveiled a new sculpture in downtown Davenport.
The life-sized bronze piece on the southwest corner of 2nd and Harrison streets depicts an Irish father, mother and a child, pushing their way to America for a new life.
"This work symbolizes the plight of the Irish when they came over," Coyle said. "Their clothes aren't in good shape; the little girl is sad to leave Ireland, but they're looking forward to the new world with a certain amount of fear."
The sculpture was created by Moline native Lou Quaintance, who now lives in California and promises to be in the Quad-Cities for the 2012 Bi-State St. Patrick's Day parade.
Past St. Patrick Society President John Scally said that Quaintance came up with the main look of the statue, which then was tweaked by a society committee.
After the unveiling, society member Vic Quinn of Davenport said, "It's very beautiful. It's everything we hoped for."
"It has touching facial expressions, said Reg Shoesmith of Bettendorf, "and the stone pillars behind them really add a nice effect."
Along the path surrounding the figures is a placard listing the names of dozens of donors who made "significant" contributions over the past six years to pay for the work. Wild flowers and grasses will fill out the landscaping of the corner next spring.
"We hope that many years from now this Irish memorial will ... say how proud we are of those men and women and children who decided to settle in the Quad-Cities and make this their home many years ago," said Silia Ann Smiley, president of the society.
Mayor Bill Gluba noted that a Henry Farnam was instrumental in bringing the railroad to the area in 1850.
After the first bridge was built across the Mississippi River, a celebration dinner was held. Gluba said, according to legend, that the 12th toast was "to the Irish who built the bridge."
"I can certainly believe it took 12 toasts for the Irish to get the compliment," he said to a roar of laughter.
He later choked up as he spoke of his immigrant mother, Ellen Conboy of Galway, who came to Davenport with a dream of a better life, "which continues to run through my veins today."
Mary Joe Messmer of Davenport said the Irish community has "contributed so much to this country."
"I know when my mother came over, she wanted her family to be raised in the freedom of America, and this statue represents that wish," Messmer said.
By the time the dedicated had moved up the block to celebrate at Kilkenny's Pub, the sun had come out, like a typical Irish day.