Here's the afternoon and overnight forecasts from the National Weather Service.
This afternoon will be mostly cloudy and breezy with with a high near 47 degrees.
Tonight look for areas of frost after 1 a.m. Otherwise, it will be partly cloudy with a low around 34 degrees.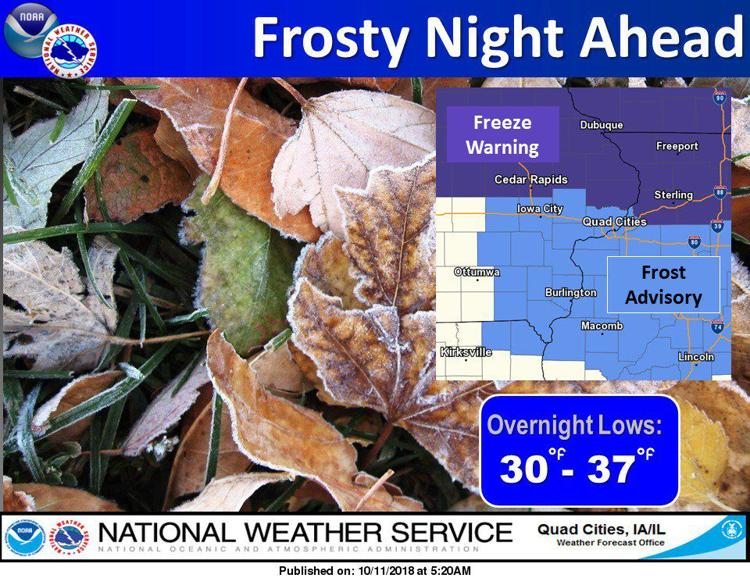 The National Weather Service has issued a frost advisory for the Quad-City region for from 1 a.m. to 8 a.m., Friday.
According to the NWS message,
"Frost and freezing temperatures tonight as Canadian high pressure, light winds, and a period of clear skies will bring frost and freeze conditions to the area tonight. Freezing temperatures and widespread frost is likely overnight along and north of U.S.30, while patchy to areas of frost with lows in the mid 30s expected elsewhere."
"Sensitive outdoor plants and vegetation may be damaged or killed if not covered or brought indoors."
A frost advisory means that frost is likely.
A freeze warning is in affect for Clinton and Jackson counties in Iowa and Jo Daviess, Carroll and Whiteside counties in Illinois 1 a.m. to 8 a.m., Friday.
A freeze warning means sub-freezing temperatures are imminent or highly likely. These conditions will kill crops and other sensitive vegetation. Cover sensitive plants or bring indoors for protection.
For Friday there will be widespread frost before 7 a.m. Skies will be mostly cloudy with a high near 44 degrees. There's also a 30 percent chance of showers after 1 p.m. Overnight look for patchy frost after 11 p.m. with a low around 34 degrees.