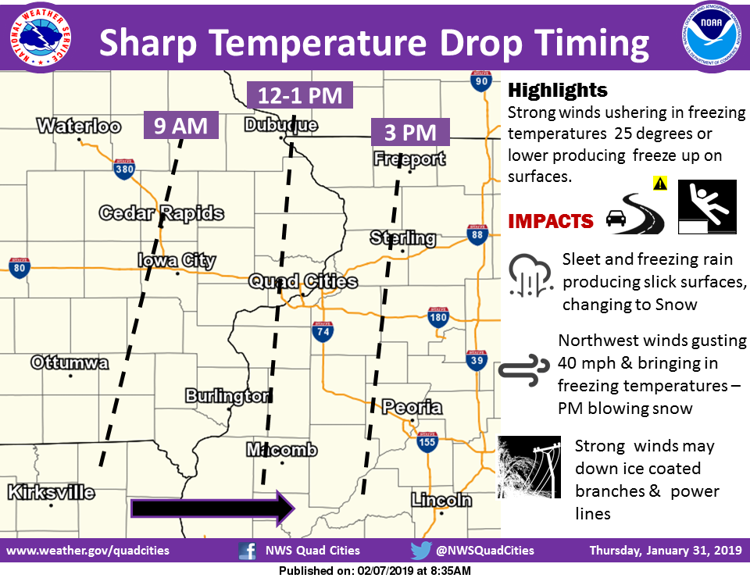 Here's the afternoon forecast from the National Weather Service.
It calls for rain, snow and freezing rain, possibly mixed with sleet, before 4 p.m. then a chance of flurries between 4 p.m. and 5 p.m. Look for the temperature to fall to around 20 degrees by 5 p.m. It will be breezy with a north wind between 5 to 10 mph becoming west between 15 to 20 mph in the afternoon. Winds could gust as high as 35 mph. The chance of precipitation is 100 percent with total daytime ice accumulation of less than a 0.1 of an inch possible. Total daytime snow and sleet accumulation of less than a half inch is possible.
Tonight will be mostly cloudy with a low around 0 and wind-chill values as low as -20 degrees. It will be breezy with a west wind between 20 to 25 mph gusting as high as 40 mph.
Friday will be sunny and cold with a high near 10 degrees and a low around -2 degrees. Wind-chill values will be as low as -20. It will be breezy with gusts as high as 30 mph.
Flood update along Green River, Rock River and Hennepin Canal in Henry County:  At 9 a.m. the break-up of the ice jam on the Green River cleared the river channel, entering the Rock River in lower Colona Township. As a result, the floodwaters caused by the rapid rise of the Green River and the Hennepin Canal have begun to recede.
A large breach on the Green River levee system and the Hennepin Canal have been located and documented by the OEM. A NWS Flood Warning remains in effect for areas along and near the Green River until 10 p.m. Sunday.
Henry County Highway 15, also known as Green River Road, will remain closed to traffic until Friday.
Additionally, a Flood Warning for the Rock River in Henry County remains in effect. Moderate flooding is occurring along the Rock River in Northwestern Henry County and major flooding is occurring down river. The OEM has reported significant ice still present on the Rock River. As the Rock River level fluctuates, along with variations in the atmospheric temperature, the threat of a ice jam break-up on the Rock River remains high.
Several voluntary evacuations occurred on Wednesday. The OEM requested the assistance of the American Red Cross, who provided emergency shelter and overnight lodging to displaced residents along the Green River. Henry County OEM officials have remained in the area and continue to monitor the situation with further action being impact based. At this time, there are no further evacuation orders within Henry County.
Members of the immediate community are encouraged to remain vigilant of rising floodwater. If additional ice action or further erosion of area levees cause further restrictions within the area, or the forecast includes additional precipitation, the floodwaters may react unexpectedly in a short period of time. Any significant changes to the current situation are encouraged to be reported to the Henry County Sherriff's Office at 309/937-3911. In any emergency, Dial 9-1-1.
Community members are reminded not to drive or wade through floodwaters, no matter the perceived depth.