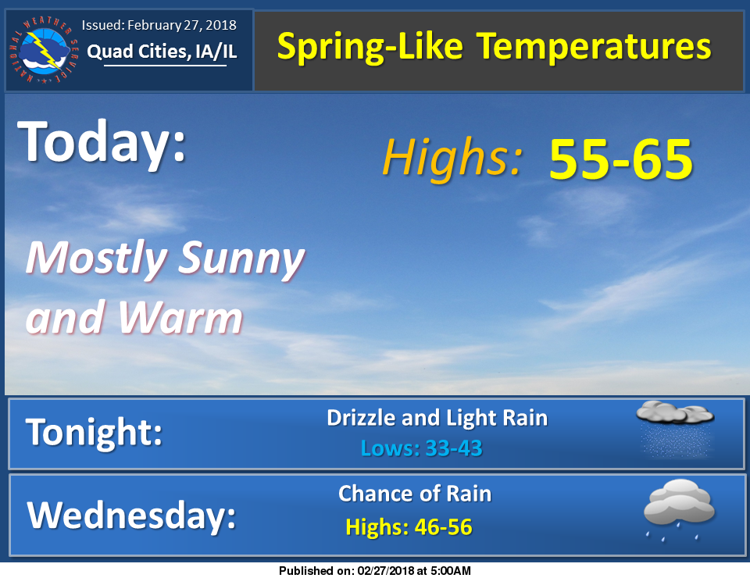 Here's the afternoon forecast from the National Weather Service. It will be sunny with a high near 63 degrees. South winds between 10 to 15 mph will gust as high as 25 mph.
Tonight there's a chance of drizzle after 3 a.m. The overnight low will be around 42 degrees.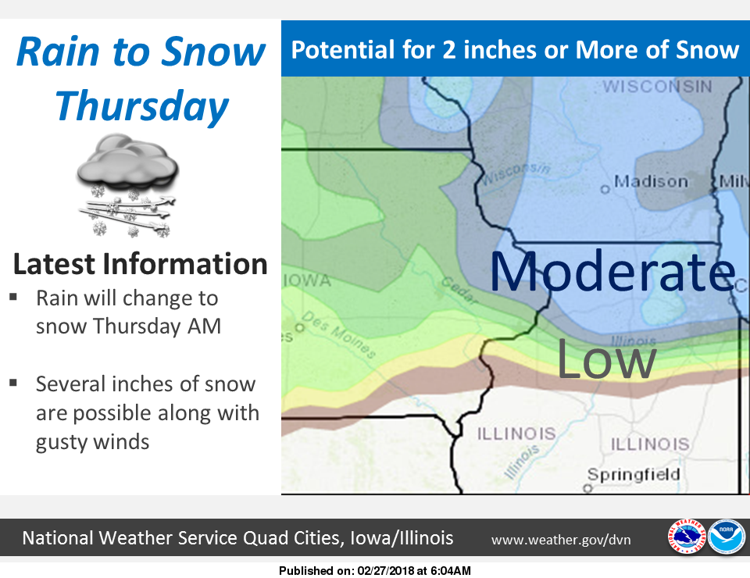 Then there is this "Hazardous Weather Outlook" from the National Weather Service. Spoiler alert: It's not pretty for some parts north of the Q-C metro region.
"Rain is likely Wednesday evening into Thursday, and there is a slight chance for thunderstorms in the counties along and south of Interstate 80 with lightning as the main risk. Rain is expected to change to snow over parts of the area Thursday morning. Several inches of snow accumulation are possible, approximately along and north of a line from Dyersville, Iowa to Sterling, Illinois. Confidence is low on amounts, but a period of snow is possible along with wind gusts of 30 to 40 mph. Additionally, runoff from precipitation that falls Wednesday and Thursday may lead to another round of tributary river flooding. Wednesday night rain is likely with winds gusting as high as 20 mph. New precipitation amounts between a quarter and half of an inch are possible."
The Rock River is receding, but still out of its banks. A flood warning is in effect until further notice.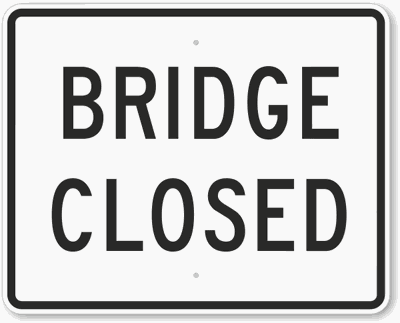 This morning Rick's Six reported that the Mississippi River bridge between Savanna and Sabula was closed because of work/ inspection of the causeway bridge on U.S. 52. Now the Illinois is reporting the closure will be until further notice. See tweet.
Savanna-Sabula Bridge over the Mississippi River is closed until further notice due to concerns with the causeway bridge on the Iowa side. A posted detour will be in place today. #ILtraffic

— IDOT District 2 (@IDOTDistrict2) February 27, 2018
Then there's this from the Iowa Department of Transportation: The overflow bridge over the backwaters of the Mississippi River on the north edge of Sabula, Iowa, has been closed. As a result, bridge traffic between Savanna, Ill., and Sabula is being rerouted to Fulton, Ill./Clinton, Iowa and Dubuque, Iowa/East Dubuque, Ill.
The causeway bridge was in the process of being replaced when inspectors found an issue during construction. The replacement schedule is being accelerated, but the bridge will remain closed until a replacement is in place. The new bridge is expected to be completed in late May, weather permitting.
During the closure, traffic will be detoured using U.S. 67 to Iowa 136 to Illinois 84.
A new bridge across the Mississippi River between Sabula and Savanna opened in Oct. 2017.