Here's the afternoon forecast from the National Weather Service.
There's a 50 percent chance of rain and thunderstorms. Skies will be cloudy with an afternoon high near 70 degrees. New rainfall amounts between a tenth and quarter of an inch are possible with higher amounts in thunderstorms.
Tonight scattered showers are possible with a low around 58 degrees. The chance of precipitation is 50 percent with new precipitation amounts of less than a tenth of an inch possible.
Saturday will be mostly cloudy with a high near 70 degrees and a low around 56 degrees.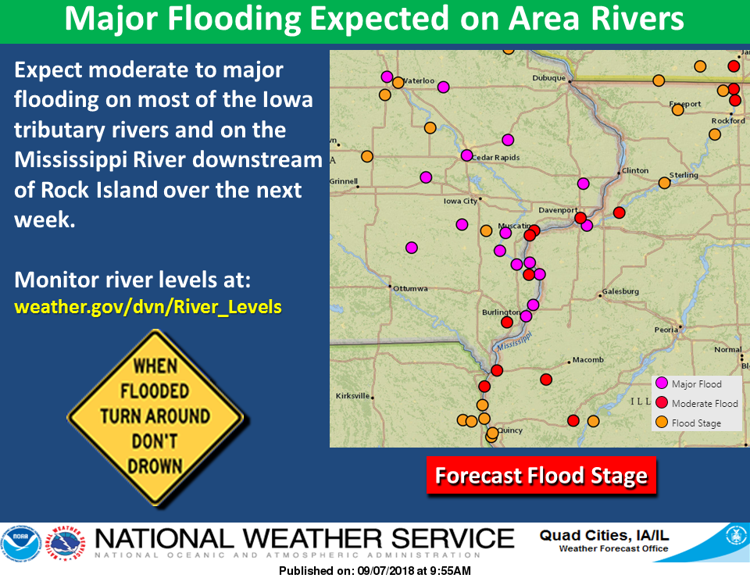 Here's the latest flood update from the city of Davenport issued this morning:
"River level crest and rate of rise have fluctuated a bit this week. The current river level is 15.18 feet. The Mississippi River is now projected to crest at 16.2 feet on Sunday. The river is expected to remain at or above 16 feet for a few days before falling around Sept. 12.
Based on the current river level and crest projection, the following flood impacts and measures have been or will occur in the coming days."
• S. Concord is closed between Utah and River Drive, and Wapello and Miller avenues are closed between Railroad Avenue and S. Concord.
• Gaines Street may be closed south of the railroad tracks due to water over the road over the weekend.
• Portions of Beiderbecke Drive south of River Drive may be closed over the weekend due water over the road.
• Intermittent lane reductions along River Drive between Iowa and Division streets are possible into early next week due to water encroaching on the roadway.
• The majority of the riverfront recreational trail between Credit Island and the Bettendorf city limits will be closed due to water over the trail over the weekend; portions are already closed. Some higher areas will remain dry.
• The boat dock at Credit Island has been removed.
• The boat dock at Marquette Landing remains in place, however is not accessible due to high water.
• Water has begun to affect LeClaire Park.
• Credit Island is closed.
• Access to the Compost Facility, 2707 Railroad Ave., is available via Rockingham Road to Wapello to Railroad avenues.
• Modern Woodmen Park, the River's Edge, the Freight House and Freight House Farmer's Market, and Union Station will remain open for business.
• The LULAC/VIVA Quad Cities Fiesta has been moved to Centennial Park. Event details can be found at www.vivaquadcities.com.
• Pumps have been, or will be set, and appropriate gates closed in various low-lying areas of the city as the needed based on river level.
• Sandbags are available for pickup by individuals impacted at these river levels at the Public Works Marquette Facility, 232 S Marquette St.