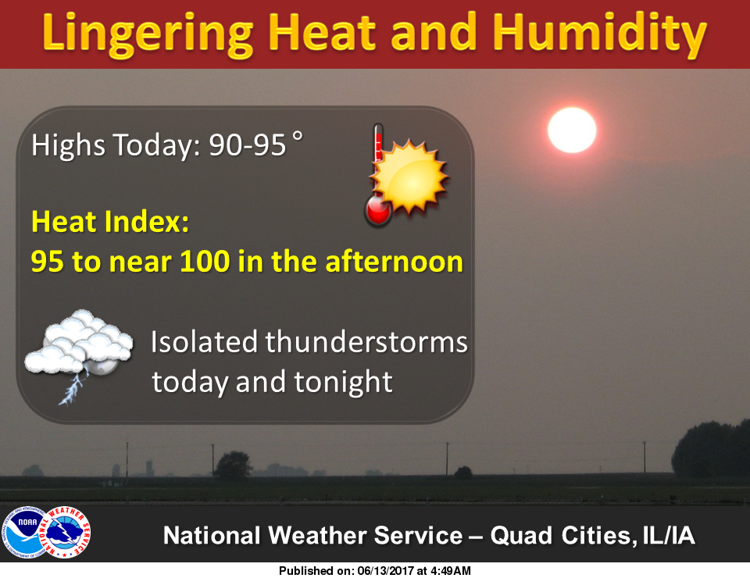 Here's the afternoon forecast from the National Weather Service and it's a hot one.
Let's start off by with a heat advisory from the weather service.
The Quad-City region is under a heat advisory until 8 p.m. Heat-index values up to 102 degrees are expected this afternoon because of temperatures in the lower 90s and dewpoints in the lower 70s.
The high heat and humidity could result in heat exhaustion.
A heat advisory means that a period of hot temperatures and high humidity is expected. This combination will lead to possible heat illnesses. Drink plenty of fluids, stay in an air-conditioned room, stay out of the sun and check on relatives and neighbors, especially the elderly.
Here's what you should do, according to the weather service.
• Limit time outdoors to the morning and evening
• Wear light-colored clothes
• Know the signs of heat illness
How hot will it get? With mostly sunny skies temps are expected to reach a high near 93 in the Quad-Cities. But there is some good news on the horizon. Wednesday could bring some rain to the region. The chance of rain on Wednesday is 50 percent with new rainfall amounts between a tenth and quarter of an inch possible.
Here are some wet options to satisfy that need to stay cool today. Don't forget the sunscreen and don't stay out in the sun very long.
• Remembering the District of Rock Island fire: Eight buildings were damaged by a fire that swept through the District of Rock Island on September 27, 2014. See more.
From the news of the weird desk ...
Woman in serious pain unexpectedly gives birth: A Massachusetts woman preparing to go to the hospital for serious pain instead gave birth to an unexpected baby girl. Christine Harvey was waiting for a ride to the hospital when she suddenly went into labor Monday.
Neighbors called 911, but Harvey gave birth to a baby girl before first responders arrived to her Malden home. The family says it was not aware a baby was on the way.
Harvey's boyfriend, Doug Rogers, says both mother and child are doing well. He says he is "blessed." The couple has two other children together.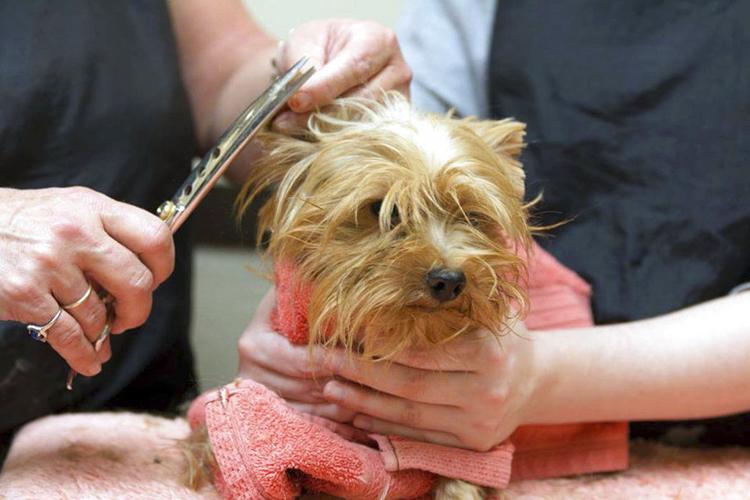 Couple pleads guilty to hoarding 170 Yorkies: A California couple has pleaded guilty to hoarding more than 170 Yorkshire terriers and Yorkie mixes in filthy conditions. Authorities say Christine Calvert and Mark Vattimo entered pleas Monday to animal neglect. They face probation and counseling and can't own pets for a decade.
Investigators who went to their Poway home in January found dozens of dogs in a dark room. The floor and walls were covered in excrement, and the dogs had a variety of problems, including fleas and matted hair.
About 30 dogs were seized later at another location and another 46 were found in a motor home in Primm, Nevada, where Calvert was arrested after fleeing the state.
The dogs — including puppies born to some of the animals — were put up for adoption.