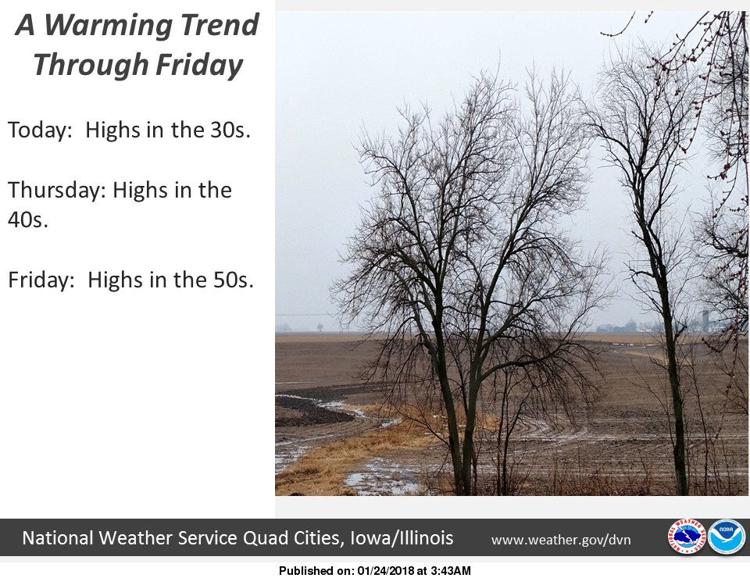 • Here is the afternoon forecast from the National Weather Service. It will be partly sunny with a high near 36 degrees and a low around 26 degrees.
• A flood watch is in effect for the Rock River near Como in Whiteside County until Thursday. This flood watch is based on limited confidence. Conditions are favorable for ice jams, but how high the river level will get remains uncertain.
As the forecast becomes more certain, this watch will either be upgraded to a warning or cancelled.
It is possible that the Rock could rise to flood stage Thursday morning.
• Ever feel like this guy at work? Police say a fast-food worker upset at having to work a morning shift has given new meaning to a burrito to go, slinging a hot one at his Taco Bell supervisor.
Police in South Carolina say officers were called to the Spartanburg eatery Monday, where a supervisor reported telling the worker to "stop being a crybaby" — just before being beaned with the food-filled projectile.
A police report says the supervisor had turned away when melted cheese from the airborne burrito splattered her left arm, side and leg. Gooey stuff also "made a mess of the entire kitchen," police say.
Police say the worker didn't stop there, adding they were told he took off his headset, broke it on his knee and "stormed out." It is not known whether he made a "run for the border."
No arrests have been made.
• Glitter, exposed skin, and giant hats — Take a look back at Grammy fashion through the decades. From Cher's butterfly hairpiece and exposed navel in 1974 to Beyonce's royal-inspired outfit just last year, here's glance at some outrageous fashion moments at the Grammys. This year's show will be Sunday. 
• Circle the calendar. The Quad-City Auto Show speeds into the RiverCenter Feb. 11. Read more.