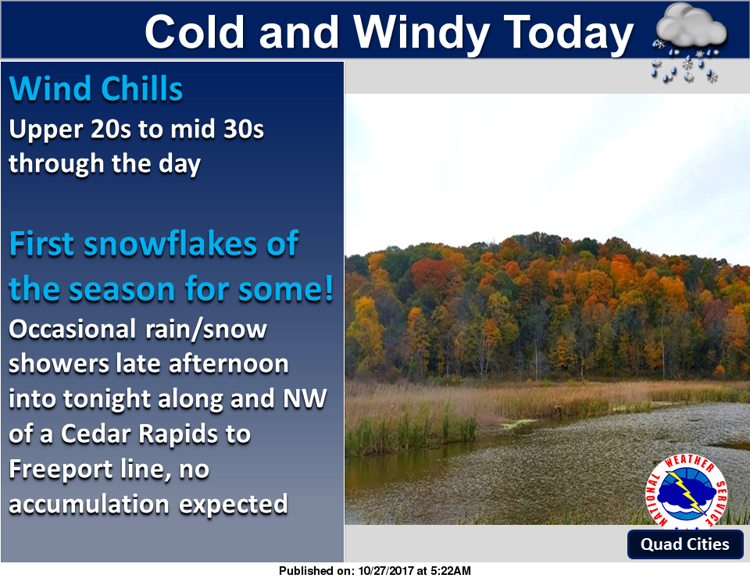 When you start talking about wind chills, and the first snowflakes of the season (see above graphic), you are talking blustery. With that we go to the afternoon forecast from the National Weather Service.
It will be breezy and cloudy with a high near 41 degrees. West winds between 15 to 20 mph will gust as high as 30 mph.
Tonight there's a slight chance of showers between 8 p.m. and 1 a.m. Skies will be cloudy with a low around 35 degrees. West winds around 15 mph will gust as high as 30 mph.
National Weather Service issues a freeze warning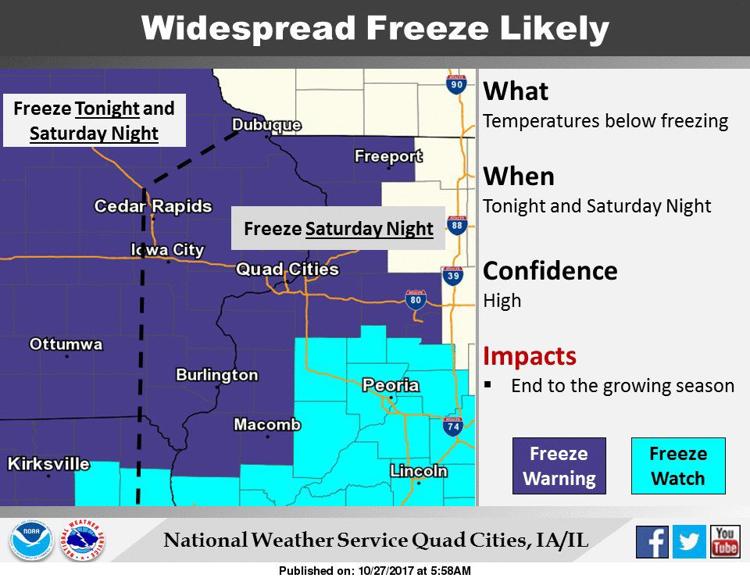 In effect from 7 p.m., Saturday, until 10 a.m., Sunday.
The growing season will end in a hard freeze tonight and Saturday night. Cold northwest winds will continue to pull chilly air southward over the area today and tonight, and this will likely bring the first below freezing temperatures this Fall to locations west of a Manchester, Iowa to Williamsburg, Iowa to Memphis, Missouri line.
All locations in Iowa, Illinois, and northeast Missouri will see a hard freeze Saturday night. Freezing conditions are expected shortly after sunset Saturday, through mid morning Sunday, as lows reach the mid 20s. Additional nights of below freezing temperatures are expected through the week ahead.
A freeze warning means sub-freezing temperatures are imminent or highly likely. These conditions will kill crops and other sensitive vegetation. Bring plants indoors if possible. Cover sensitive plants or bring indoors for protection.
• Bacon, bacon, bacon. Floyd of Rosedale will be on the line Saturday at Kinnick Stadium when Iowa and Minnesota meet for possession of the bronze pig, the first of three traveling trophies the Hawkeyes will play for in the final five regular-season game.
Minnesota and more are part of today's Hawkeye 10@10, your daily dose of Iowa news and notes. Read more.