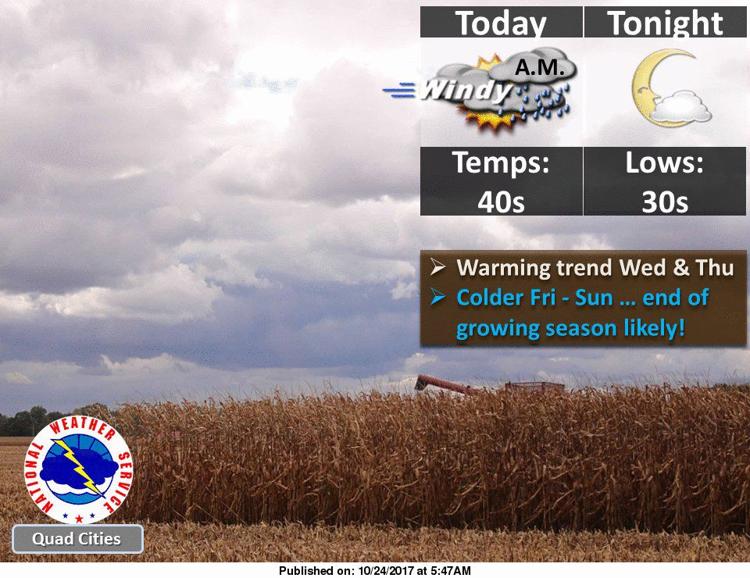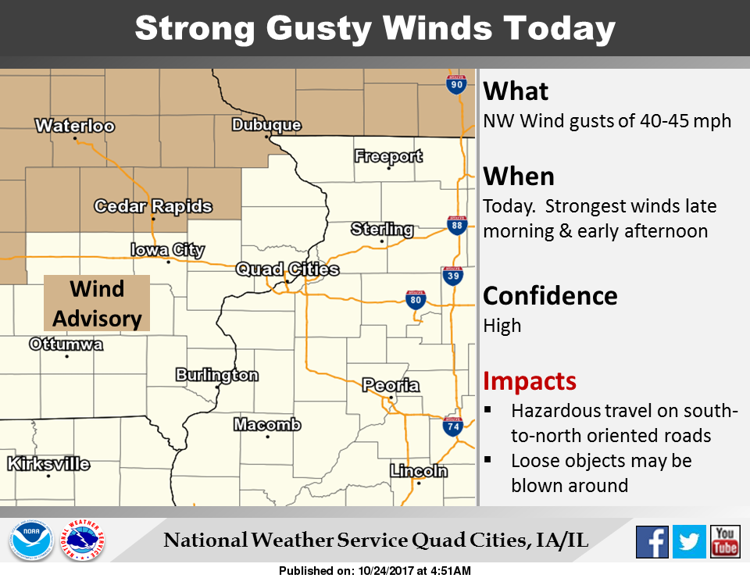 • Here's the afternoon forecast from the National Weather Service.
It will be cloudy and windy with a high near 47 degrees. Rain is likely before 2 p.m.
Strong gusty winds today could be problematic for travelers, especially northwest of the Quad Cities where gusts to between 40 and 45 mph are forecasted.
Patchy frost is possible later tonight with a low around 35 degrees. Winds will be from the Northwest at 10 to 15 mph with gusts as high as 30 mph.
Wednesday will be mostly sunny with a high near 57 degrees. Southwest winds will be 5-10 mph becoming northwest in the afternoon.
Wednesday night will be mostly clear with a low around 40 degrees. North winds will be around 5 mph becoming calm.
Looking ahead, colder temperatures Friday through Sunday mornings could fall below the freezing mark, signaling the end of the growing season.
• Have questions about area trick-or-treat times, or the Halloween parade(s)? Consult this list.
• This just in from the city of Davenport: South Concord Street is closed at Minnie Avenue because of a broken storm sewer. Use River Drive to Fairmount Avenue for Rockingham Road detour.
The current detour for CitiBus Route 1/Orange Line, is
Outbound: Left onto Howell, right onto River Drive, right onto Fairmount, right onto Rockingham, and back on route.
Inbound: Left onto S. Concord, right on Indian Road, left onto Clark Street, right on Telegraph Road, right onto Division Street, left onto Rockingham Road and back on route. The bus stop will be the southwest corner of Rockingham and S. Concord.