Here's the afternoon forecast from the National Weather Service.
Drizzle is likely after 5 p.m. Skies will be cloudy with a high near 37 degrees.
The area is under a winter weather advisory beginning at 6 p.m. and continuing untl 6 p.m., Thursday. 
Starting late this afternoon and continuing into Thursday, our next winter system will move through the area. Another round of freezing precipitation affecting much of the area is expected, with the heaviest amounts occurring tonight.
• WHAT: Mixed precipitation expected beginning late this afternoon. Total snow accumulations under one inch and ice accumulations of one to two tenths of an inch expected. Winds will be gusting as high as 35 mph Thursday afternoon.
• WHERE: Portions of northeast Missouri, east central and southeast Iowa and northwest Illinois.
• ADDITIONAL DETAILS: Periods of travel difficulties are expected, with impacts to the evening and Thursday morning commutes possible.
• PRECAUTIONARY/PREPAREDNESS ACTIONS: A Winter Weather Advisory means that periods of snow, sleet or freezing rain will cause travel difficulties. Expect slippery roads and limited visibilities, and use caution while driving.
Tonight rain, possibly mixed with freezing rain, becoming all rain is likely after 3 a.m. The low will be around 32 degrees. The  chance of precipitation is 100 percent with new ice accumulation of less than a 0.1 of an inch possible.
Thursday rain and snow is likely before 2 p.m., a chance of freezing rain between 2 p.m. and 4 p.m., then a chance of snow and freezing rain after 4 p.m. The temperature will rise to near 37 degrees by 10 a.m. then falling to around 21 degrees during the remainder of the day. It will b be breezy, with a north wind between 5 to 10 mph becoming west between 15 to 25 mph in the morning. Winds could gust as high as 35 mph. The chance of precipitation is 80 percent with little or no ice accumulation expected. New snow accumulation of less than a half inch is possible.
Thursday night will be mostly cloudy with a low around 2 degrees and wind-chill values as low as -20 degrees. West winds could gust as high as 35 mph.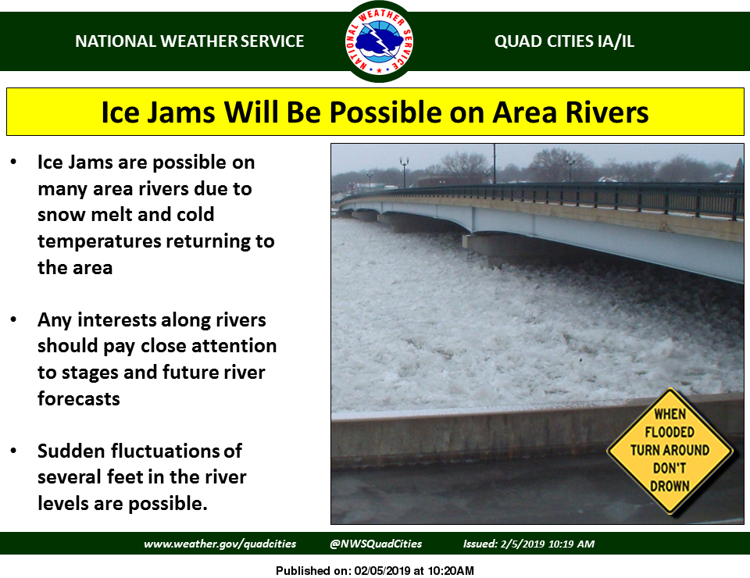 The Rock, Wapsipinicon and Cedar rivers are all at or above flood stage because of the recent snowmelt, rain and ice jams. Check our area river levels at: