From afar, it appears one of those Little Free Libraries found a new home in east Davenport.
Instead of books, however, this small wooden structure outside of Grace Lutheran Church, 1140 E. High St., holds a sizable stash of food and toiletry items, there for the taking.
The Little Free Pantry, located across Bridge Avenue from Genesis Medical Center-East Rusholme Street, aims to help those "who can't make ends meet," said Nancy Barton, organizer of the DIY project.
"Everyone falls on hard times," she said, listing off the variety of goods — from cans of tuna to rolls of toilet paper — stored in the 32-by-24-inch cupboard. "Things we all take for granted."
No identification or application needed, the 24/7 service operates on a "take what you need, leave what you can" principle. 
"There's no shame in this," said Barton, who owns The Pour House, a well-established bar on West Locust Street, and works at the Davenport Public Library. "If somebody comes and cleans it out, I'll fill it up."
Fast-spreading trend
Inspired by the Little Free Library concept, the national movement began last May when the first free-standing pantry of its kind, sometimes called a blessing box, popped up in Fayetteville, Arkansas. 
There are at least six similar units scattered across the Quad-City area, from Park View in northern Scott County, to Hillsdale, Illinois, on the eastern edge of Rock Island County.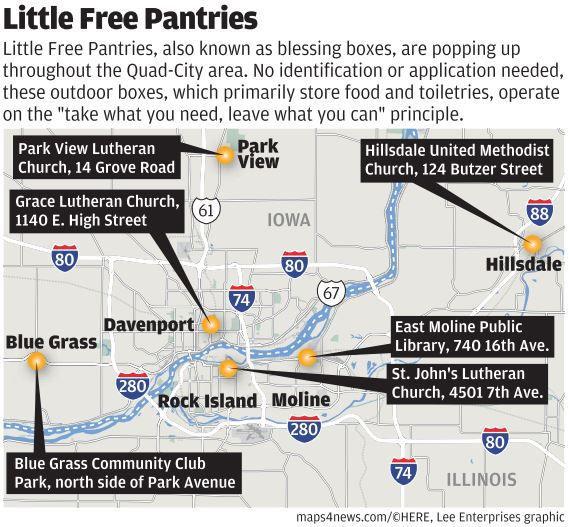 While the compartment in Davenport primarily contains shelf-stable products, Barton also stocks it with popular perishable foods, including onions, potatoes and loaves of bread.
Protected by a pair of Plexiglas cabinet doors, the insulated case remains at room temperature, even in the heat, she said. 
Although Barton isn't a member of Grace Lutheran's congregation, she chose to place it on the organization's property because she can walk there from her house. 
She checks on the supply every morning and restocks it if it's empty. As word spreads about the pantry, Barton's goal is to furnish it twice daily. If it gets to that level of need, she said she will look for other places in the city to introduce the boxes.
When Barton reached out to the church, John Grebner, the pastor there of 11 years, said he immediately embraced the idea he knew other churches around the country already had adopted.
"We have a great location for it," he said. "Hopefully, people will use it, and it gets the kind of attention it needs."
Risking negative attention
In Park View, sponsors of the North Scott Blessing Box, which was set last month at Park View Lutheran Church, can't keep up with the demand.
Earlier this week, however, the group posted on its Facebook page that teenage vandals recently ransacked the box, stocked by members of the Sheridan Sluggers 4-H Club.
"One of our 4-H members said she was seeing Snapchats of students pulling food out of the box and destroying it," said Pat McCaw, who helps oversee the effort. 
If the abuse continues, she said, they will report the issue to police. 
"In general, I think it's reaching people who need it," McCaw said. "It's just been great to see how the kids have stepped up."
As long as people don't mistreat Barton's pantry, which is covered by her homeowner's insurance, she doesn't care who takes from it. 
"That's what it's here for," she said. 
Product of recycling
Barton's son, Brett, an "amazing" handyman, who works for Smiley Boys Carpentry in Davenport, designed, built and installed the box for his mom.
He and his boss, Rob Smiley, constructed it with southern yellow pine lumber the Bartons salvaged from the Esbaum family's farm near Bennett, Iowa, about 30 miles northwest of Davenport. On March 6, an EF-1 tornado ripped through their land, destroying seven outbuildings, the National Weather Service reported. 
In total, Barton said they spent about $300 on other materials but stressed, "You could do it for cheaper." 
As decoration, she attached a basket of pink and purple petunias from her garden to the underside of the container.
In the winter, Barton plans to put hats, gloves and scarves in the pantry.
This summer, she wants to load it with other random items, such as squirt guns, crayons and coloring books, for children in the neighborhood.
"Anything to brighten their day," she said. "I want it to have dignity."