In May 2016, Leslie Klipsch of Davenport arrived in the small village of Maore, Tanzania, where residents buried a 2-year-old boy just a couple of days before.
The small child, she was told, drank from a bucket of contaminated water — before it had properly been boiled — and contracted a waterborne illness. Leslie used "heartbreaking" this week to describe the tragedy and lingering sadness she witnessed during her most-recent visit to the East African nation.
"I think it's something that we have the answer to," she continued, emphasizing that the means exist to bolster access to clean water in Tanzania and other developing countries. "This is a problem that could be solved in our lifetime if we reallocated the resources that we have here, so I think that makes it especially devastating."
Hundreds of Quad-Citians are expected to turn out next Saturday for the Water Party, an annual fundraiser in downtown Davenport co-organized by Leslie, her sister-in-law, Tesi Klipsch, and Shayna Hamma, to increase awareness about the issue. Proceeds from this year's event will benefit Empower Tanzania, an Iowa-based nonprofit organization that provides support to Tanzanian villages in need.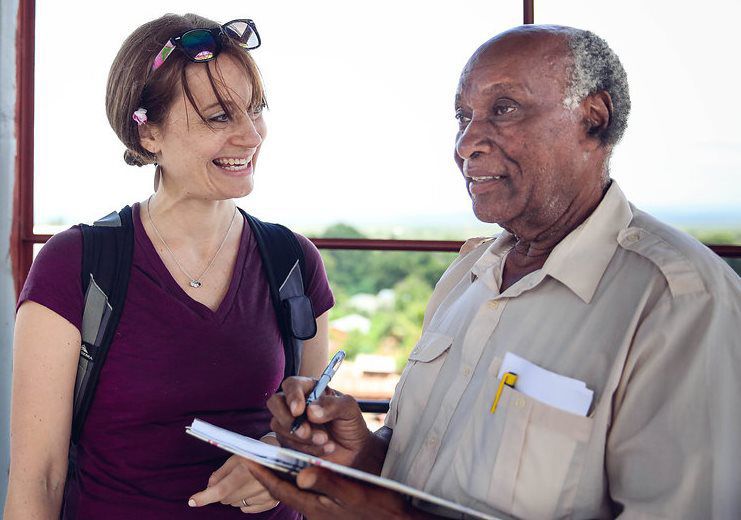 Leslie, who serves as the communications director for Empower Tanzania, said they hope to raise $50,000 this year, which will supply clean water to about 1,750 people in the village of Njiro. The community's well is broken, so the money will go toward repairing or replacing the system.
Women and children there currently must walk from six to nine miles to the nearest clean water source. At times, they resort to scrounging and consuming dirty water from puddles or hand-dug holes.
"It's a very dangerous place for children," said Phil Latessa of West Des Moines, who is executive director of Empower Tanzania. "They're in need of a lot of people's energy."
This past year's Water Party raised more than $43,000, which helped fund the construction of a new solar-powered well in the village of Pangaro.
"It's really changed the lives of those people," Latessa said, commending Leslie and her partners for spearheading the effort. "It's critically important."
'Their water was disgusting'
The Water Party's roots date back to November 2008, when a few Quad-City area moms set out to raise enough money to build maybe one community well in the poverty-stricken African nation of Liberia. The group included Leslie, Tesi, then of Blue Grass, and Jody Landers, then of Muscatine.
They launched a fundraising campaign called Water for Christmas, and in 2009, they hosted their first event in Davenport, called Wine to Water. By the end of the next year, the group had collected $275,000, which the activists sent to Charity: Water, an internationally respected nonprofit agency based in New York City that oversees water projects in developing countries.
Over the past decade, they have raised close to $500,000, paying for the construction and rehabilitation of wells in 12 villages of Liberia, Uganda, India and Tanzania.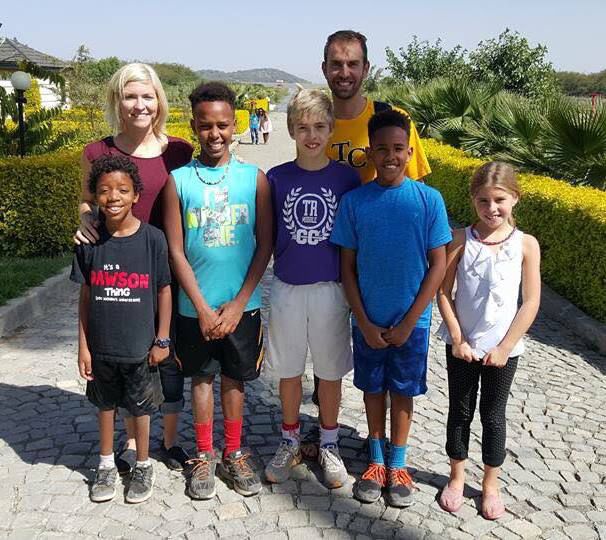 Tesi and her husband, Zach, who now live in Kalamazoo, Michigan, have adopted three boys, Tariku, Tomas and Binyam, from Ethiopia. Every time the mother of five looks at them, she is reminded of the suffering she observed in 2008 when they picked up their first adopted son, Tariku.
"We saw tiny little kids carrying these 50-pound buckets of water on their heads and carrying little siblings on their back in slings," Tesi recalled. "Their water was disgusting, but that was the only available option."
All three of her boys from Ethiopia, she noted, were adversely affected by unclean water.
"It's part of their story," Tesi said, "as it is for virtually every kid in developing countries."
In 2011, Leslie and her husband, Jake Klipsch, principal of Mid City High School in Davenport, adopted their daughter, Sintayehu, from Ethiopia. Regardless of her strong ties to Africa, she stressed, "I think it's worth caring about the people who live there."
Together, the Klipsch sisters-in-law interview women and mothers to produce a weekly podcast called Mama Bear Dares. Leslie, who has two biological children, also runs a co-working space in downtown Davenport, COWORKQC, where the freelance writer and editor spends a lot of her time.
Following the bout of recent natural disasters in the U.S., including hurricanes and wildfires, Leslie acknowledged that many Quad-Citians may be suffering from compassion fatigue, but she still expects a strong response from the community.
"Every time you turn on the faucet, just think about how easy it us for us to get clean water that's safe for us and safe for our children," she said. "That's just not a fact of life for so many people."