What do a handful of corporate executives, a former professional fighter and a university professor share in common?
Well, for one thing, five of the six guys in the close-knit crew of Quad-City Gen Xers showed up about 4:45 a.m. Thursday at Bettendorf High School for their morning workout. But that's nothing new.
In fact, they've met consistently at the base of TouVelle Stadium's stairs — 72 in all — since the beginning of last September. They're on a mission: training for what's to come.
In about 90 days, the family men, who refer to themselves as the Q-C Leadville 6, will enter what some consider one of the toughest races on the planet — the Leadville Trail 100 Run starting Aug. 20. They'll have up to 30 hours to finish the 100-mile ultramarathon, also known as the "Race Across the Sky," that stretches through the heart of the Rocky Mountains in Colorado.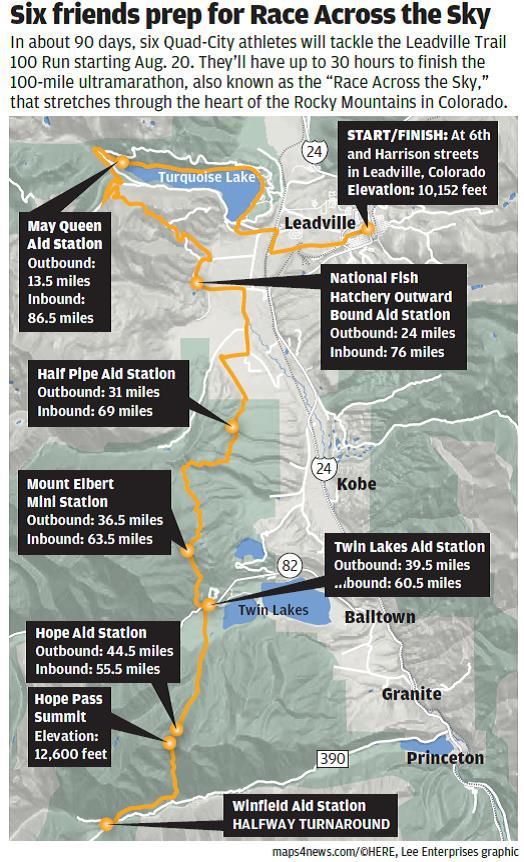 As the sun slowly crept up from the horizon in Bettendorf, the competitors, along with three pacers who will accompany the troop in August, climbed up and down the stairs that overlook Mervin R. Habenicht Field for almost 90 minutes.
"I think I've done about 50,000 of these (steps) over the last few years," said John Byrne, a 51-year-old professor at St. Ambrose University. He's the group's high-fiving front man, ringleader and head trainer, and he's hoping to complete his third Leadville in fewer than 25 hours.
Pat Miletich, one of the early superstars of mixed martial arts, or MMA, and the UFC's first welterweight champion in 1998, brings star power to the story, but it's not noticeable. He refers to himself as their "weakest link."
"These guys are beasts," a panting Miletich said during a brief break in between sets. "Training for this is by far way harder than any fight I've ever trained for. This is the most grueling s--- I've ever been through."
While the 48-year-old "Croatian Sensation," who has dropped about 40 pounds since last fall, has the highest profile in the squad, he also probably catches the most flak from the rest of the guys.
Just ask John O'Brien, a Quad-City transplant from Boston, who has run 21 marathons in three countries.
"He (Miletich) gets the most s--- from me out of anybody," said O'Brien, who moved here to work for Deere & Co. "You have to have thick skin."
Jokes aside, the 47-year-old credited his running mates for his motivation.
"It's tough getting up early and coming to this, but the camaraderie is what gets me through," O'Brien added.
And everyone has his own reason for committing the training time.
Rick Fountain, for example, is a 46-year-old who never ran more than 11 miles in one outing before 2012 when he tackled his first Leadville, and he hopes to improve on his time.
"My biggest fear is not finishing," said Fountain, shortly after he wrung out his sweat-soaked beanie following Thursday's stair climb. "People probably think I'm crazy. Look at me — I don't have a runner's body."
For Miletich, the charities he's running for maintains his drive.
"That's what will drag my a-- over those mountains," he said.
Despite a shaky right knee, Curt Johnston, who formerly played hoops for St. Ambrose, will run the race with a patella strap to block his nagging tendinitis pain.
"It took a while for me to convince my wife to let me do this," the 39-year-old said as sweat evaporated off his shoulders. "I don't like the stairs, though."
On top of their biweekly cardio and plyometric exercises at Bettendorf High, they've knocked off a series of long-distance runs, including back-to-back marathons one weekend this spring. They're building up to 45-mile and 58-mile treks before a 24-hour run over the Fourth of July weekend.
In hopes of acclimating himself to Colorado's mile-high-plus elevation, Byrne plans to head out there two weeks before the race. Everyone else from the Quad-Cities, including a support team of 24 people, will arrive a week before the main event to acclimatize themselves.
At home, Byrne and Miletich also are preparing for the venture with altitude-training masks, which Byrne said helps regulate his breathing but does not increase his red blood cell count.
He stressed that runners cannot underestimate the race, adding that they'll have to weather the highs and lows throughout the full day of running and climbing through the treacherous terrain.
"You have to be physically and mentally tough, but the third element is you have to be lucky," he said. "So many things you don't have control over can go wrong."