There's a close-knit group of guys in the Quad-Cities who represent the new face of "tree huggers" — and they're devoted to it.
"They're kind of a different breed," said Dan Roberson, a general foreman for Davey Tree Expert Co. in Bettendorf, who manages an 18-man utility line clearance crew.
A majority of the lot of tree trimmers drive pickups, snap #TreeSelfies and use words such as "gnarly" when they're tasked with clearing a branch away from a high-voltage power line. And several of them have equipped themselves with top-notch climbing gear and gadgets.
The leader of the pack, or perhaps the one with the most passion for his craft, 36-year-old Josh Hodson, is representing seven Midwestern states this weekend at the International Tree Climbing Championship in San Antonio.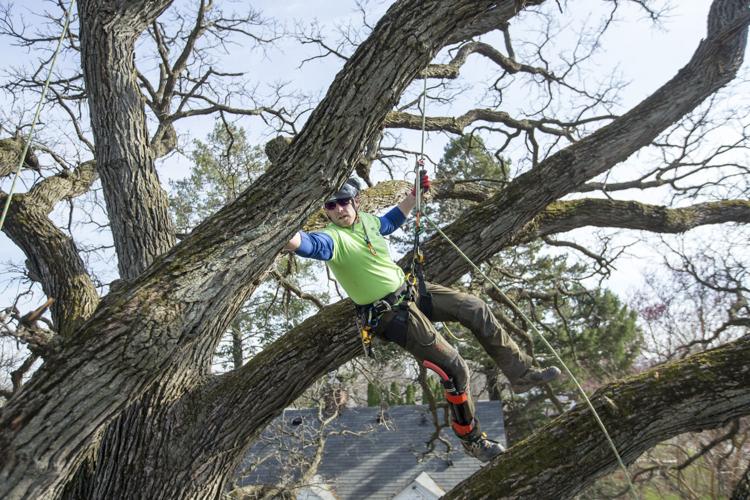 The married father of four, who lives with his family in Bettendorf, has been trimming trees full time for the past 11 years. He began competing five years ago once he discovered the sport.
"I did a little rock climbing when I would travel, and mountain life has always fascinated me," Hodson, a certified arborist, said. "But once I got old enough and had enough kids that (living in) Colorado was no longer a realistic dream, this became my passion."
In San Antonio, he'll square off against 41 of the top tree climbers in the world recognized by the International Society of Arboriculture at the 340-plus acre Brackenridge Park.
While Hodson does not have access to giant redwoods or sequoias, he practices on a monstrous burr oak tree that towers over his friend and colleague's home off Lombard Street in Davenport.
Caleb Trier, who moved into the home last September with his wife, Penny, said the tree was a major selling point.
"We got the house and the tree so people can use it and not just look at it," said Trier, a 30-year-old who also participates in tree climbing competitions.
"It's a fun feeling," he added. "Especially when you're zipping down to the ground — it's almost like you're flying."
This weekend, Hodson said judges will time his routine and score him on his pre-climb planning, execution and mobility around the tree and its limbs.
"Since there's no training facility for this kind of work, it's all on the job," he said. "You've got to put in some time in the trees."
To practice, Hodson stressed, climbers also need to find trees that are strong and balanced enough to take a beating.
"We try and be as minimally invasive as we can during competition," he said. "In the end, we're all tree care professionals, and the health of the tree is first and foremost."
Sporting a pair of Oakley sunglasses and a GoPro atop his helmet, Hodson swung around Trier's tree with his 20-year-old protégé, Brody Lloyd.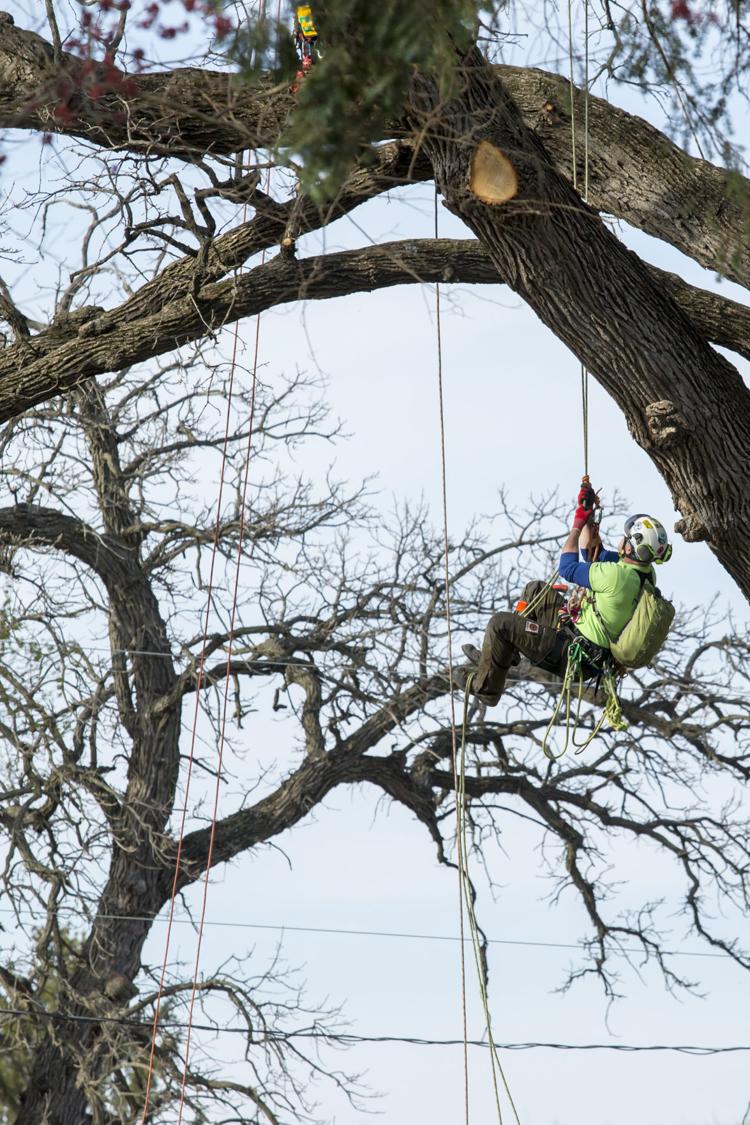 "We have a big tree family," said Lloyd, who credited Hodson for his mentoring. "At first, this was just a stepping stone for another job, but I fell in love with it."
Roberson, Hodson's 41-year-old boss, who has been trimming trees since the age of 13, praised the competitor for his "wealth of knowledge" and hands-on instruction.
"Technically speaking, he's (Hodson) produced some awesome climbers," said Roberson, who noted his crew is approaching their busy season. "Meanwhile, he can do any of the hardest, most-challenging jobs."
During a break at his last workout before leaving town, Hodson said qualifying for the International Tree Climbing Championship was his ultimate goal.
But he'll be the first to admit that his job is not for everyone.
"Being out on a balance beam 60 feet above ground with nothing below you is mind rattling, to say the least," he said. "Some guys have it, some guys don't, but it's a great way to make a living."