Imagine sharing a weekly meal with a dozen or so people where everybody can relate to one another's experiences, drilled into their memory banks more than 60 years ago.
A self-proclaimed "thick-skinned" crew of Korean War veterans count on that time together every Wednesday morning at Maid-Rite in East Moline. Beginning about 6:30 a.m., they sit and reminisce over breakfast about their days — good and bad — in the military.
"All we can do is talk about it," said John Puebla, an 88-year-old U.S. Marine Corps veteran, who received two Purple Heart medals for his service in 1950 and 1951. "If you tell somebody that's never been through it, they think we're full of crap."
The Korean War began in June 1950 when North Korea invaded South Korea, and ended in July 1953 with an armistice. While it often is called the forgotten war, these comrades cannot erase what they encountered overseas.
Sitting next to Puebla, Robert Fitts of Rock Island, a national director of the Korean War Veterans Association, captured the spotlight this week at the breakfast table.
The 86-year-old departed Friday morning for Washington, D.C., hauling his camouflage green military jeep, a 1945 Willys, on a trailer behind his truck. A fellow U.S. Army veteran, 72-year-old Dennis Johnson of Moline, joined him for the 1,700-mile round trip.
Fitts, who enlisted in the National Guard at 17, and served as a motor sergeant in the U.S. Army from 1952 to 1953, will drive the open-air vehicle Monday along Constitution Avenue in the National Memorial Day Parade.
Equipped with various original features, including a mount for a .30-caliber machine gun, the quarter-ton, three-speed machine is an antique, one that Fitts knows how to tear apart and piece back together.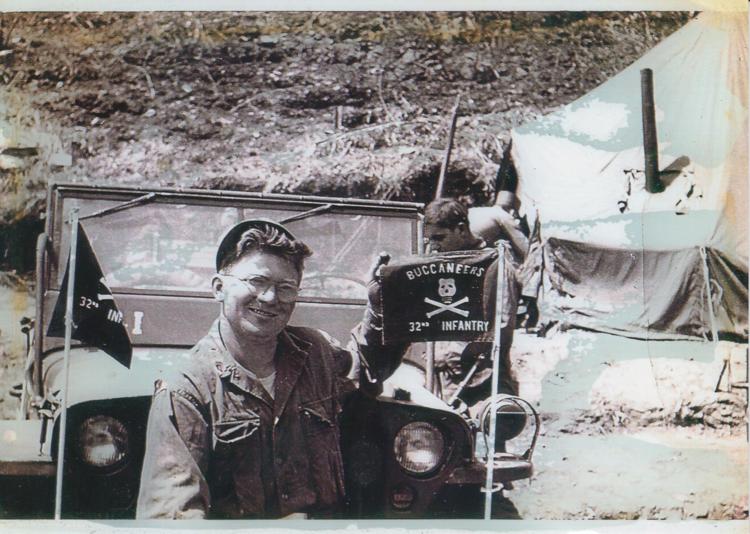 As an early 20-something, he managed 13 of the vehicles and drivers younger than him, who transported food, water, ammunition and other equipment to troops on the front line in South Korea.
"You'd send them out, and they didn't come back," said Fitts, a southern Illinois native. "We all know what our jobs were, and everybody was in danger all the time."
He purchased the vintage wheels almost 15 years ago from the widow of a military buddy who died of cancer. 
During the parade, Fitts said he will honor service members who died in the line of duty in the Korean War — almost 34,000.
"I'll be thinking about the guys I lost," he said, "and remind people that freedom is not free."
Back at the diner, the members of Chapter 168 of the Korean War Veterans Association continued to trade stories as they finished eating.
Another Purple Heart winner, Bill Weber of East Moline, recalled the moment a piece of shrapnel struck him in the throat on Christmas morning in 1952.
"It started bleeding like somebody turned a faucet on," he said, dipping scraps of toast in his steaming mug of coffee. "If I had been facing the other way, I might be blind now."
The U.S. Army veteran served as a rifleman, one of the soldiers "out in front of everybody."
At 85, Weber, who worked 40-plus years for Alcoa Davenport Works, does not dwell too much on the negative.
"We've got all our limbs, we're not disabled and we still can see," he said. "We made it back here, and some didn't."
Over the years, Brandi Lester, a server at Maid-Rite in East Moline, said she has memorized most of the guys' names and orders.
"I love it," she said. "Wednesdays are the best."
At their next meal, Fitts plans to catch up with his pals about his time in the nation's capital.
"There's nothing like a group of veterans that have been through hell together," he said.