A new Harvard analysis shows how the Quad-Cities health care system could become overwhelmed if efforts fail to slow down the spread of the new coronavirus.
The analysis, which uses predictive modeling and data on hospital bed capacity, shows what's at stake when health experts implore Quad-Citians to take social distancing seriously.
If locals "flatten the curve" — slowing the transmission of COVID-19 infections over time — the local health care system has a fighting chance to help treat a possible surge of patients.
However, if the virus spreads widely and rapidly, the local health care system could become swamped, setting up worst-case scenarios with shortages of medical professionals, equipment or supplies.
In a worst-case scenario, the area would need to increase bed capacity by more than 400%. 
Experts emphasize the models aren't forgone conclusions and don't account for efforts already undertaken to increase medical capacities and to slow the spread of the coronavirus, which poses a complex public health emergency evolving every day.
In a joint statement, Genesis Health System and UnityPoint Health noted proactive steps both health care systems are taking in response to the pandemic, including postponing elective procedures and encouraging virtual provider visits. They also emphasized the public's "vitally important role in helping us not overtax the system," encouraging Quad-Citians to work remotely and practice social distancing.
Models illustrate possible futures
In the analysis, researchers at the Harvard Global Health Institute modeled hospital capacity over time — six months, one year or 18 months — under three possible infection scenarios: if 20%, 40% or 60% of the population is infected.
According to data from the American Hospital Association and the American Hospital Directory, the Quad-Cities area has about 1,610 hospital beds and 140 beds in intensive care units. At any given time, however, some beds are already occupied and unavailable for new patients.
In the model's "moderate" scenario — in which 40% of adults are infected over one year — an influx of an estimated 32,100 coronavirus patients locally would require 153% beds available in the local area.
For the purposes of the study, the local area includes most of the Greater Quad Cities, from Geneseo and Aledo to Maquoketa and Clinton.
According to the model, availability of intensive care unit (ICU) beds could be particularly dire even under the moderate scenario. The Harvard analysis suggests that there'd be a need for 356% of currently available ICU beds — a nearly fourfold increase.
However, the burden on the health care system diminishes if fewer people are infected over a longer period of time — in other words, if the spread of the disease is slowed down and contained. For example, if 20% of adults are infected over 18 months — the best-case scenario modeled by the researchers — just 50% of the available hospital beds would be needed and 115% of the available ICU beds.
Conversely, the worst-case scenario — in which 60% of the adult population gets infected over six months — would severely squeeze the health care system, the data suggest. Under the worst-case scenario, 460% of available beds would be needed across the region, and 1067% of available ICU beds.
But if even 20% of adults are infected in six months, the area health care system would need 153% of its available beds and 356% of its ICU beds, according to the analysis.
In the joint statement, Genesis and UnityPoint noted that "data is based on modeling that may not take into consideration the fluidity of the COVID-19 crisis and does not take into consideration surge planning already in place" in both hospital systems.
The statement elaborated: "Together we have responded to this crisis proactively by postponing elective procedures. By postponing elective surgeries, we will be able to increase bed capacity and resource availability should we face a surge of hospital patients."
The statement added that planning ongoing in both systems includes "how to expand the number of intensive care and acute care beds if necessary, ideas to conserve human and material resources, acquisition of additional resources, ideas to temporarily reassign clinical staff to care for a possible surge of patients and supporting our staffs so they are able to provide care safely with the confidence their family needs are being met at home."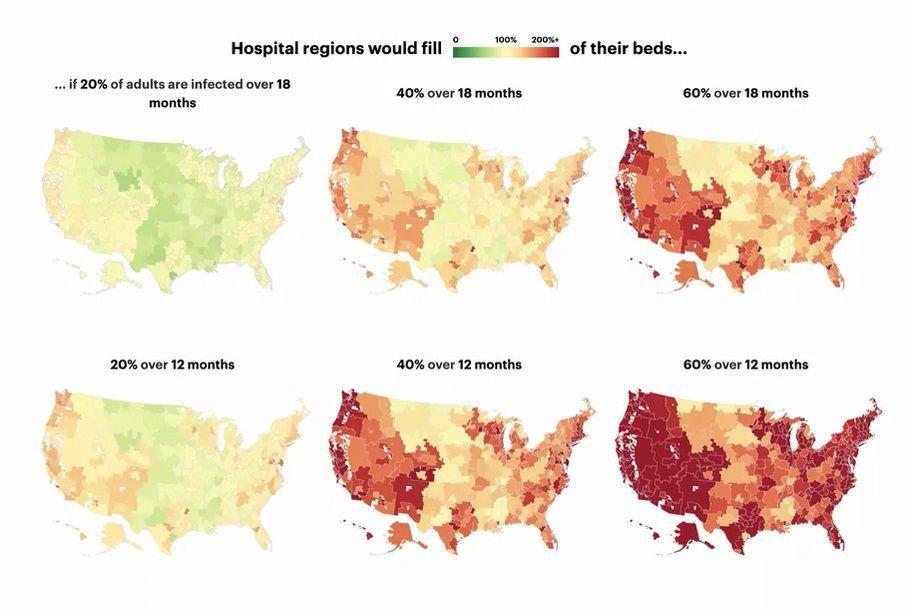 Metro areas from across the country were analyzed by the Harvard team. Overall, the Quad-Cities health care system appears better poised to handle a possible influx of COVID-19 patients than other areas nationally.
Still, a serious outbreak could overwhelm even the relatively better-equipped health care systems.
"There are so many hospital beds, so many ICU beds and so many ventilators," explained Louis Katz, medical director of the Scott County Health Department. "If demand exceeds supply, then docs and families are put in the position of deciding who gets the last bed or ventilator — not a position any of us want to be in — ask the docs in Italy."
Local demographics also heighten the urgency of social distancing. Around one in six residents of the region is 65 years or older, the population most threatened by the new coronavirus.
"If the curve of positive infections spikes up dramatically, hospitals may be affected," Scott County Health Department Director Edward Rivers said Thursday. "If everybody does their part, it is our hope it will flatten that curve and allow them to continue them to operate within their resources."
Although COVID-19 is downplayed by some young people, the CDC report found that as many as 21% of hospitalizations were in the age group 20-44.
As of Thursday afternoon, two cases of COVID-19 were confirmed in Scott County, though neither patient lives in Scott or Rock Island counties, according to health officials. One of the state's new cases is in Muscatine County.
Still, health authorities are assuming the virus has already arrived in the Quad Cities and are asking residents to take precautions accordingly.
"It's in our community — we know this," Rivers said about COVID-19. "Social distancing remains our strongest tool to help minimize the spread of this disease in this community."
As Genesis and UnityPoint said in their statement: "It is a trying time for all of us, but be assured that the two local health systems are thinking about how best to care for patients now, and if the outbreak escalates over an extended period."
Thursday's COVID-19 updates: Another positive test in Scott County
Second positive case of COVID-19 diagnosed in Quad-Cities
A second person has tested positive for COVID-19 in Scott County.
The Scott County Health Department said Thursday morning that the person who tested positive is middle-aged, between 41 and 60. The person is not a resident of Iowa or Illinois, and the case is travel-related. The person currently is recovering in the hospital.
Local officials continue to ask Quad-Citians to practice social distancing and regularly wash their hands.
Scott and Rock Island County Health Department officials will host a daily media briefing later today.
Trinity to postpone all non-essential surgeries, procedures
UnityPoint Health–Trinity is postponing all non-essential procedures and surgeries after Friday until further notice.
This is in response to the current COVID-19 crisis and in an effort to conserve personal protective equipment for healthcare workers and first responders, according to a news release from the health care system.
The health and safety of our patients and staff is always our top priority. We believe that taking this step now, is the best interest of all, and will help us further concentrate on making sure we have adequate equipment and supplies during this challenging period, the news release said.
Surgeries or procedures will be delayed unless there is a:
• Threat to the patient's life if surgery or procedure is not performed
• Threat of permanent dysfunction of an extremity or organ system
• Risk of cancer metastasis or progression of staging
• Risk of rapidly worsening to severe symptoms
UnityPoint Health hospitals, clinics and walk-in clinic locations will remain open. Urgent and emergency surgeries will continue. Trinity asks that patients contact their doctor's office to receive more information about your specific care, including rescheduling.
Quad-Cities unemployment rate fell in January. That trend is expected to end
The January 2020 unemployment numbers for the Quad-Cities area decreased from those posted a year ago, but that trend is expected to end as COVID-19 spreads.
The Davenport-Moline-Rock Island statistical area recorded a 4.7% unemployment rate for January 2020, down from 5.4% in January 2019. Statewide, the not seasonally adjusted rate for January 2020 was 4%, compared with 5.3% in January 2019, according to a news release from the Illinois Department of Employment Security.
It is expected unemployment numbers will increase as the COVID-19 pandemic spreads, leading to employers shutting down in an effort to prevent further spread of the coronavirus.
The Quad-Cities metro area recorded a loss of 600 non-farm jobs compared to a year ago.
The news release noted the not seasonally adjusted Illinois rate was 4% in January 2020, compared with 12.2% at its peak in January 2010. Nationally, those respective numbers were 4% in January 2020 and 10.6% in January 2010.
The unemployment rate identifies those individuals who are out of work and seeking employment.
COVID-19: Latest college and university updates: St. Ambrose will use distance learning through the end of the semester
Colleges and universities are making rapid decisions about campus-life this week, as they learn the latest guidance about COVID-19, from the Centers for Disease Control and Prevention. Here are the updates:
Augustana College is moving all classes off campus for the rest of the spring semester.
St. Ambrose University will use distance delivery format for courses through the end of the spring semester.
Eastern Iowa Community College closed all of its buildings.
Western Illinois University canceled Commencement.
Augustana College
Previously, the Rock Island-based college announced it would begin spring break one week early. When the announcement was made March 13, President Steve Bahls classes were expected to resume on campus March 30.
By Monday, the campus was preparing to deliver online classes or move to distance learning opportunities just in case. Wednesday, it was announced all classes for the rest of the semester will be delivered in an alternative format.
Students who have already returned home "absolutely should not return" to campus now, Bahls said in a letter distributed Wednesday. Students still on campus are encouraged to return to their family home if possible, but will not be forced to do so. Limited food service will be available.
While Bahls notes it is unlikely, he said re-opening campus this spring is still possible. Distance learning would still continue, but from campus, there would be potential access to faculty office hours, more library resources and in-person support.
The college confirmed students who do not remain on campus will be provided prorated refunds or credits for room and board fees on Thursday.
A decision about whether graduation will be postponed will be made by April 15.
St. Ambrose University
Courses will continue via distance-delivery formats through the end of the spring semester, the university announced Thursday. Face-to-face classes had been tentatively planned to resume March 30.
The university will announce a decision regarding commencement at a later date.
All university events are canceled, and campus offices will remain open to staff and faculty.
"These are decisions virtually no one in the U.S. higher education community previously has been forced to make," President Sr. Joan Lescinski said in a statement.
Eastern Iowa Community Colleges
EICC previously announced classes would resume via distance delivery beginning Wednesday. While buildings — with limited services — were previously going to be open and available for students, all campuses will close effective Thursday.
The current intention is to resume normal operations April 13.
Western Illinois University
The Spring 2020 Commencement ceremonies, slated to take place May 8-10, have been canceled, WIU announced Thursday. The university announced earlier this week that all classes for the rest of the semester would not be delivered face-to-face.
Diplomas will be mailed, and the administration said they are looking at possible alternatives, and that graduates will have an opportunity to participate in a formal ceremony at a later date.
"I'm sorry that the final semester for our students, faculty and staff has changed so dramatically in just a few short weeks," Interim President Martin Abraham said in the letter announcing the decision.
Graham Ambrose is the Iowa politics reporter for the Quad-City Times.