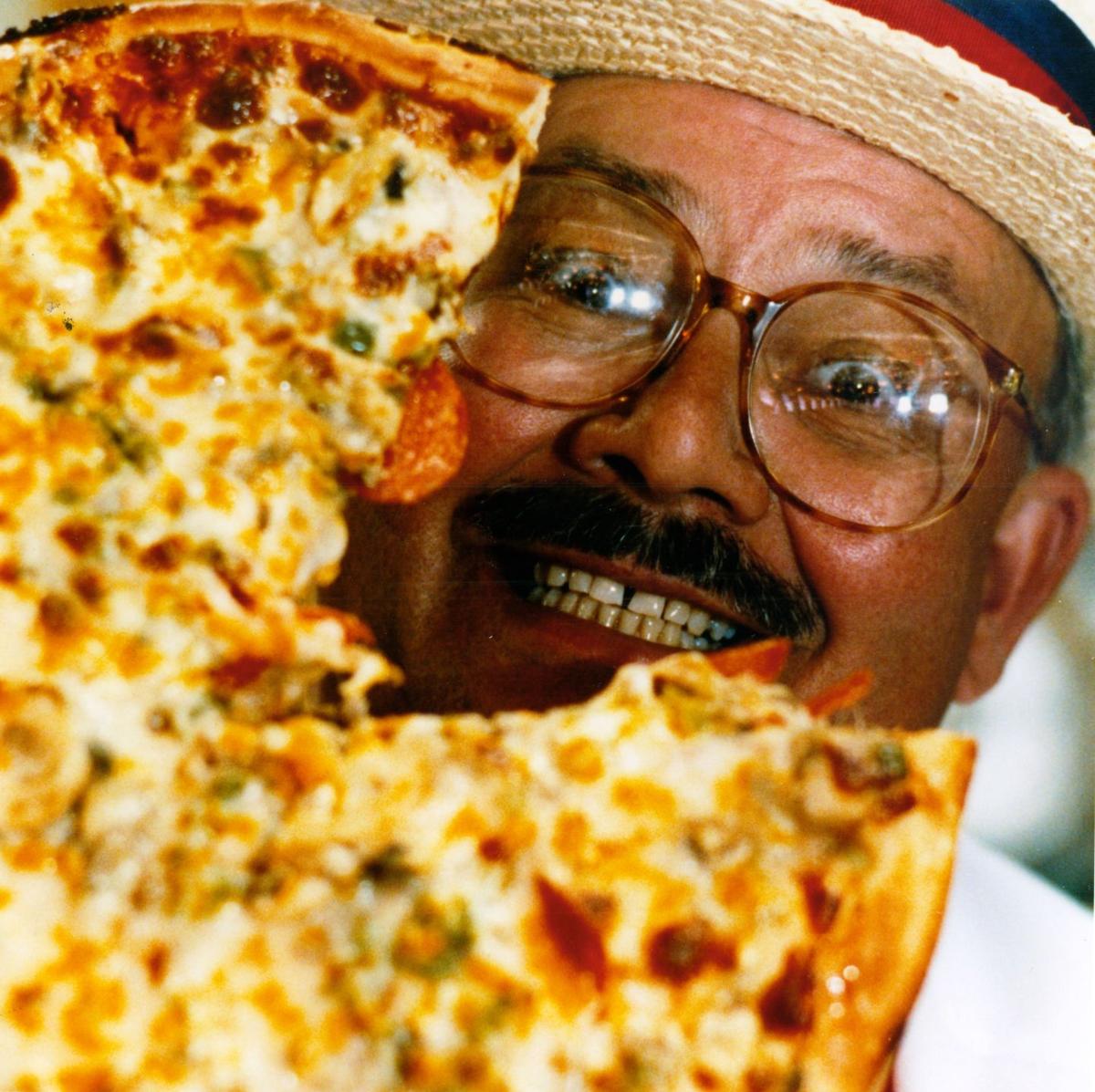 People get nicknames for a reason, and for Lawrence "Happy Joe" Whitty, the reason was obvious.
The Davenport baker-turned-pizza-magnate carried a love for people, having a good time and making people laugh with him wherever he went, including the Clarissa C. Cook Hospice House in Bettendorf where he died Tuesday morning. He was 82.
Whitty will be remembered as the founder of a chain of Happy Joe's Pizza & Ice Cream Parlors that brought pizza and ice cream to all, and horns and sirens to those celebrating birthdays.
In 1974 he invented the first-ever taco pizza that quickly became — and remains — the restaurants' bestseller.
Whitty also will be remembered for his philanthropy, particularly through the Happy Joe's Kids Foundation that he and his family founded in 2012 to improve the lives of children with special needs. The foundation's signature activity is a big holiday party.
Though the foundation was established to note the 40th anniversary of the company, Whitty had been sponsoring parties for many years before that, beginning in his own restaurants and eventually moving to larger venues, finally settling at the iWireless Center, now TaxSlayer Center, in Moline. The party in 2018 was the 46th, attracting more than 1,000 people with food, music, gifts, balloons and dancing.
The foundation was fulfilling a promise Whitty had made to himself years earlier that when he had made enough money to support his family, he'd give something back to the community, he told reporters through the years.
"I have always had a soft spot for these special kids and their families," Whitty told a reporter in 2014. "The kids go through so much and the parents are amazing people who stop at nothing for their kids."
Jeff Ashcraft, president and CEO of the Handicapped Development Center, Davenport, one of the foundation's partner organizations, said Whitty's "impact on people with disabilities is unmatched."
Whitty also loved to tell a story or a joke. "I'm pretty good at telling stories," he once told a reporter in a bit of understatement. In later years, he'd appear at parties in a wheelchair, wearing his trademark skimmer straw hat and ever-present smile.
In a write-in contest sponsored in 1996 by the Quad-City Times, he was voted the "biggest hearted" person in the Quad-Cities.
And as former Times columnist Bill Wundram wrote in 1998, Whitty is "always there, always cares."
Lawrence Whitty was born on a farm outside Minot, North Dakota, and was the first to admit that he was better at basketball than schoolwork.
He began his career as a baker in Crookston, Minnesota. In the 1960s, he moved his family to Davenport to manage the bakery in what was then a Super Valu store on West 4th Street.
Three years later he opened a bakeshop at the former Mercy Hospital, now Genesis Medical Center-West Central Park Avenue, and became its dietary director, he told a reporter in 2014.
A chance meeting with a visitor at the hospital got him a management position at the former Shakey's Pizza in Davenport. As people left the store, they often asked where they could go to get ice cream, a question that gave him the idea for combining pizza with ice cream several years later.
After a stint managing three Shakey's in Albuquerque, New Mexico, he and his family moved back to Davenport. His wife Sandy had encouraged him to follow his dream, so with "no more than two nickels to rub together," as he was fond of saying, he secured a $30,000 Small Business Administration loan and on Nov. 16, 1972, opened the first Happy Joe's in the Village of East Davenport. The location was a former drug store that now is Lagomarcino's Confectionery.
He had decided on pizza instead of a bakery because back in his North Dakota days, he saw that a baker took the dough, added dates, nuts, sugar and icing and sold his product for 49 cents. A pizza maker, on the other hand, took dough and added tomato sauce and cheese and sold his product for $5.
Whitty's family-oriented pizza parlor in the Village became and instant hit, and he was on his way to blockbuster success.
That's not to say Whitty didn't have his share of knocks. Two years later, in November 1974, his wife died of leukemia at the age of 34, leaving him with two boys and two girls.
But Whitty soldiered on and two years later he married Nancy McGrath, who brought five children to their marriage. And the business continued to expand.
Whitty was always trying new things. In addition to inventing different kinds of pizzas, he through the years opened a cookie shop, developed a breakfast pizza and other breakfast items, expanded his brand into "fast-casual" dining and founded the Jungle Bungle playhouse/restaurant near NorthPark Mall, Davenport.
In 2013, he published a book titled "Not Your Average Joe."
"I'm not only living proof of the American dream but proof that the American dream can become a reality for any one of us," he wrote about the book.
At its peak, Happy Joe's had about 100 stores throughout the country and once claimed locations in Egypt and Saudi Arabia. In 1990, Whitty was inducted into the Quad-Cities Area Business Hall of Fame, sponsored by Junior Achievement of the Heartland.
In 2017, Happy Joe's announced a partnership with Dynamic Restaurant Holdings.