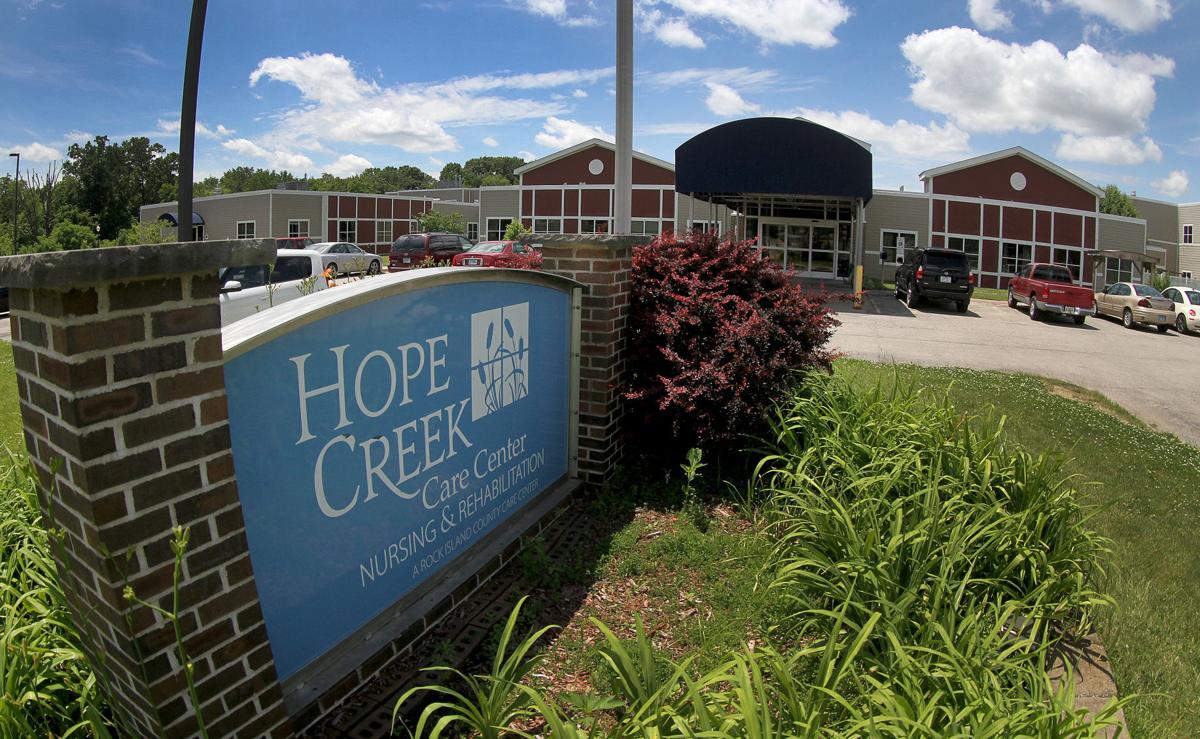 Courtney K. and her family received the news no one with elderly loved ones wants to hear: Courtney's grandmother, who is a resident at Hope Creek Nursing and Rehabilitation, tested positive for the coronavirus on Thursday.
According to the Illinois Department of Public Health, the nursing facility, 4343 Kennedy Dr., East Moline, has 68 open cases of COVID-19 and two residents have died. Cases are considered open by IDPH if they have been reported in the last 28 days.
Courtney K., who spoke on the condition of anonymity to discuss her grandmother's care, said her grandmother is in her mid-90s. 
"This is so concerning because it spreads so quickly," Courtney said. "And this is an elder, immuno-compromised population."
Nursing and long-term care facilities in the Quad Cities have been hit hard by coronavirus. In Rock Island County, Centennial Care Center, the former Rosewood Care Center in Moline, has 114 open coronavirus cases — the most in the county — and 16 deaths.
Generations of Rock Island and St. Anthony's, also in Rock Island, have no open cases, but 30 residents have died between the two facilities. 
Heartland Healthcare Center in Moline has 82 open cases and nine deaths. Friendship Manor in Rock Island currently has 24 cases, but no deaths. 
Other facilities with open, but fewer cases and no deaths, are Overlook Village with 12; Illini Restorative Care with six; and Amber Ridge Care Center with three cases.  
According to the Iowa Department of Public Health, among Scott County nursing facilities, Riverview Manor Healthcare in Pleasant Valley has 29 open cases; Good Samaritan Society of Davenport has 18 open cases; The Kahl Home in Davenport has 11 cases; ManorCare Health Services-Utica Ridge has nine cases; Davenport Lutheran Home has 10 cases; and Ivy at Davenport has nine cases. 
Rock Island County Health Department officials reported 169 additional coronavirus cases on Monday and two more deaths, bringing the total to 6,878 cases and 117 deaths in the county. In Scott County, 8,692 cases have been reported and 58 people have died.
Representatives for Infinity Health could not be reached for comment Monday. 
Hope Creek Care Center was sold by Rock Island County to Infinity Health Care Management in June. The name was changed to Hope Creek Nursing and Rehabilitation and many of the staff were kept in the transition.
Concerned about COVID-19?
Sign up now to get the most recent coronavirus headlines and other important local and national news sent to your email inbox daily.