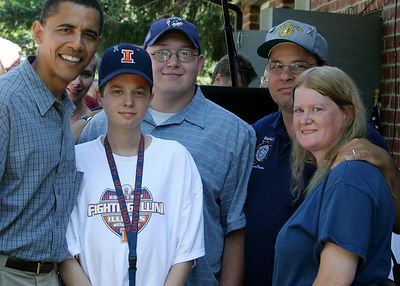 The Wheelers of Alpha, Ill., think President Barack Obama picked their farm village of fewer than 1,000 to visit today because of them.
Their relationship with Obama goes back to 2004, when he was a state senator running for the U.S. senate seat from Illinois.
"He talked about my family in his keynote speech," Tim Wheeler said, referring to the 2004 speech Obama gave at the Democratic National Convention that launched him into the national limelight.
Wheeler's son, Marcus, had three liver transplants beginning in 2003, when he was 18 years old. Tim Wheeler met Obama at a union meeting in Galesburg and talked about being out of work and wondering how he was going to pay $4,500 just for one month of his son's medical bills, the same story echoed by Obama in his keynote speech.
The weekend after his speech in 2004, Obama met Marcus at a park in Kewanee, Ill.
Tim Wheeler said Obama never forgot about his son. When U.S. Sen. Obama gave a speech in 2005 at University of Illinois-Champaign, Marcus was sitting in the front row.
"Obama looked around the audience and spotted Marcus and asked how he was doing," Wheeler said. "He must have met thousands of people while running for senate and remembered my son."
After his speech, Obama stopped a news conference to greet Marcus and give him a bear hug, Wheeler said.
"I've got to get back to the press but I'll see you down the road sometime," Obama told Marcus, according to Wheeler.
The Wheelers have tickets to see Obama's speech this afternoon at Country Corner just north of Alpha on U.S. 150.
"There's no doubt in my mind as soon as he sees us, he'll know exactly who we are," Wheeler said.
Some residents of the town believe Obama will pass through Alpha afterwards on his way to Peoria, Ill.
It has not been confirmed that Obama will stop in Alpha. Wheeler dispelled rumors the president will stop by his house, saying his family hopes to visit with the president at Country Corner.
Get local news delivered to your inbox!
Subscribe to our Daily Headlines newsletter.