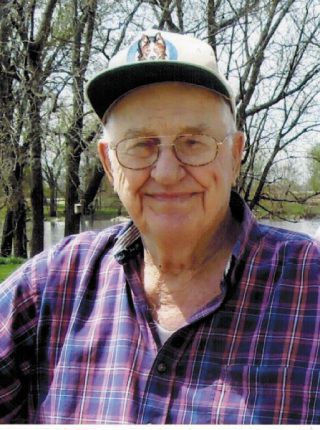 PROPHETSTOWN, Ill. — Francis W. Copeland DVM, 95, died Sunday December 17, 2017, at Iowa Masonic Home in Bettendorf.
He was born September 23, 1922, near Yorktown, Iowa, the son of Harry W. and Emma (Meyers) Copeland. He grew up in rural Shenandoah, and was a graduate of Iowa State University. Francis was a proud veteran of WWII, having served in the Army Air Corps as a P-38 pilot. He farmed after the war and then continued his education, going back to college and earning his degree in veterinary medicine. He married the former Eleanor Heinrich. He and his family moved to Prophetstown in 1958 and began his practice there, retiring in 1987.
You have free articles remaining.
Survivors include his son, Rod W. (Linda) Copeland of Prophetstown, and his daughter, Jane (Jeff Miller) Chiappinelli of Bettendorf; two grandchildren,  Elena (Bob) Casper and Evan Chiappinelli; and one great- granddaughter, Lilliana Casper.
He was preceded in death by his parents; his brother, Verral H. Copeland; and his sisters, Fern Otte and Dorthy Hughes.
Graveside services with military honors will take place on Thursday December 21, 2017 at 11 a.m. at Riverside Cemetery in Prophetstown,  with the Rev. Daniel Behmlander, pastor of Good Shepherd Lutheran Church, officiating. There will be no visitation.
Arrangements completed by the McDonald Funeral Home, Prophetstown.