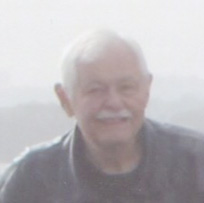 DAVENPORT -- Kenneth James Anderson passed away on Thursday, January 17, 2013, at the University of Iowa Hospital & Clinics in Iowa City.
Funeral services will be held on Friday, January 25, 2013, at 11 a.m. at Holmes Lutheran Church, Holmes, Iowa, with Pastor Richard Taylor officiating. Visitation will be one hour prior to service time at the church. Burial will be in Holmes Lutheran Cemetery. Foust Funeral Home of Eagle Grove, Iowa, is in charge of arrangements.
Kenneth James Anderson was born April 8, 1937, in Goldfield, Iowa, to Andrew O. and Anna Josephine (Askvig) Anderson. In 1940 the family moved to Eagle Grove, where Kenny attended area schools, graduating from Eagle Grove High School in Class of 1955 and Eagle Grove Junior College in 1957.
You have free articles remaining.
Kenny started his design drafting career with Link-Belt Speeder Corp. in Cedar Rapids, Iowa, in 1957. In 1967, Ken moved to Cedar Fall, Iowa, as an employee of the Doerfer Corp. He returned to Eagle Grove in 1970 and worked as a salesman for Bob Wood Chevrolet-Oldsmobile. Later he became engaged in trucking. Kenny always enjoyed drawing and designing things and designed the monument that his high school class donated to the high school student in 2005. In 1977, he returned to his drafting career with CDI Corp. in Bettendorf, working primarily on the Alcoa account. He also had short term projects in Kansas, New York, and Tennessee. He was fortunate to enjoy working with CDI until his mid-70s.
Ken also had a strong passion for cars and auto racing. He enjoyed wheel to wheel sports car racing with the Sports Car Club of America for over 30 years. He continued racing in autocross events until forced to quit due to health problems. He was an Indy car fan. Ken enjoyed classic cars, especially his Corvettes, Studebakers and Thunderbirds. He liked taking road trips with his cars, never flying if time and site permitted road travel. Ken was both an avid Hawkeyes and Cyclones fan.
He was a member of Samuel Lutheran Church in Eagle Grove, Sports Car Club of America, Mid-West Corvettes, Studebaker Drivers Club, Bix Beiderbecke Memorial Society and the Mississippi Valley Blues Society.
Survivors include cousins, Marilyn Howard of Stewartville, Minn., Robert Aukland (Lois) of Clarksville, Tenn., Olan Aukland (Bert) of Goldfield, and Jon Akers of Las Vegas. He was preceded in death by his parents.
Donations may be made to In Memory of Kenneth Anderson, American Red Cross of the Quad-Cities Area, 1100 River Drive, P.O. Box 888, Moline, IL 61266 or a cancer society.