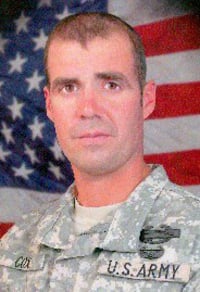 FT. HOOD, Texas - Funeral services Celebrating the Life of Staff Sgt. Nathan M. Cox, U.S. Army, 32, of Fort Hood, Texas, formerly of Davenport, will be 10 a.m. Friday, October 3, 2008, at Sacred Heart Cathedral, 422 E. 10th Street, Davenport. Visitation will be Thursday, October 2, 2008, at Sacred Heart Cathedral from 2 until 7 p.m. Burial with full military honors will be in the National Cemetery, Rock Island Arsenal.
Halligan-McCabe-DeVries Funeral Home has been entrusted with the funeral arrangements.
SSG Cox died on Saturday, September 20, 2008, while serving in the Korengal Valley, Afghanistan, in support of Operation Enduring Freedom. Nathan was with the 1st Battalion, 26th Infantry Regiment, 3rd Brigade Combat Team, 1st Infantry Division, Blue Spaders, stationed from Ft. Hood, Texas. He was assigned to Viper Company after being posted to the volatile Korengal Valley. SSG Cox has been an eleven-year member of the U.S. Army and had served in combat missions in Bosnia, Iraq and Afghanistan.
SSG Cox received many awards during his military career, including the Bronze Star Medal and Purple Heart, posthumous.
Nathan Matthew Cox was born September 30, 1975, in Davenport, the son of Les E. and Jane M. (Corbett) Cox. Nate attended Central High School in Davenport. He was united in marriage to Annie Volrath Madden on July 15, 2005, in Eldridge, Iowa.
You have free articles remaining.
Prior to his redeployment he had most recently been employed in security by Genesis Medical Centers in Davenport.
Nathan loved to spend time outdoors, he especially enjoyed cooking for family and friends; sitting quietly with a cup of coffee contemplating life and all it's joys; sports; visiting with friends; just doodling; as well as being an avid reader and writer. The things that Nate loved and cherished most in life were his family; he was a very devoted son, husband, father, brother and soldier. Nathan was also very generous, and during a period in his earlier years he shared a gift of life that he always carried with him in his heart and soul.
Memorials can be made to an educational fund to be established for his daughter Sophia.
Those left to honor his memory include his wife, Annie; a daughter Sophia, at home; step daughter, Nichole Madden, and a step son, Jake Madden; a granddaughter Alyvia; his parents, Les and Jane Cox, Walcott, Iowa; a sister and brother-in-law, Hannah Cox and Carlos Encarnaci?n, their daughter, Aryanne; his maternal grandmother, Rose Corbett; mother-in-law, and her spouse, Carolyn and Jim Hamilton; father-in-law, and his spouse, George and Marge Volrath; as well as sisters-in-law and brothers-in-law, Debbie (Dave) Kopf; Jay (Sheila) Volrath; Martha (Wade) Schneider; Liz (Dan) Allison; and Zack Volrath; a special gift, Katie, and numerous nieces and nephews.
Preceded in death by his grandparents, Jack Corbett, and Lester and Ava Cox.
Online remembrances and condolences may be expressed to the family by visiting Nathan's obituary at www.hmdfuneralhome.com