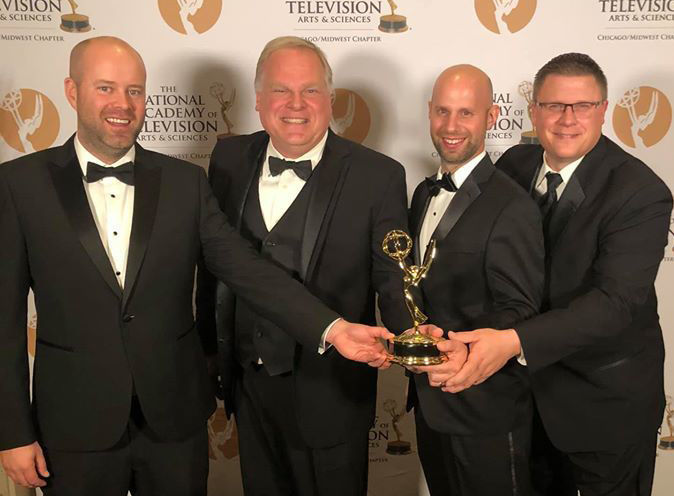 Just five days after the 100th anniversary of the first Veterans Day, Ottawa filmmaker Kane Farabaugh reveled in the recognition given to his 2018 World War I documentary series.
Roger Amm's heartfelt exploration of the war his grandfather was injured in won an Emmy for outstanding documentary correspondent/host. The series, which aired on PBS stations throughout Illinois and Iowa in 2018 (including WQPT) during the 100th anniversary of the war it profiles, was nominated in seven categories.
It was one of the most-nominated programs in this year's awards after receiving five Emmy nominations and one Emmy last year in the 60th annual Midwest/Chicago awards. The first episode (which aired over Memorial Day weekend 2018) was the only one eligible last fall, Farabaugh said Tuesday.
The regional Emmys honor programs that air over a yearlong period ending on June 14, he said. Last year, "A Golden Cross to Bear" won for Outstanding Achievement – Writing, Short Form.
You have free articles remaining.
During his acceptance speech this past Saturday, Amm thanked the crew and production team, and dedicated the award to his grandfather and all those who served in the 33rd Division.
"A Golden Cross to Bear" follows his journey to learn more about the combat experience of his grandfather — Pontiac farmer Gustave Amm, who served in the 131st Infantry Regiment of the 33rd Division.
In the series, Amm uncovers a previously untold story of the front-line experience in that conflict and how the events his grandfather participated in ultimately shaped the global map, Illinois and his own family.
Over two years in the making, "A Golden Cross to Bear" focuses on the Meuse-Argonne Offensive in France, the bloodiest battle in the history of the U.S. military. During 47 days of combat, nearly 100,000 U.S. "doughboys" were wounded and more than 26,000 were killed in action during a chapter of "The Great War" that few Americans today understand, Farabaugh said.
Many of the casualties of that battle were from Illinois. That offensive's end on Nov. 11, 1918, marked the end of World War I.
The five-hour documentary series is now available to purchase and stream digitally on any smart TV or device, through the Vimeo On Demand channel. For more information, visit vimeo.com/ondemand/goldencross.