Two emergency room docs open their workday at the Copper Spoon, a coffee shop on the first floor of Genesis Medical Center-East Rusholme Street, Davenport.
It's 7 a.m., an early start for Dr. Kathryn Dierks, 36, who just returned from a trip to Washington, D.C., where she met with politicians on Capitol Hill. She orders a latte, which her husband, Dr. Dave Dierks, 43, pays for.
It marks the couple's nine-year wedding anniversary, but now is not the time to celebrate. They both have busy days ahead.
When they got married in 2009 at Dave's parents' farm in Maynard, Iowa, the then-physicians-in-training had no plans of living in the Quad-Cities after completing their respective residency programs at the University of Iowa.
But in 2011, Dave needed a job while Kathryn wrapped up her schooling, and Genesis Medical Center- Davenport was hiring.
"I signed the contract not even thinking we would stay here for longer than a year," said Dave, who was promoted to assistant medical director of emergency department services within six months.
The day after Kathryn interviewed for a position on her husband's team in 2012, the couple went to breakfast at the former Urban Grind (now Cru) in downtown Davenport. She felt at home.
'Rock stars' of the ER
Dave, however, wasn't sold yet on staying, so they rented a house in Davenport's historic Gold Coast neighborhood with the goal of working here for three years. They would earn enough money to pay off their student loans and move to Arizona, where they first met in their 20s.
Their plans changed once they settled into their roles at Genesis, and they realized how much of a need there is for quality emergency room physicians in Iowa. They saw an opportunity to help improve the health of the region by making this "the best ER we could make it together," Dave said.
"We love emergency medicine, and in Iowa, you can actually make a much bigger difference, whereas if we go to Arizona …" Kathryn began. "… We'd just be a cog in the wheel," Dave said, finishing his wife's sentence.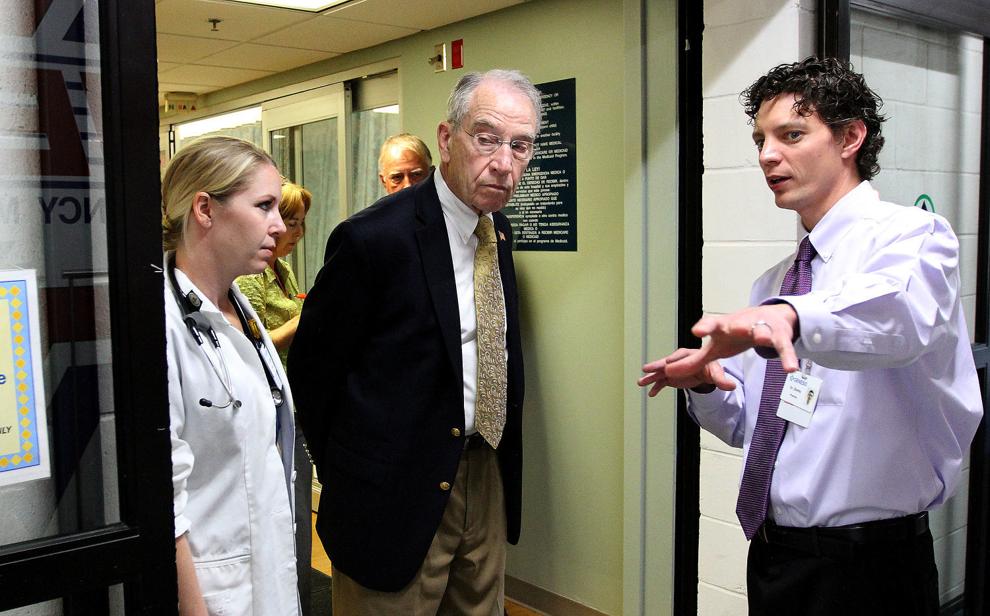 The Dierkses officially met at Banner Desert Medical Center in Mesa, Arizona, where Dave, an Arizona State University grad, was working as an ER nurse and Kathryn was volunteering while finishing undergrad. Dave decided to apply to medical schools when he saw how much of an impact he could have on people as an ER physician.
He also was splitting from his ex-wife and breaking up with his former rock band called Clove, which freed him to "focus in on myself and better myself." Dave enrolled at the College of Osteopathic Medicine at Des Moines University, and Kathryn followed suit after graduating from Arizona State.
In 2014, they bought their home near the Bettendorf/LeClaire border, and Dave was named medical director of emergency department services the following year. This spring, Genesis Health System gave Kathryn its Patient Service Excellence Award.
Jordan Voigt, president of Genesis Medical Center-Davenport, praised their leadership, teamwork and "tremendous compassionate care." Genesis spokesman Craig Cooper called them the "rock stars of the emergency departments."
Building a team
As medical director, Dave was charged with the task of recruiting board-certified emergency medicine physicians.
Throughout the past two years, he has hired six new doctors, and another physician will join the staff this summer, bringing Genesis' total number of full-time emergency room doctors to 17. An additional physician will come on board each of the next two summers.
One of his major challenges is retaining personnel because emergency room physicians usually work one place for a few years before moving to another city, said Dave, who once wanted that lifestyle.
"It's a nomadic profession," he said. And unlike other physicians, they're not trying to build a practice, which is part of what drew them to the field of emergency medicine.
"I like the excitement of constantly seeing new patients," Kathryn said, noting the variety of people and cases they treat. "If there's any sort of crisis or outbreak of some illness in the community, we get to see it in the emergency department."
In 2017, there were 12 shooting deaths in Davenport, and the Dierkses saw the brunt of that gun violence, getting to know several police officers by name.
"Last year was unbelievable for gunshot wounds," said Kathryn, who primarily works 2 p.m. to midnight or 4 p.m. to 2 a.m.
They handle those cases by stabilizing the victim's airway, breathing and circulation before treating any other injuries. Keeping calm and cool is important, too. During quieter shifts, they repair lacerations, drain abscesses, administer lumbar punctures and place stents, among other procedures.
'People will yell at you' 
Not everyone is cut out for work in the ER, which often is stressful.
"We burn out a lot," Dave said. "On average, an ER doc works 10 years before they cut back and do something else."
A challenging resuscitation or a child's death, for example, takes a heavy toll on them.
"It can stay with you for a very long time, but you have to find ways to get over it," Kathryn said. "It's part of our job."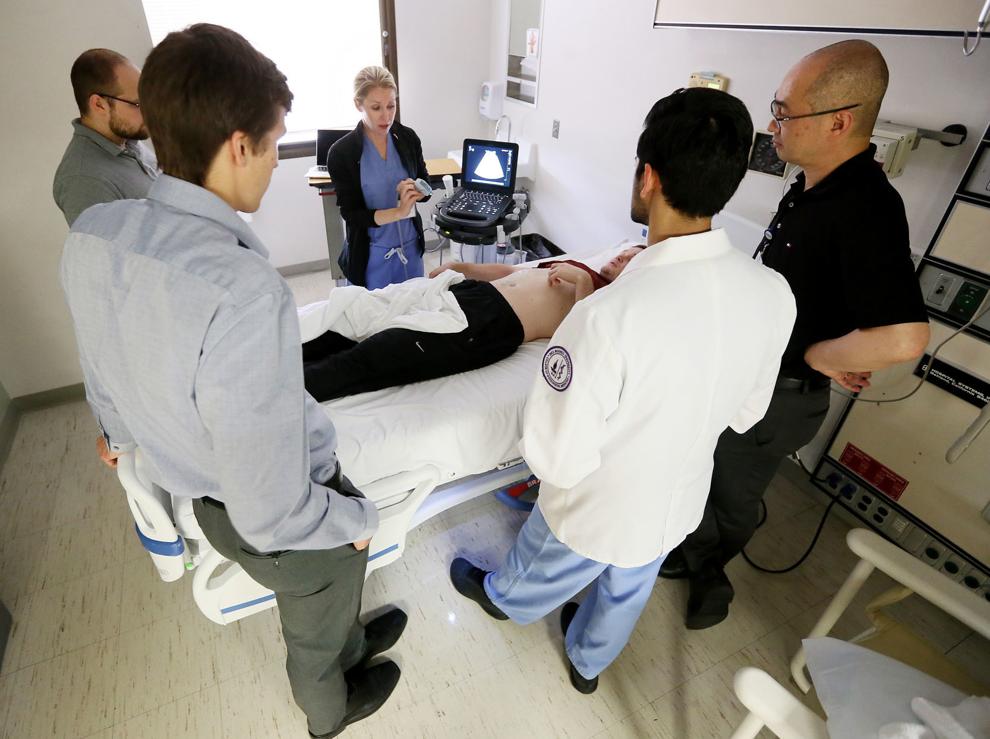 They also frequently find themselves on the receiving end of verbal abuse from emergency room patients and their family members.
"People will yell at you, people will call you names, people will belittle you or insult you," Dave said. "Sometimes it's not really a feel-good place to work."
Pleading for more patience from future visitors, he offered the following advice:
"If you come to the ER, it's going to take forever," he said. "If you have that expectation, you won't get upset."
On the flipside, they do experience positive interactions with patients and their family members.
 "You get to help them figure out what's going on and help relieve their anxiety, which for me is by far the most rewarding," Kathryn said. "I love the human connection."
They each cope with the stress in different ways. Kathryn goes running while Dave, who mainly works 7 a.m. to 5 p.m., enjoys cooking, gardening and watching baseball. They spend the rest of their time off together. 
'Couple goals'
The Dierkses work more clinical hours at Genesis Medical Center-East Rusholme Street than they do at Genesis Medical Center-West Central Park, Davenport.
A $6 million renovation and expansion of the emergency department at Genesis East is almost complete.
Although they don't always work the same hours at the same campus, knowing they have each other's backs in the ER when their shifts overlap is reassuring.
"It's very comforting when you know a physician who you love and respect is in the room with you, and we're helping each other out," Kathryn said.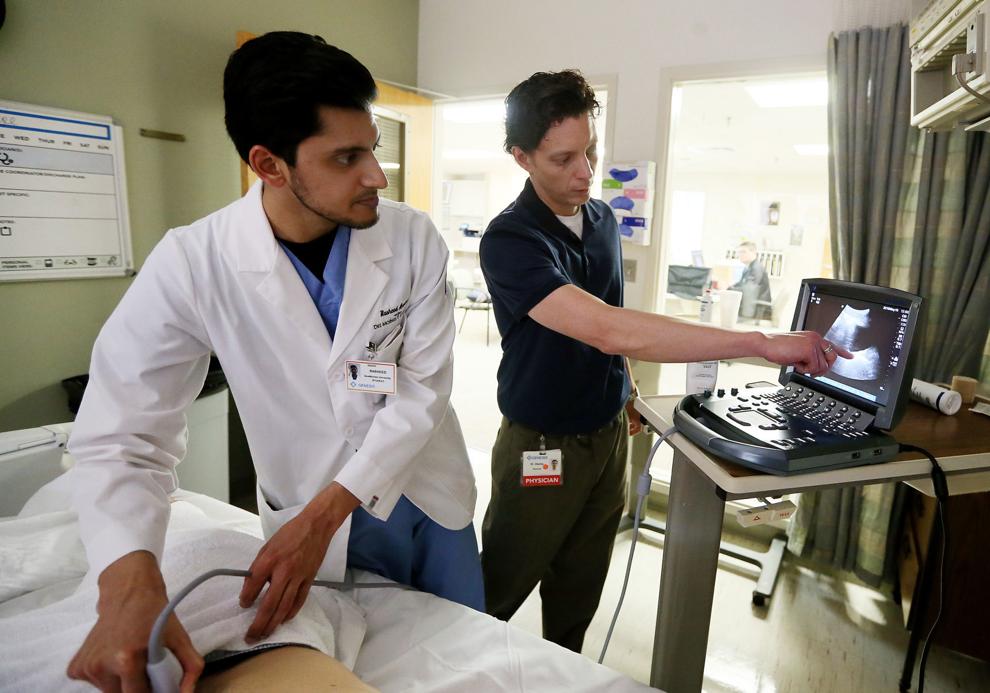 Those who work with them have picked up on that synergy as well. 
Rasheed Ansari, a third-year medical student at Des Moines University, worked with Dave and Kathryn during his month-long emergency medicine rotation this past year. Kathryn's enthusiasm complements Dave's laid-back personality.  
"They see each other as equals, and they play off each other's strengths," he said. "Couple goals, basically."