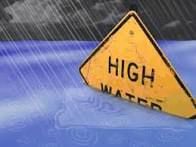 Forecasts for the Mississippi River at Lock and Dam 15, Rock Island, and the Rock River in Moline have been bumped up a bit as forecasters begin to incorporate this weekend's rain events into the flooding forecasts.
Meteorologist Mike McClure said that most of the Quad-City area would receive about an inch of rain Friday and Saturday. Some areas could see higher amounts with thunderstorms.
Weather models are indicating periods of showers and thunderstorms will come in waves, especially Saturday evening, McClure said.
However, he added: "The setup here is fairly dynamic. The storms are going to be moving pretty quickly, so there won't be the opportunity for them to sit over a place and dump," he said. "So expect about an inch of rain through several rounds of thunderstorms."
As of 6:30 p.m. Thursday, the Mississippi River at Rock Island stood at 15.31 feet. Flood stage is 15 feet. The Mississippi is expected to rise to 15.5 feet by early Monday.
The Rock River at Moline was at 11.18 feet at 6:30 p.m. Thursday. The Rock is forecast to fall to 11.1 feet Friday and then begin to rise to 11.6 feet Monday. Flood stage for the Rock at Moline is 12 feet.
McClure said the dynamics of the river would be important if the Climate Prediction Center's forecast for the region for a wetter and warmer spring came to pass.
"We're going to be focused on any type of rainfall," he said, adding that, with the rivers so high, meteorologists will keep a close eye on where the rain will fall and how much will fall.
For Friday the forecast calls for a 50-80% chance of rain Friday during the daylight hours. The chance of rain rises to 90% Friday night with thunderstorms.
Saturday's forecast calls for a 90% chance of thunderstorms during the daylight hours, dropping to 40% by overnight.
The good news is that it appears there may be a few days of dry weather after the storms pass Saturday.
Sunday's forecast call for cloudy conditions, although dry and breezy, with a high of 54 and an overnight low of 38.
Monday's forecast calls for sunny skies and a high of 61 degrees and an overnight low of 43.
Tuesday's forecast call for a 30% chance of rain, mostly cloudy with a high of 55, Wednesday's forecast calls for sunny skies with a high of 55 and Thursday's forecast is partly sunny with a high of 56.
Get local news delivered to your inbox!
Subscribe to our Daily Headlines newsletter.