In his Freedom Dividend plan, Andrew Yang, Democratic candidate for president, supports the concept of $1,000 per month for every American adult.
On Wednesday, Yang told an audience of 40 about the Freedom Dividend, Medicare for all and other ideas at Clinton County Democratic headquarters, 224 22nd Place, Clinton.
Yang, who was a corporate attorney for five months, said he wants to bring his experience as a successful tech entrepreneur and innovator to the White House.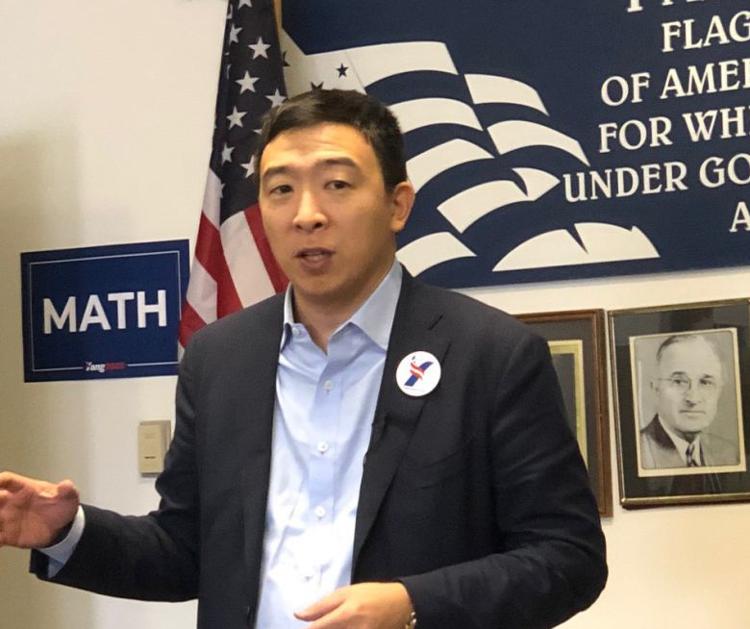 Here is a recap of where Yang stands on a few major issues:
The Freedom Dividend: the concept of a universal basic income (UBI) of $1,000 a month for every American adult between the ages of 18 and 64. The dividend would allow Americans to pay bills, pursue education, start businesses, stay healthy relocate for work, spend time with their children and care for loved ones, he said. If the Democratic party is the party to empower women, "We know that there are thousands of women here in Iowa and millions around the country that are in exploitative or abusive jobs or relationships because they can't improve their situation. And $1,000 a month would go a long way to making that better," he said.
Medicare for all: He said America is one of few industrialized nations that doesn't provide health care for its citizens. He wants to implement a single-payer system to ensure all Americans have quality health care. "We need to make it so that when we get sick or injured, we're not more stressed out about paying for it than we are about getting well, which is the way it is now … Anyone who says we don't have the money for it doesn't know what they're talking about."
Human capitalism: The way the economy is measured should be changed, moving away from GDP (gross domestic product, a financial measure of the value of goods and services produced in a certain period).
The opioid crisis: "There is a feeling in America you can't treat drugs with drugs," he said, but France has been successful with providing substitute drugs.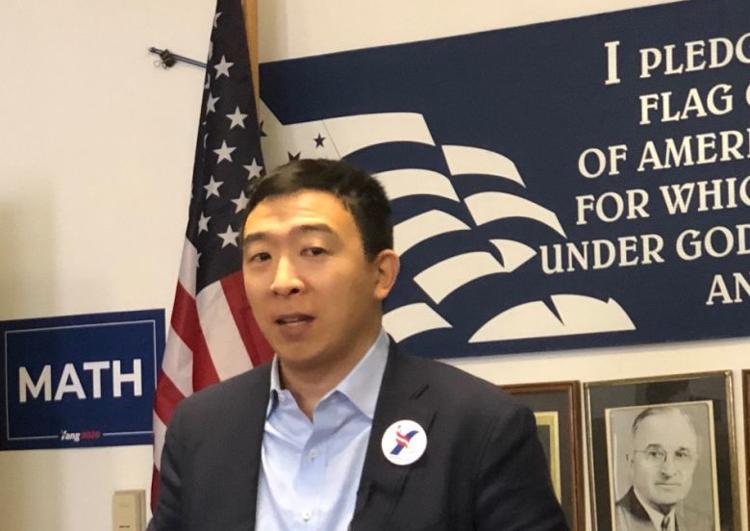 "You control the future of the country," said Yang, who drew applause when he said, "The opposite of Donald Trump is an Asian man who likes math."
Yang answered questions, then stuck around for a session during which he posed for photos and gave away copies of his new book, "The War on Normal People: The Truth about America's Disappearing Jobs and Why Universal Basic Income Is Our Future."
Rob Ogden, of Orion, Ill., agreed with Yang's vision. "We don't need to go left or right in the next election. We need to go forward," Ogden said.
Ogden, who works in aerospace manufacturing, said he heard about Yang on the Joe Rogan Experience podcast. Yang, he said, "has a plan, rather than talking points."
Julie Duerst, of Sterling, Ill., said she learned about Yang mostly on Facebook and the internet. "He really seems to care about the needs of the lower- and middle-class people," she said. "I feel like he's looking out for the little guy."
Ed Brown, of Clinton, finds Yang's ideas similar to those of Bernie Sanders. Brown is disgruntled with the Iowa Democratic party, he said, because in the last election, "They put money toward candidates running unopposed."
In 2011 Yang founded Venture for America and spent six years helping create more than 2,500 jobs in cities such as Cleveland, Detroit, and Pittsburgh. Technology such as robots and artificial intelligence has destroyed more than 4 million jobs in the United States, he said. "In the next five to 10 years, they will eliminate millions more."