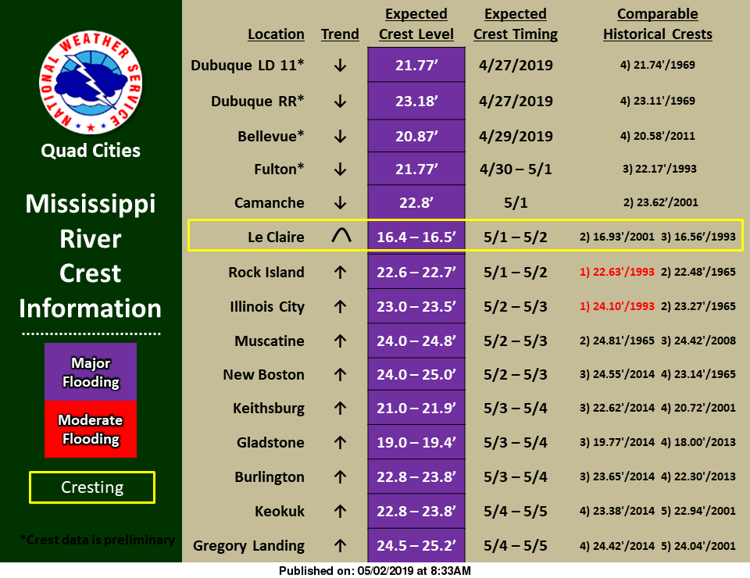 LATEST: The Quad-Cities has reached a Mississippi River crest of historic proportions. And it is expected to continue to rise.
Shortly before noon today the Mississippi reached a level of 22.64 feet breaking the 1993 mark of 22.63 feet.  
The Mississippi River at RCKI2, The #QuadCities has a new preliminary all time record flood crest! 22.64' at 1150 AM Today, May 2nd 2019! This breaks the 1993 #GreatFlood record of 22.63' The river is still rising!

— NWS Quad Cities (@NWSQuadCities) May 2, 2019
Updated forecast just issued for Mississippi at Rock Island. Still 22.7 feet this evening. Main change is a longer crest, with a slow fall starting Friday afternoon. Latest stage is 22.60 feet at 11 am, just under record of 22.63 feet in 1993.

— NWS Quad Cities (@NWSQuadCities) May 2, 2019
"There is a high probability of a historic crest of 22.7 (feet) late this afternoon or early tonight," said Brian Pierce, a meteorologist with the National Weather Service.
With more rain in the forecast for next week, the crest could climb again, Pierce said.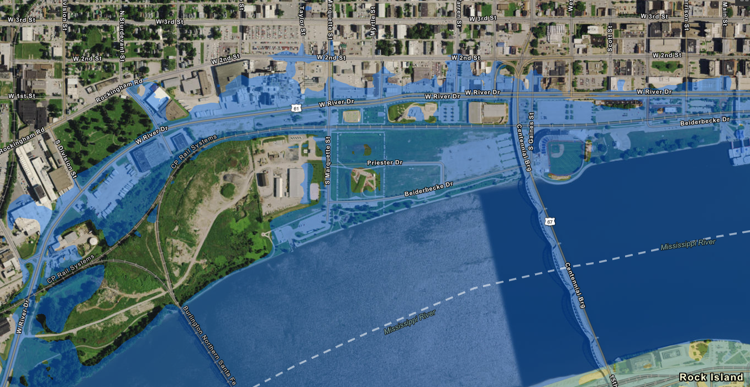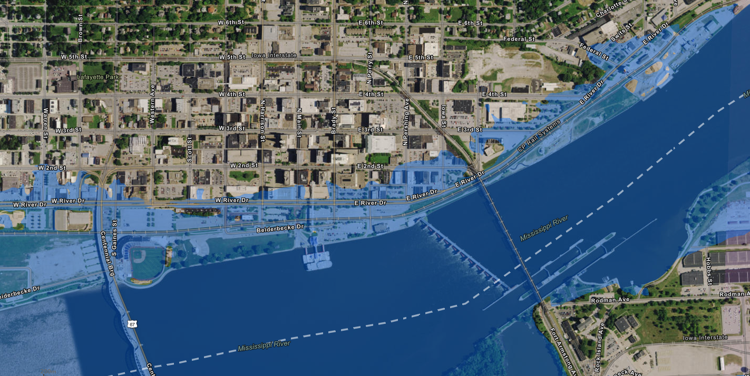 Currently at  22.64 ft 05/02/2019
(1) 22.63 ft on 07/09/1993
(2) 22.48 ft on 04/28/1965
(3) 22.33 ft on 04/25/2001
(4) 22.00 ft on 03/10/1868
(5) 21.49 ft on 06/16/2008
(6) 20.90 ft on 07/04/2014
(7) 20.71 ft on 04/22/2011
(8) 19.66 ft on 04/20/1997
(9) 19.40 ft on 06/27/1892
(10) 19.30 ft on 04/26/1969