When a painting that is a contemporary approach to the Resurrection is unveiled Sunday, it will bring full circle the Easter-themed art of a Moline Vietnam veteran.
The painting by David Anderson, Moline, will be unveiled at First Evangelical Free Church, Moline. After that, it will be on display in the Bereskin Gallery of Art, 2967 State St., Bettendorf.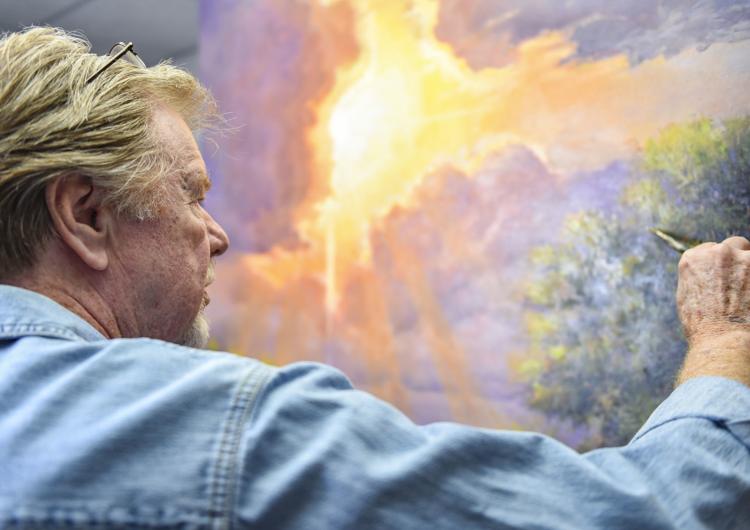 Donations for prints and cards with the image of the painting "The Dawn of Hope" will raise money for a girls' school in Tanzania, a country in East Africa.
"The painting is meant to be like a parable," Anderson said. "My thought was to depict a contemporary family viewing a vast and beautiful sky that is shining in glorious light toward them."
The family stands near an open, empty tomb on the Mount of Olives, symbolizing the location of Jesus's resurrection, he said.
It's a far cry from a painting he did of an Easter Sunday gathering about 50 years ago when he was an artist for the U.S. Marine Corps in Vietnam.
Anderson, 74, born in Bogota, Colombia, to missionary parents, was a combat artist for the Marine Corps from 1969-1971.
Anderson completed training in San Diego then went to Marine Corps Base Camp Pendleton.
"I saw on some of the classroom walls there was artwork and the signatures said 'USMC,'" he remembers.
Anderson has been an art major at the University of Nebraska, and also attended the American Academy of Art in Chicago. So he sent some Polaroids of his art to Washington, D.C., and was assigned as an artist.
"When you say 'Marine Corps' and you say 'art,' the two don't seem to go together," he said. "There was never any ridicule or joking or anything like that."
One of his pieces depicts an Easter Sunday scene on top of a mountain at an artillery base that the Marines held during that time.
"There were five of us (artists) in the Marine Corps," Anderson said. "Our mission was to cover every Marine unit that was in Vietnam."
"You end up with a little bit of a mindset of documenting things," he said. "We were documenting the experiences and what was happening with the Marine Corps.
"The unbelievable thing was that we had absolutely no restrictions, no guidance. We had complete freedom. That was really, really unusual." Strathmore Paper provided supplies, he said.
"I did several paintings of what I saw was an issue: A lot of orphanages with a lot of mixed-race kids. From my perspective, that was a sad part of what a war does." Once, the artists went to a school in Da Nang in central Vietnam and had the kids do some artwork. Everything they painted that one morning was all about the war, he said.
His work has been part of exhibitions at The Smithsonian and on display at Quantico.
When he returned to the states, he graduated from American Academy of Art in Chicago, then took a job with the Wilson and Lund advertising agency in the Quad-Cities, for which he did design work. Then he hired at Deere & Co. as a designer in its advertising department in 1976. He retired in 2010.
His art has become a refuge. "I sought to capture beauty and peace and light. I was familiar with darkness."
"I've never done any painting that had any Biblical connection other than landscapes, which obviously show nature's beautify." He decided on "The Dawn of Hope" theme because he hadn't seen another work that incorporates a contemporary person into the setting.
Proceeds from donations for prints will provide scholarships for disadvantaged girls to attend the Tanner Girls Secondary School, a Christian boarding school.
The Rev. Tom Aubrey, of First Evangelical Free Church, has visited the school.
At one time, in the village, there was one government-approved school for the region. "Families would send their children to the village and have to find boarding in homes," Aubrey said.
Some of the girls who were sent to find boarding were abused – even taken as brides by older men, he said.
The newer Tanner school includes a 60-bed dormitory.
"Because of the agrarian economy and famine, a lot of the girls who were starting school had to drop out because there wasn't money for tuition," Aubrey said. So a scholarship fund was established, and that's where proceeds from donations for prints and cards will go.
Anderson has attended the Moline church for some time, Aubrey said.
"He said he would like to do something that incorporates his faith and his art, and have some kind of project," said Aubrey, who worked with Anderson on the theme of the painting.
The artwork reflects the church's vision: "One family, far-reaching impact," Aubrey said.
For every $600 raised, room and board and tuition will be provided for one girl, he said.
"It is a life-changing thing for these girls," he said. Enrollment is a little more than 200 at the school.
"Some of the girls who are worthy students might not be able to continue because of the lack of funds," he said. "The scholarship fund is built to ensure we can continue to enable some of them who started to finish."
Anderson is part of the Bereskin gallery cohort of more than 30 regional artists, said Pat Bereskin. "I think Dave is living proof of that gift shining through what he has created," she said. "The fact that he's able, some 50 years later, to be in my door, in my gallery, in my presence to create again to tell the story …. He's living his purpose."
An artist signing and meet-and-greet will be 2-5 p.m. Saturday, April 27, at the gallery.
"I would like this image to draw every person who sees it into the painting on a personal level," Anderson said.
"The experience I've had with this painting is different. As I've become older the truths I knew as a child and challenged, I have accepted as real. I desire for others to see that their own clouds of darkness can be flooded with light as a result of Christ's resurrection."
He prayed over the painting every time he picked up his paintbrush, he said.
"This painting represents much more than my artistic ability or a nice painting. It reflects my journey and the joy and peace I've come to know as a result of the first Easter. I'm an observer in the journey of this painting too."
"I'm thankful I can be a part of something much bigger than me," Anderson said. "My desire is that others might look at this and also experience in themselves a renewed sense of their own 'Dawn of Hope.'"
The church and gallery will assist in making prints and cards available for donations. For more information, call the church at 309-764-3381.