Quad City Irish Rugby is back in action and the club is looking for players of all ages, men, woman and youth, to field the teams.
Players hit the pitch at Centennial Park on Wednesday for practice and Coach Craig Air said there are a lot of new faces this year.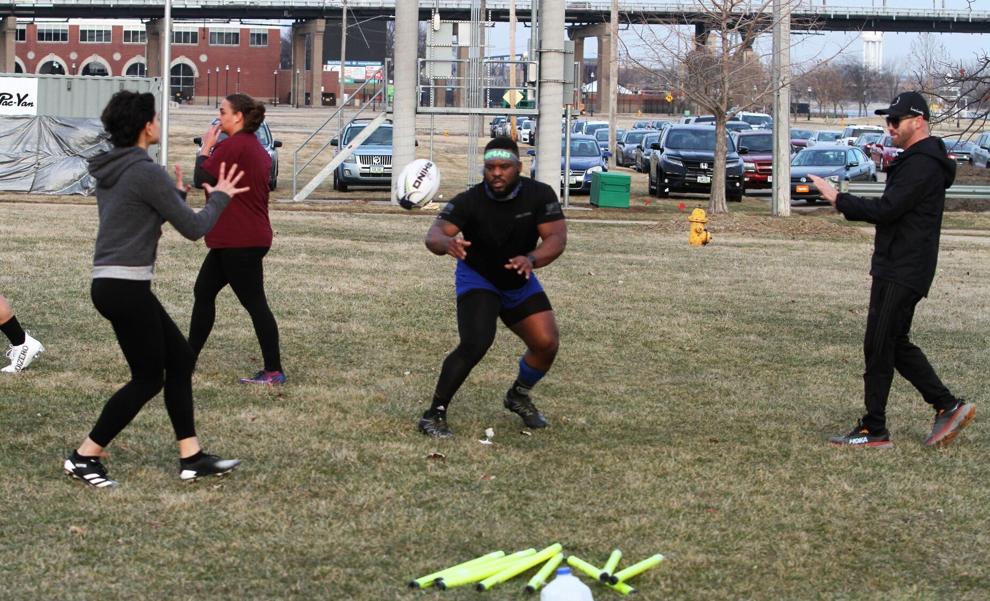 "We've got a ton of new people and it's really cool to see all this tonight," he said.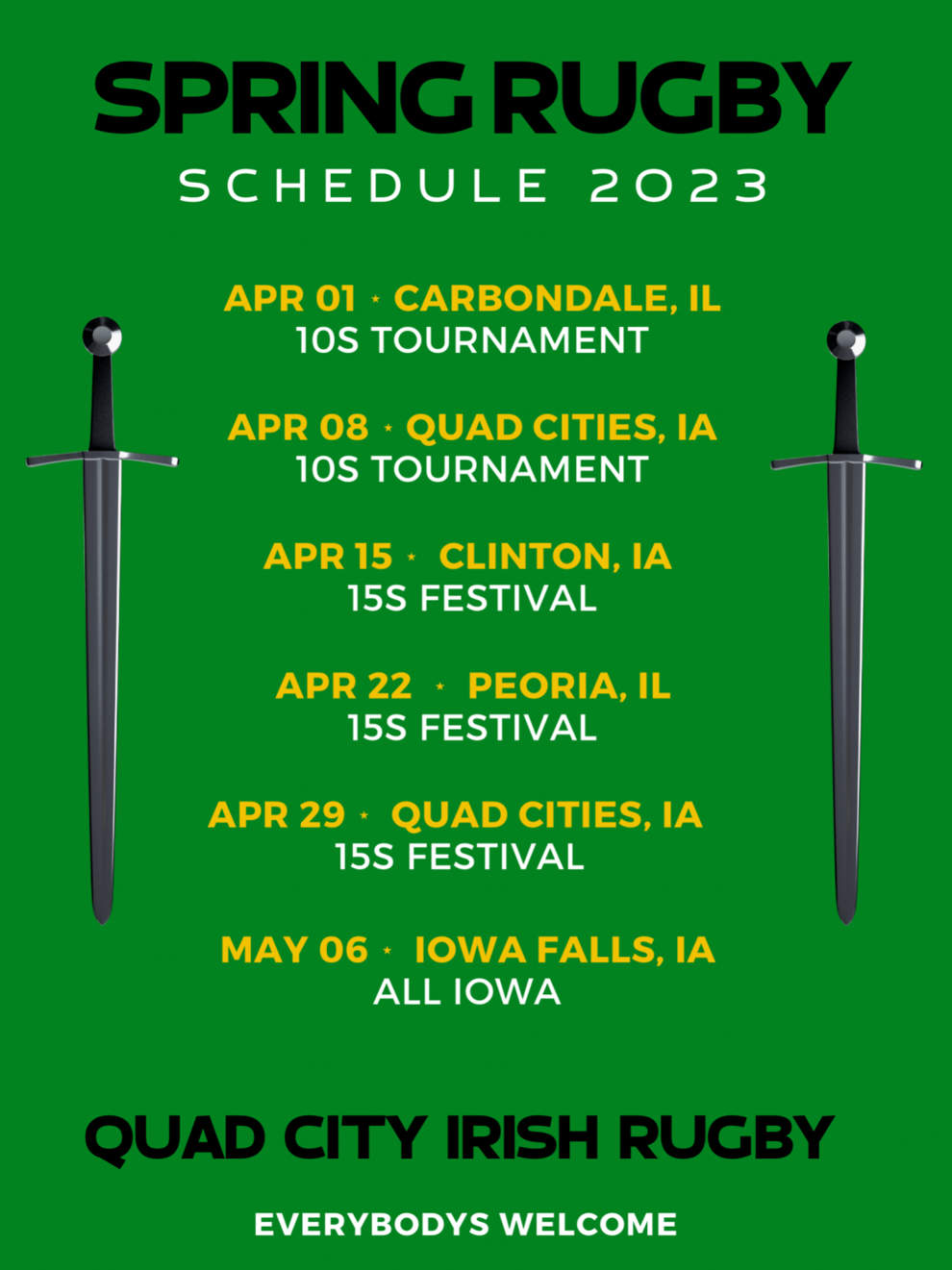 On this night, the men and women practiced together.
The youth practiced on another end of the field.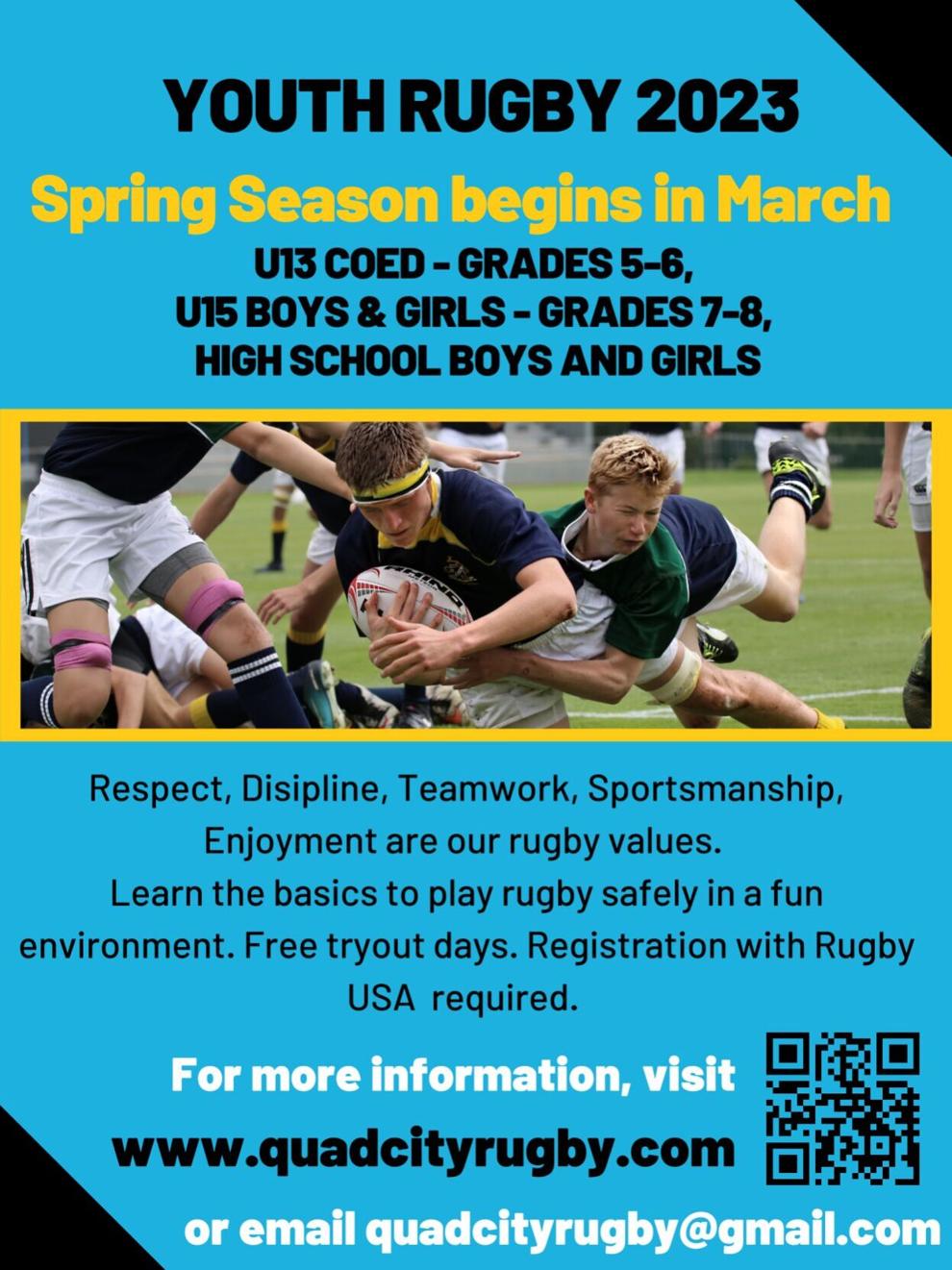 "This spring we're looking to get our youth and high school teams going and obviously the men's and women's teams," Air said. "We're trying to organize a women's team for the spring."
Youth teams are U13 coeds grades 5-6, U15 coeds grades 7-8, and high school boys and girls.  
"This year we'll be going to several festivals in the region and we'll have two festivals here in the Quad-Cities, one on April 8 and another on April 29," Air said. "We'll be heading down to Peoria for a festival and then to Clinton for one."
Air said rugby teams around the region are working together to grow the sport.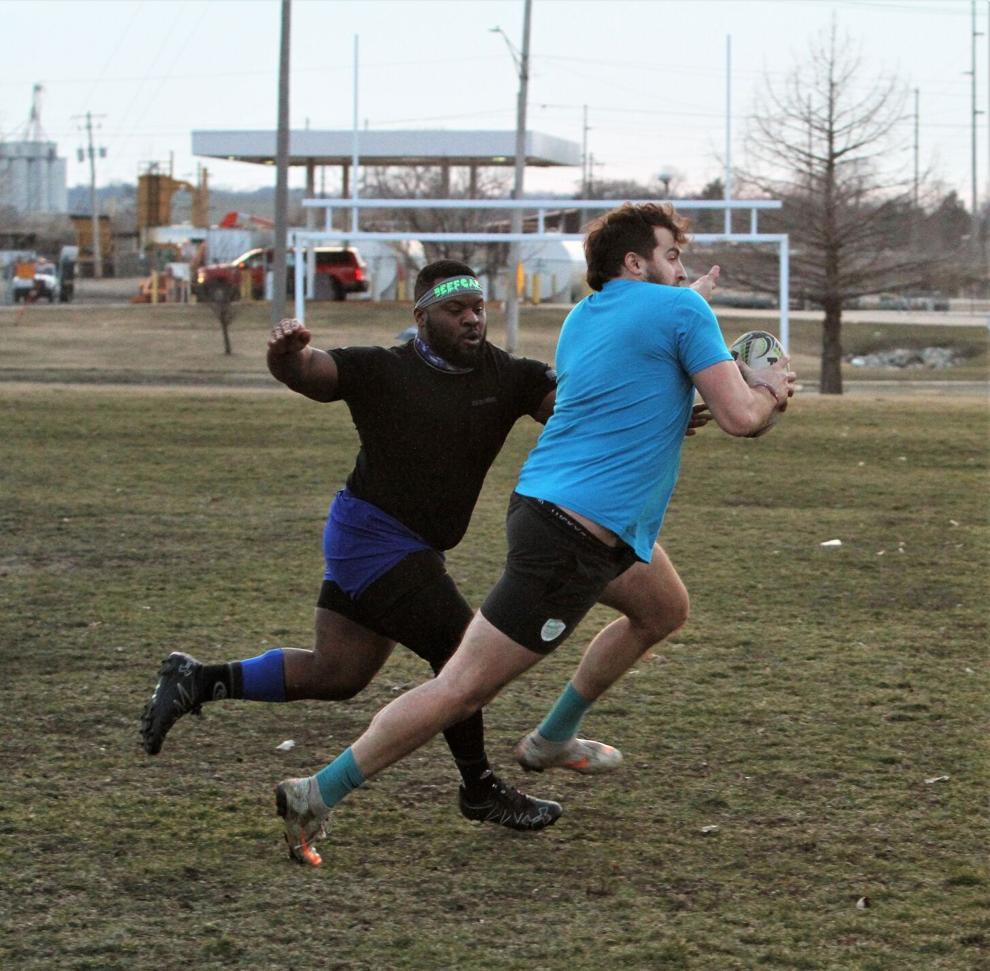 Youth practice Wednesdays at Centennial Park at 6 p.m., while the men and women practice Monday and Wednesday.
Former Quad city Irish player Greg Moroni said the Quad City Irish started in 1975 and merged in 1979 with the Quad City Rugby Club, which started in 1965.
Moroni, a 1972 graduate of Rock Island High School and a 1976 graduate of Luther College, where he played football and wrestled, switched to rugby after graduation.
"The club had ceased for about five years, but four years ago we started it up again with Craig and myself and several others," Moroni said. "We have to have another team other than the Palmer College team in the Quad-Cities."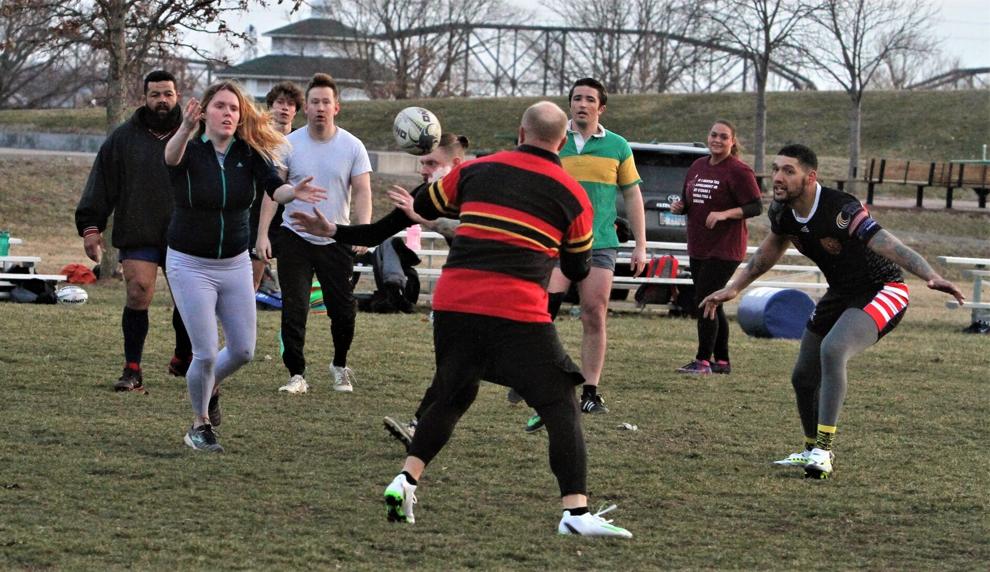 The Palmer women's team was practicing at Centennial Park on Wednesday, too.
Moroni said the Quad City Irish has a history of fielding winning teams, and has a tradition of success in the Midwest, national and internationally. The Irish won the 1986 7s National Championship. "That's seven against seven in seven minute halves," he said. "That's a beautiful fast game."
He added that the Irish have been very competitive in the 15s game, grabbing four All-Iowa Crowns.
"Rugby evolved from Soccer you know," Moroni said. "William Webb Ellis picked up the ball and started running with it. It's a worldwide sport, although the U.S. is relatively young in the game.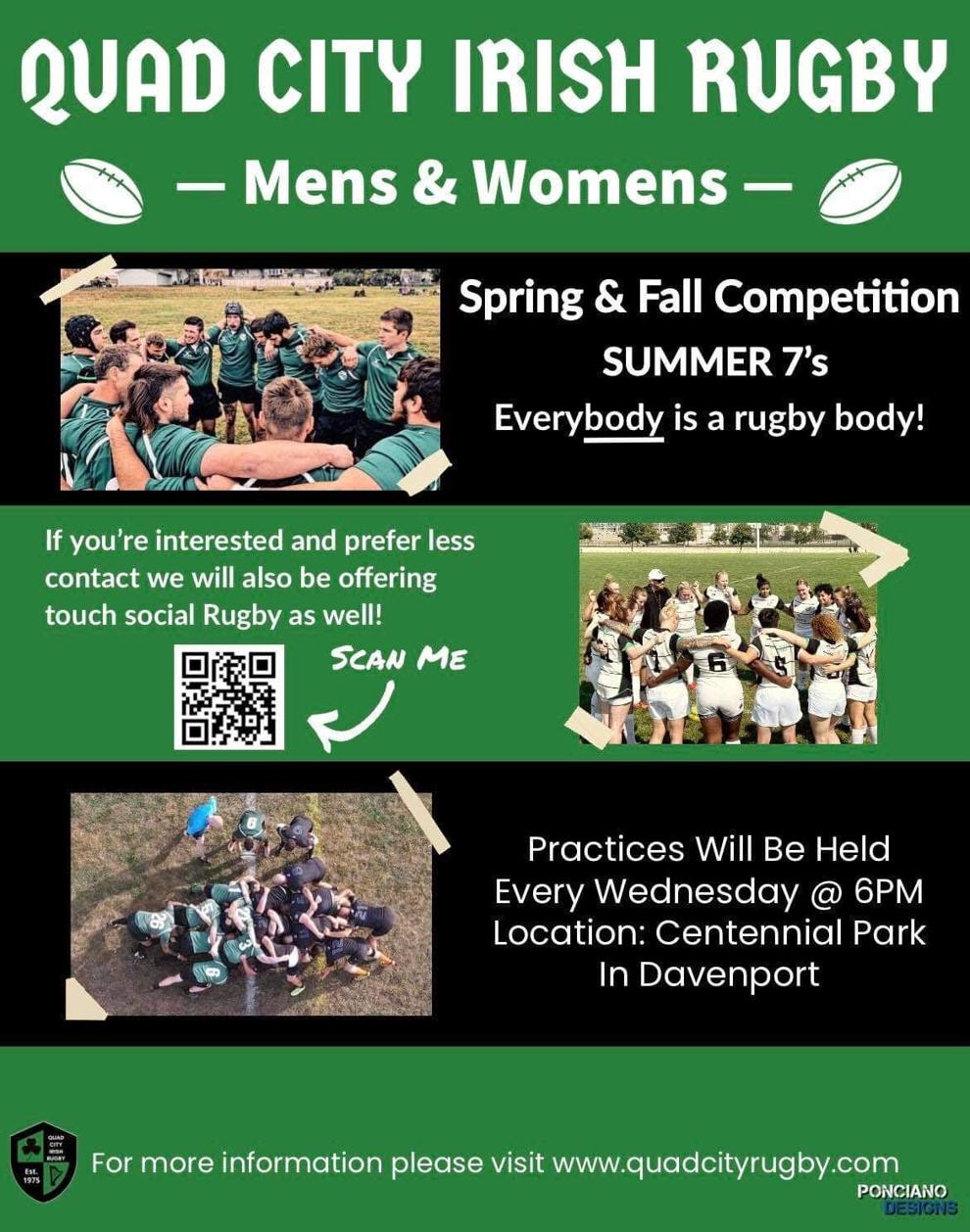 "You have to be in shape to play this game," he said. "It's continuous play. It's specifically a ball-control game. The team that has the ball the most will be the team that wins.
"It's a very elegant game when played properly," Moroni said. "Teaching is a very important. A lot of the American players come out of football and that's a collision type sport. Rugby tackling is a lot different. Don't get me wrong, there are some collisions and it happens, but in rugby the tackler uses the other person's momentum to bring them down and gain control of the ball instead of trying to run through the man."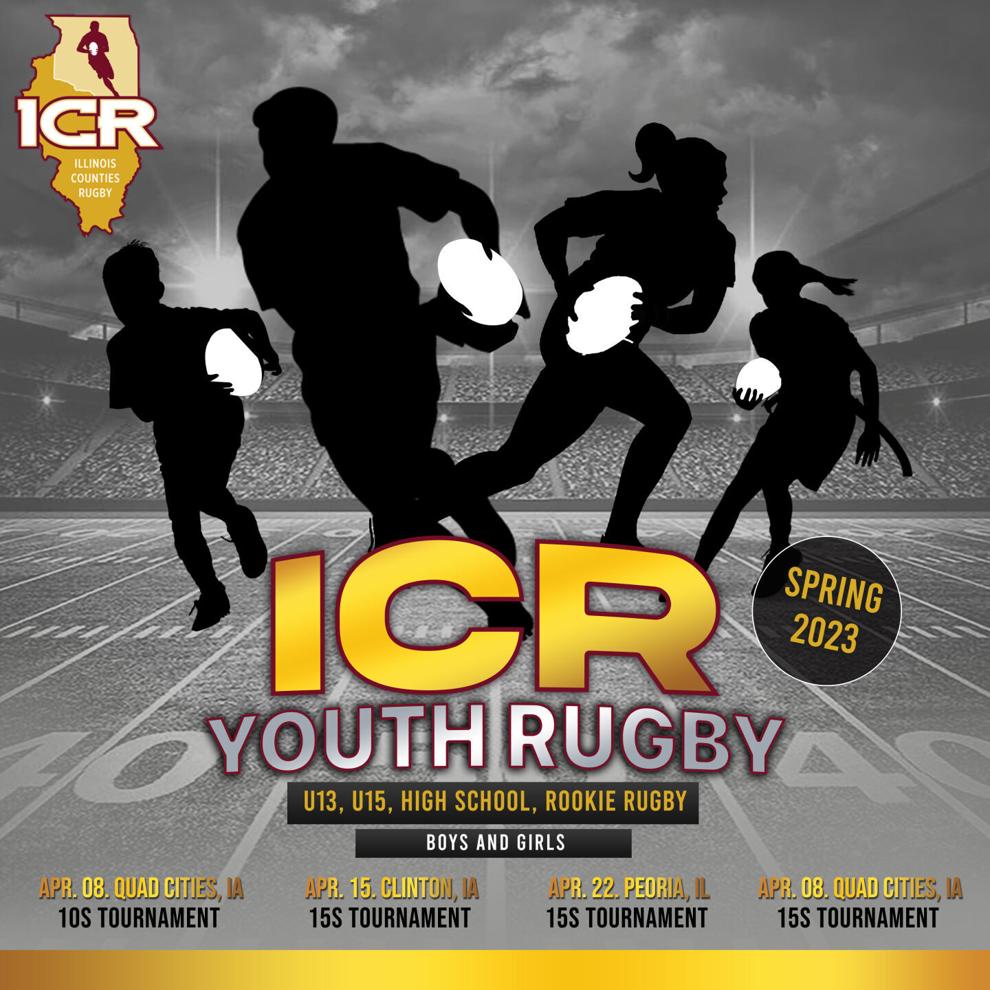 For more information on joining the Quad City Irish, call Craig Air at 309-314-3560 or go to www.quadcityrugby.com.