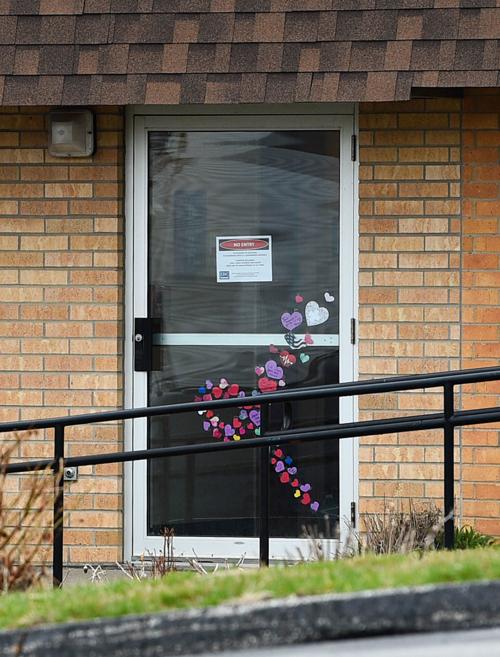 Gail Glockhoff-Long deals with a most unique situation daily. She has a developmentally challenged 64-year-old sister, Julia, living at a long-term care facility during the coronavirus crisis.
So far, so good, Glockhoff-Long said of looking after her sister the past few weeks. She likes what Friendship Manor in Rock Island is doing regarding closing of dining rooms and the buildings, delivery of meals and even admitting that one of the workers there had a positive test for COVID-19 last week.
"It didn't concern me," said Glockhoff-Long of Davenport, whose own line or work is in the seniors field. "What it gave me is the confidence that Friendship Manor was up front and went public with it and reported it. It did the protocol it should have done. They weren't trying to hide anything."
Glockhoff-Long has several siblings plus others who team up to call her sister throughout the day. In addition, there are  drop-offs/exchanges of needed grocery items and mail, the latter of which Gail checks for bills and such, at an agreed upon outer door.
Julia moved into Friendship Manor with their parents, who have since died, years ago.
The current times are challenging, not just for her sister, but any senior, most of whom are used to routine, Glockhoff-Long said.
"We've talked to many people, and their parents do not understand it, and they try to visit friends in assisted living," she said. "The whole reason people are locked down is for the protection of people living inside. To isolate the germs they're exposed to is why we do the social distancing."
She had to explain to her sister that she could not visit her boyfriend in Friendship Manor because of the social distancing practice and was pleased she understood.
Friendship Manor, like all senior living facilities follows the CMS (Centers for Medicare and Medicaid Services) guidelines requiring no visitors.
It shut down its dining rooms, its bistro, and shut down large group activities more than a week ago, per guidance from CDC, President and CEO Ted Pappas Jr. said.
"What we are doing is home-delivered meals," he said. "So all the residents in independent living apartments, our villas, and assisted living apartments are receiving home-delivered meals. That has gone great. Residents are so pleased with the food they are getting. Really, there's been no disruption."
It's even taking activities, like cocktail parties, directly to the residents on a particular floor.
"We've suspended our activities," said Pappas. "We don't want the large groups."
It is continuing to communicate via email, texts and phones through its SIREN communication  effort.
"We've gotten a tremendous response from families on the activities we are doing," he said.
Overlook Village in Moline, The Fountains in Bettendorf , and Silvercrest at Garner in Davenport, all Dial Senior Living Communities, are taking precautions, too.
"We have stopped all communal dining and group activities, the teams are delivering meals to the residents rooms," said Ted Lowndes, president of Dial Senior Living. "Activities are individualized for the residents to do in their rooms and we make sure they are able to go outside with social distancing in place. We will not jeopardize safety, but along with that, we still put the resident experience as a priority."
Dial is also continuing to allow only essential health care professionals into its buildings, and it continues to screen its staff. They also are wearing masks, as is anyone entering the building, Lowndes said, and are being given a "Hero Boost" in pay through April.
Staff are put up in hotels if they meet certain criteria and it is following recommendations from the Centers for Disease Control and Prevention, regarding staff with symptoms, etc.
Pappas said Friendship Manor also has everyone wearing face protection, as directed, since March 31.
It also has an isolation wing, should any resident become ill with the virus. The CMS directed that last Friday, but Friendship Manor had already built one three days earlier.
The recent announcement that Generations in Rock Island, also a seniors facility, had three residents come down with COVID-19 only made Pappas thankful that Friendship Manor's resident count with COVID-19 is still zero while it has had one worker test positive.
"It can happen to anybody," Pappas said. "It's an invisible enemy."
"The elderly are so affected," he added, noting their lack of immunity and also their many underlying conditions.
Generations gave its staff sizable pay increases. Many other long-term health care facilities have too, for working during the crisis.
Still, the simplest care for elderly maybe the best as the elderly crave contact and communication with loved ones.
Glockhoff-Long has one big recommendation there.
"The best thing to do is talk to them on the phone," she said. "The second best thing to do is send them cards."
Concerned about COVID-19?
Sign up now to get the most recent coronavirus headlines and other important local and national news sent to your email inbox daily.