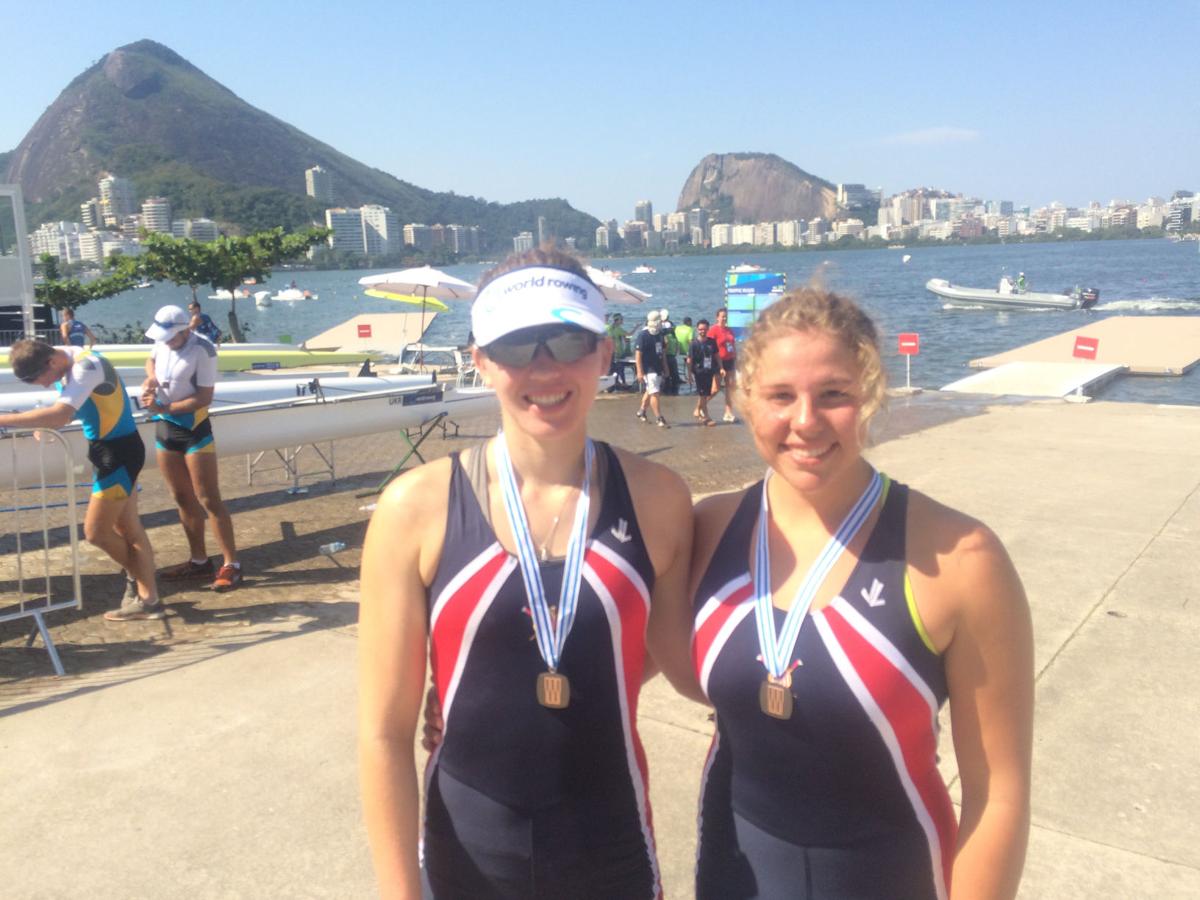 Emily Delleman can confirm the reports that have made international headlines. The water quality at next summer's Olympic rowing venue in Rio de Janeiro is a cause for concern.
The Davenport Central High School senior was one of 13 rowers on the 40-member U.S. national team who came down a stomach illness at the World Junior Rowing Championships held at the Rodrigo de Freitas Lagoon, where the 2016 Summer Olympic rowing competitions will be held.
Delleman fell ill on Thursday, the first day of the three-day championships, but managed to make it through the opening race and went on to earn a bronze medal with her quadruple sculls team that included Y Quad-Cities Rowing club teammate and recent Pleasant Valley graduate Elizabeth Sharis.
"I personally got super sick about an hour before our heats on the first day," Delleman said. "I literally threw up four times the morning before our race that day and the coaches were like, 'Just get her down the race course.' After I got off the water, I don't think I remembered any of the race."
On July 30, The Associated Press published an investigative report that showed high levels of viruses and, in some cases, bacteria from human sewage in all of Rio's Olympic water venues. The U.S. team members and their international counterparts took precautions to limit contact with the polluted water, which the AP study found to have 10 times the acceptable limit of bacterial fecal coliforms for secondary contact per Brazilian regulation.
"The water quality was definitely a big issue," Delleman said. "We were being safe with other things like drinking bottled water, not eating fruits and vegetables with peels. … I think they figured out that the only thing that was making us sick was the water."
The U.S. team arrived in Rio on July 28, and Sharis said the instances of sickness were spread out over the course of their nearly two weeks in Brazil. She added that in each case, their illnesses passed after about 24 hours and didn't prevent the rowers from competing.
Sharis noted that the U.S. team's single sculler had her boat capsize during competition but avoided getting ill.
Delleman said she has never had to take precautions around polluted water at any other event she's been at. The U.S. team physician and team manager went over protocol with the rowers about how to keep contact with the water to a minimum.
Because of her team's rowing technique, Sharis said she normally gets splashed with water, and she wore sunglasses to keep it out of her eyes. She felt fortunate her precautions helped her avoid getting sick.
"When I first got there, I was pretty nervous about it, so I brought a lot of hand sanitizers, Wet Ones, I made sure my clothes were being washed constantly, so I definitely had to really think about it every single day," said Sharis, who heads off to join the Stanford University rowing team next month. "But after a few days of being there, it kind of became a habit. You just have to do it if you don't want to get sick."
Sharis had her parents, grandparents and siblings with her for the trip, and Delleman's parents were there, too. They said they enjoyed seeing the sights of Rio with their families when they weren't racing or training, but even then, sometimes, they were reminded of the water.
"When you go around the city, you could tell that there's definitely raw sewage in a lot of the canals, which you kind of know lead into the race course, but if I hadn't seen the canals, I wouldn't have known," Delleman said.
Overall, Sharis and Delleman said they had a positive experience in Brazil and were proud to represent their Y Quad-Cities club on the national team. If it weren't for the illnesses, they wouldn't have even had any complaints about the much-maligned venue.
"It didn't really smell bad. There weren't any dead fish floating around. We just knew because of the testing that we had to be careful with it," Sharis said. "… The venue was absolutely beautiful. It's a very scenic location, and the course itself is pretty great."