A good Wednesday to all. It has been a chilly overnight as temps dropped into the mid 30s. Here are the weather details from the National Weather Service.
1. Patchy frost possible overnight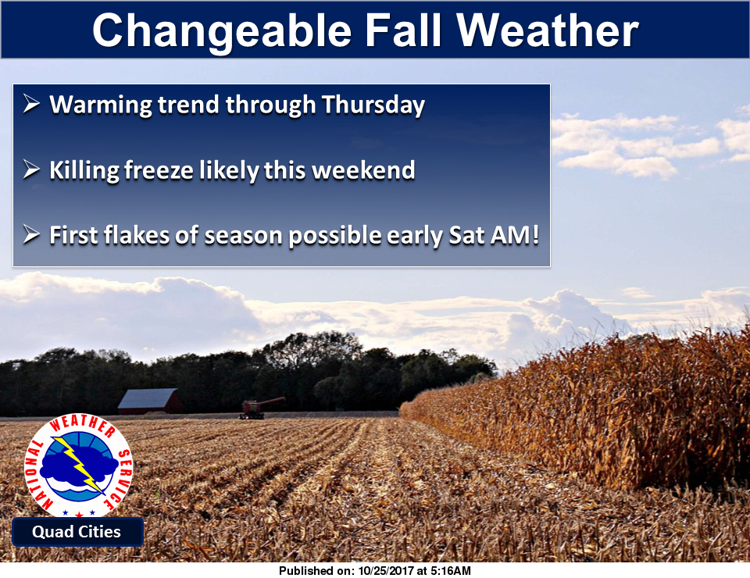 Today will begin with mostly cloudy skies, then gradually becoming sunny, with a high near 56 degrees.
Tonight with a chilly air mass in place and light winds, patchy frost is possible in low-lying areas of northwest Illinois after 5 a.m. Otherwise the night will be mostly clear with a low around 37 degrees.
Thursday will see patchy frost before 7 a.m. Otherwise the day will be mostly sunny with a high near 61 degrees and a low around 40 degrees. Winds from the northwest could gust as high as 25 mph.
A cold front is expected to move through the area late Thursday bringing sub-freezing temperatures Saturday and Sunday mornings. Some areas may experience the first snow flakes of the season early Saturday morning.
2. Judge rules impeachment was violation of Muscatine mayor's rights
A District Court Judge has ruled the Muscatine City Council's removal of Mayor Diana Broderson from office last May was a violation of her right to due process.
Muscatine County District Court Judge Mark Cleve issued a final ruling, vacating the city council's impeachment vote and requiring the defendants — the city and city council — to pay the mayor's legal fees.
Broderson said she was pleased the judge ruled in her favor before the election on Nov. 7, in which she is seeking a second term. Read more.
3. What's to become of the Levee Inn?
As the city of Davenport's Main Street Landing is set for a facelift, including holding an open house this week to help choose materials for future riverfront development, the question remains of what's to become of the Levee Inn?
For members of the Riverfront Improvement Commission, it's a question that has many possibilities after briefly discussing the subject at its Tuesday meeting and asking to continue the dialogue next month. Read more.
4. Deep in the sugar bush, Great River Maple produces 'the taste of Iowa'
Bouncing along a trail that seemed like it was made for horses, not vehicles, Dan Potter maneuvers his well-worn Jeep Cherokee deeper into the heavily wooded area five miles northeast of Garnavillo, Iowa.
Potter stops and points up through the Jeep's missing roof at the new leaf growth and branches high above. "There's a lot of crazy leaves up there, these branches are all new in the last five to seven years," he says. His smile gets wider, "And that means each one of those (leaves) are converting sunshine into sugar … and that's crazy good."
It was the late 1800s when a local lumber baron took the first of two cuts through the region, taking down most of the white oak trees and floating them down river, leaving behind a treasure Potter now cherishes. It wasn't until 2009 that Potter and his wife, Dorinda, and their three daughters cleared the underbrush to replace the oaks on the 360 acres of property his great-grandfather settled all those years ago. In their place are maple trees — lots and lots of maple trees. 
Great River Maple tapped into the potential of the "sugar bush" — tens of thousands of maple trees across Potter's property and several hundred more acres of land located nearby on his sister's farm. Read more.
5. Victim's girlfriend testifies in McDuffie murder trial
Alyson Schippers cried on the witness stand before a Rock Island County jury as she recalled the day she found boyfriend Derek Jackson shot to death in the dining room of his Rock Island home.
"He wasn't moving," she said. "I tried to shake him, he wasn't moving."
Schippers, 28, formerly of Davenport, was the first witness called to the stand on the first day of testimony in the first-degree murder trial of Yolanduis Lynn McDuffie, 24.
He is charged with two counts of first-degree murder in the death of Jackson, 24, on Dec. 18, 2013. Read more.
6. Behold the beer: Armored Gardens opens on Friday 
From the outside, it almost looks presidential. Walk through the crisp white columns and front doors, however, and the vibe transforms to what the restaurant's co-owner Dan Bush calls a "weird bizarro 1960s country club."
Inside, there are long picnic-like community tables, an artificial grass wall covered with old-timey photos of prim and proper strangers, an array of vintage golf clubs and swanky bathrooms that could have appeared in "The Great Gatsby."
There's one fixture that steals the show: A 36-foot long bar — adorned with the same tropical print that lines the interior of the Beverly Hills Hotel — topped with 104 tap handles.
That's right. At Armored Gardens, which opens Friday, there will be about 100 beers, from all over the world, on draft at all times. Read more.