A good Tuesday to all. We're looking at a cold start this morning. But at least the Rock River is going down in the Quad-Cities. And a blue moon will be in the sky tonight. All of this and more in today's edition of Rick's Six.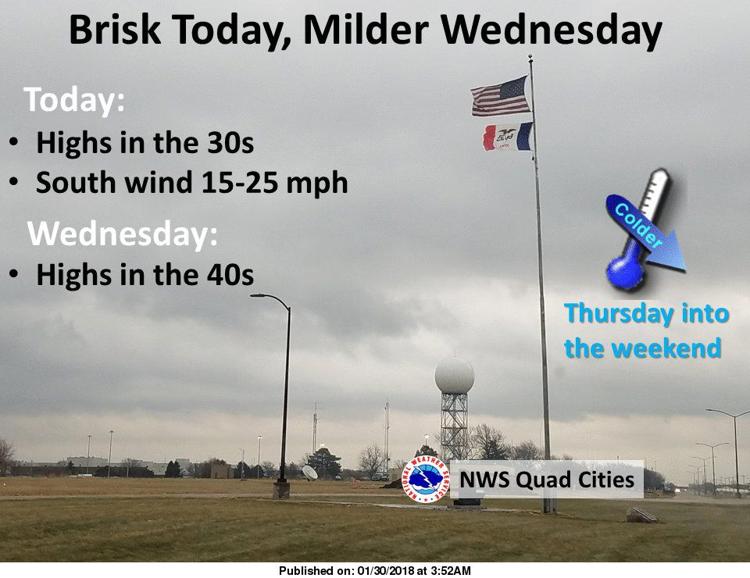 We start off the day with temps in the lower teens, so bundle up, Quad-Cities. It will be breezy with increasing clouds and a high near 34 degrees. Winds could gust as high as 25 mph, according to the National Weather Service.
Tonight will be mostly cloudy and breezy with a temperature rising to around 35 degrees by 3 a.m. South winds could gust as high as 30 mph.
Wednesday will be mostly cloudy with a high near 44 degrees and a low around 19 degrees.
2. Floodwaters receding on the Rock
Yesterday's ice jam on the Rock River at the I-74 bridge caused the Rock to quickly rise above flood stage (12 feet) sending water into backyards and onto some streets. However the scare was short-lived as the jam has broken apart with the Rock now holding steady at 10.18 feet.
3. Demolition on Costco property could begin in March
Regardless of what side Davenport residents are on regarding Costco Wholesale, progress on the development at 53rd Street and Fairhaven Road is expected in the coming months.
Demolition at the site could begin in March with construction completed by late fall. Read more.
4. PV community mourns loss of Will Kohn
News broke shortly before 10 a.m. Saturday that 7-year-old Will Kohn of Bettendorf was on the verge of losing his life.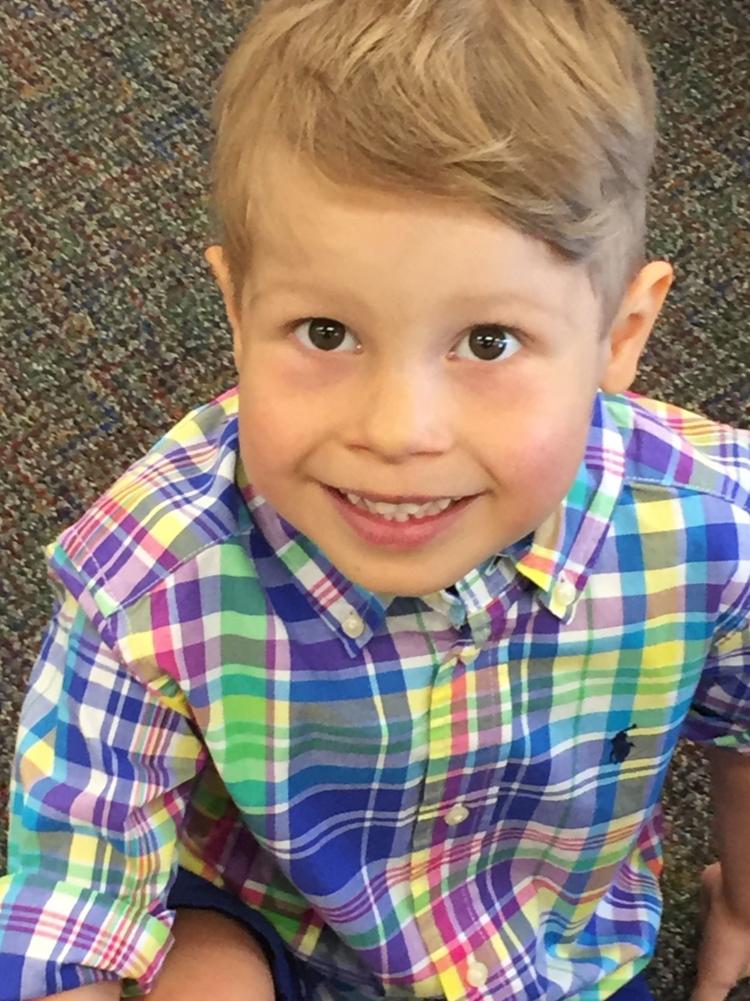 Stacie Giesecke received word from Will's father, Chris, her longtime colleague and friend at Pleasant Valley High School, "that it wasn't going to be a good day." In response, Giesecke and her sister, Nikki Pitcher, a fellow Pleasant Valley High School teacher, drove to the University of Iowa Stead Family Children's Hospital to show their support.
Will, who was diagnosed with large B-cell lymphoma in early January, suffered a fatal infection that formed in his intestine as a result of the cancer. He died shortly before 2 p.m. Saturday, Giesecke said.
Many Quad-Citians unfamiliar with Will's story before this past weekend probably have heard his name and seen photos of his smiling face. More than 15,500 people follow Team Will on Facebook, and his parents' final post has been shared more than 1,300 times. Read more.
5. Analysis criticizes Palmer's planned institutional district plan
Another Fair Housing Act expert has raised questions over the validity of a disparate impact study completed for Palmer College of Chiropractic's prospective planned institutional district plan.
At the request of the Davenport Civil Rights Commission, Jack Cann, an attorney with the Housing Justice Council in St. Paul, Minnesota, reviewed the analysis of Mosaic Community Planning and found its conclusion of no disparate impact to be flawed.
Disparate impact is when policies appear to be neutral, but in reality impact a protected group disproportionately.
Palmer was asked to rezone more than 38 acres into a planned institutional district, or PID, after it revealed preliminary plans last year to invest more than $50 million in campus improvements over the next 10 years.
Over the past several years, Palmer has acquired a number of properties, many of which are historic, near its campus. But some fell into disrepair and led to blight in the neighborhood. The college was granted the ability to demolish 11 of the historic properties with the caveat of a PID being approved.
But before the Plan and Zoning Commission could vote to recommend the PID, the Civil Rights Commission raised concerns about the plan violating the Fair Housing Act. Read more.
6. Reminder: Government Bridge closure
The Government Bridge over the Mississippi River between the Rock Island Arsenal and the city of Davenport  has closed temporarily this week so the U.S. Army Garrison Rock Island Arsenal Directorate of Public Works can perform repairs.
Photos show a different view from the Government Bridge, including view from the control tower above the railroad deck.
According to the Arsenal's Facebook page, closures are through 7 p.m., Wednesday.
There will be a second closure  beginning Wednesday, Feb. 7, from 8:30 a.m., through Friday, Feb. 9, at 7 p.m.
The bridge will remain open to pedestrian traffic. Signs and barricades will be placed during the closure.
BONUS SIX: Blue moon, super moon, total lunar eclipse rolled into one
The moon is providing a rare triple treat tonight with much of the world getting to see not only a blue moon and a supermoon, but also a total lunar eclipse, all rolled into one. There hasn't been a triple lineup like this since 1982 and the next won't occur until 2037.
The eclipse will be visible best in the western half of the U.S. and Canada before the moon sets early Wednesday morning.
The U.S. East Coast will be out of luck; the moon will be setting just as the eclipse gets started. Europe and most of Africa and South America also will pretty much miss the show.
A blue moon is the second full moon in a month. A supermoon is a particularly close full or new moon, appearing somewhat brighter and bigger. A total lunar eclipse — or blood moon for its reddish tinge — has the moon completely bathed in Earth's shadow.
"I'm calling it the Super Bowl of moons," lunar scientist Noah Petro said Monday from NASA's Goddard Space Flight Center in Greenbelt, Maryland.
Others prefer "super blue blood moon."
Either way, it's guaranteed to impress, provided the skies are clear.
The moon will actually be closest to Earth on Tuesday — just over 223,000 miles (359,000 kilometers). That's about 1,500 miles (2,400 kilometers) farther than the supermoon on Jan. 1. Midway through Wednesday's eclipse, the moon will be even farther away — 223,820 miles (360,200 kilometers) — but still within unofficial supermoon guidelines.
While a supermoon is considered less serious and scientific than an eclipse, it represents a chance to encourage people to start looking at the moon, according to Petro.
"I'm a lunar scientist. I love the moon. I want to advocate for the moon," he said.
Throw in a blue moon, and "that's too good of an opportunity to pass," according to Petro.
As the sun lines up perfectly with the Earth and then moon for the eclipse, scientists will make observations from a telescope in Hawaii, while also collecting data from NASA's moon-circling Lunar Reconnaissance Orbiter, launched in 2009.
Just like the total solar eclipse in the U.S. last August cooled the Earth's surface, a lunar eclipse cools the moon's surface. It's this abrupt cooling — from the heat of direct sunlight to essentially a deep freeze — that researchers will be studying.
Totality will last more than an hour.
"The moon is one of the most amazing objects in our solar system," Petro said. "It really is the key to understanding the solar system, through interpreting the geology and surface of the moon."
NASA plans to provide a live stream of the moon from telescopes in California and Arizona, beginning at 4:30 a.m. CST.