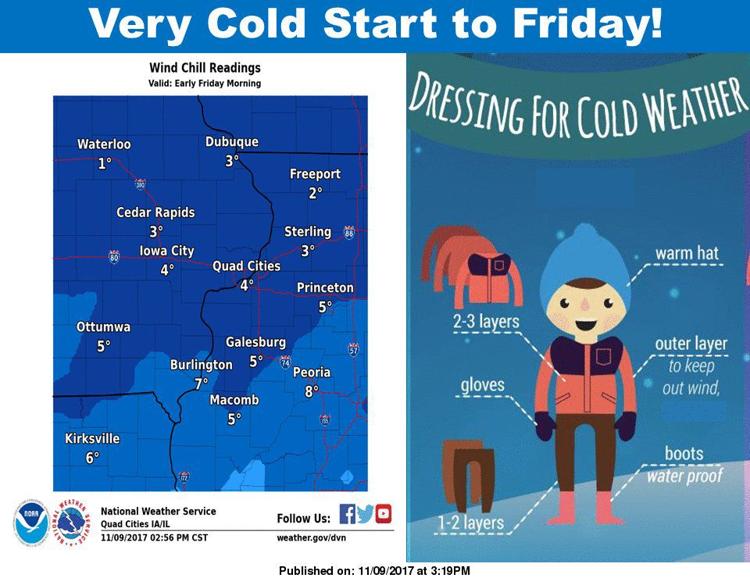 A good Friday to all. You're waking up to below-normal temperatures — we're talking single digit numbers when the wind chill is factored in — ushering in a winter storm system for the weekend.
Here are the weather details from the National Weather Service.
1. Below-normal temps for the Q-C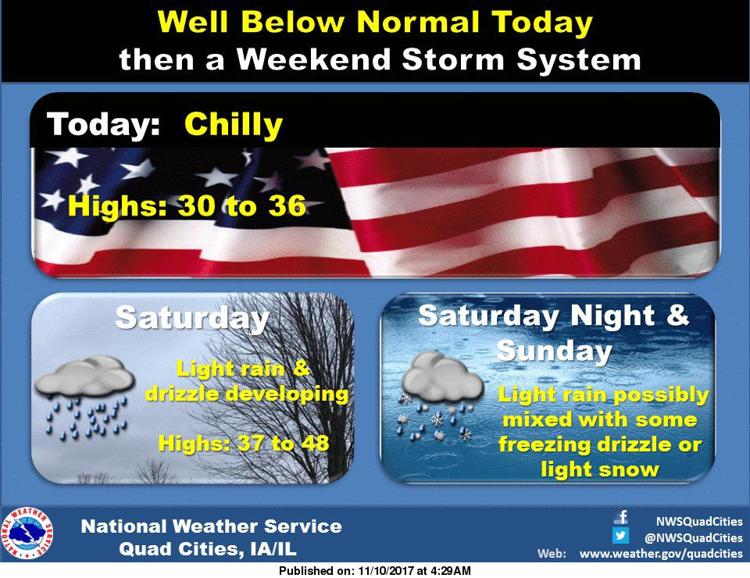 It will be sunny with a high near 34 degrees. Northeast winds between 5 to 10 mph will become southeast in the afternoon.
Tonight will be mostly cloudy with a temperature falling to near 25 degrees by 9 p.m., then rising to around 30 degrees during the remainder of the night.
Saturday brings a 20 percent chance of rain after noon. Skies will be mostly cloudy with a high near 41 degrees.
There's a 50 percent chance of rain Saturday night. Skies will be cloudy with a low around 33 degrees. New precipitation amounts of less than a tenth of an inch are possible.
Sunday there is a 30 percent chance of rain before noon. Skies will be partly sunny with a high near 43 degrees and a low around 27 degrees.
2. Bettendorf eyes redemption, face Iowa City West today
When Aaron Wiley reviews the film of Bettendorf's first-round playoff game against Iowa City West last season, there are several things that immediately catch his eye.
"We blew some coverages, gave up too many big plays, and we turned the ball over," Bettendorf's head coach said. It resulted in a seven-point defeat.
Bettendorf has another crack this afternoon at 4:06 p.m. in a Class 4A semifinal at the UNI-Dome in Cedar Falls. Iowa City West brings in the state's No. 1 ranking, is undefeated and features many of the same players who ended Bettendorf's season a year ago. Read more.
3.  Q-C Boy Scouts welcome decision to allow girls
At least one teenage girl and her mother in the Quad-Cities celebrated Boy Scouts of America's historic decision last month to expand its opportunities for young females.
But the mother-daughter duo wondered if there will be any stipulations — whether girls may attempt to earn the same merit badges as boys, for example, to achieve the prestigious Eagle Scout rank. Read more.
4. Road closure today in Clinton
The city of Clinton reports today that the intersection of North 2nd Street and Main Avenue will be closed today and again Monday from 7 a.m. to 5 p.m. 
This road closure is part of the 25th Avenue North sewer separation project. The contractor will be removing the existing pavement, installing new storm sewer pipes and pouring new concrete.
A signed detour will be in place.
5. Veterans get a parade today in Davenport
You can celebrate veterans today by attending the annual Veterans Day Parade in Davenport.
The parade steps off at 10 a.m. starting at West 4th Street and Western Avenue, going south to West 2nd Street, then east to Main Street turning north to West 4th Street, and returning to the Scott County Courthouse at Western Avenue. (see above map).
Davenport Community Schools high school and intermediate school bands will not be performing in the parade as usual because of forecasted unseasonably cold temperatures and windchills of 12 degrees. These low temperatures can damage instruments and uniforms.
The school district's jROTC (Army and Marine Corps) will march in the parade as usual.
6. Injured Buffalo police chief back home
Buffalo Police Chief Terry "TJ" Behning, who was seriously injured when a stolen garbage truck crashed into his squad car in late September, is back home.
The police department shared an update from Behning's wife, Heidi, on its Facebook page Thursday.
She wrote that the family is getting Behining settled in and "figuring out our new routine."
"We are anxiously awaiting therapy to start working with TJ so he's ready to go if we get the green light on the (November) 16th to use the left leg," Heidi Behning wrote. "Overall, TJ remains in good spirits and is sleeping much better here than at the hospital!"
She further wrote, "We continue to receive so many nice messages from all of you. I read each and every one to TJ. They fuel him to keep pushing through. The most common comment people write us and say is that they can't believe how positive and upbeat we are. How could we not be with all of you behind us! We are truly in awe every day of the support from family, friends, and the community. You guys are unbelievable."
Behning was injured Sept. 25, when police say Logan Jeffery Shoemaker, 20, was driving a stolen garbage truck at a high speed in an effort to elude police, aimed the truck at Behning's squad car as he was attempting to deploy stop sticks at the intersection of Scott County Road Y40 and Iowa 22.
Behning has undergone several surgeries since the incident.
Shoemaker was charged with multiple offenses — including attempted murder — in connection with the alleged assault on Behning and other separate incidents.
He has a pretrial conference Nov. 17 and remained in the Scott County Jail Thursday.
 6 plus 1. Press problems cause Times delivery delays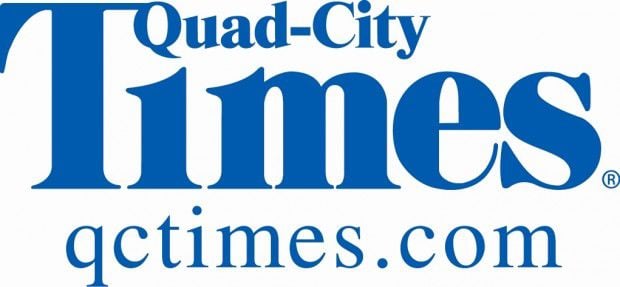 Due to press problems, some print editions of the Quad-City Times will be delivered later than usual.
Subscribers who have activated their Connect Me Local digital subscription can access online content at qctimes.com.
We appreciate your patience and apologize for the inconvenience.