A good Thursday to all. A frost advisory and plunging temps — that is what is in store for the Quad-City region in upcoming days. Here's the forecast and what the National Weather Service is reporting.
A frost advisory has been issued for Carroll and Whiteside counties in Illinois as frost is likely early this morning across parts of northwest Illinois, especially in low-lying areas. The advisory is in effect until 9 a.m. Hope you covered or moved inside sensitive plants.
In the metro area it will be mostly sunny and breezy today with a high near 64 degrees. Southeast winds between 5 to 10 mph will increase to 15 to 20 mph in the morning. Winds could gust as high as 25 mph.
Tonight will be mostly cloudy and breezy with a low around 38 degrees.  Northwest winds could gust as high as 30 mph.
Friday will be mostly cloudy and breezy with a high near 44 degrees. West winds will gust as high as 30 mph.
Friday night brings a 20 percent chance of rain. Skies will be cloudy with a low around 34 degrees. West winds could gust as high as 20 mph.
Saturday will be mostly cloudy with a high near 43 degrees. Yes, you read that right. The overnight low will be around 27 degrees.
Sunday will be mostly sunny with a high near 46 degrees and a low around 36 degrees.
2. Davenport police investigate shooting
From overnight: Davenport police are investigating a shooting in which one man suffered critical wounds.
Police were sent to an alley at the intersection of the 1900 block of Crescent Avenue at 6:03 p.m. The alley is located just north of the 2100 block of West Locust Street.
They found the victim, a 26-year-old Davenport man, in the alley. The front passenger-side window had been shot out of a car that had come to rest against some trees and shrubbery. Police did not say if the victim was in the car or out of it when they found him. Read more.
3. 'Ask the Times' visits the World Series
A Quad-City Times reader wants to know how many former Quad-Cities River Bandits players are on the Houston Astros' World Series roster, so columnist Roy Booker enlisted the help of sports reporter Don Doxsie. See how many players Don rattled off.
4. Look out for zombie-themed 'Thriller' flash mob in Q-C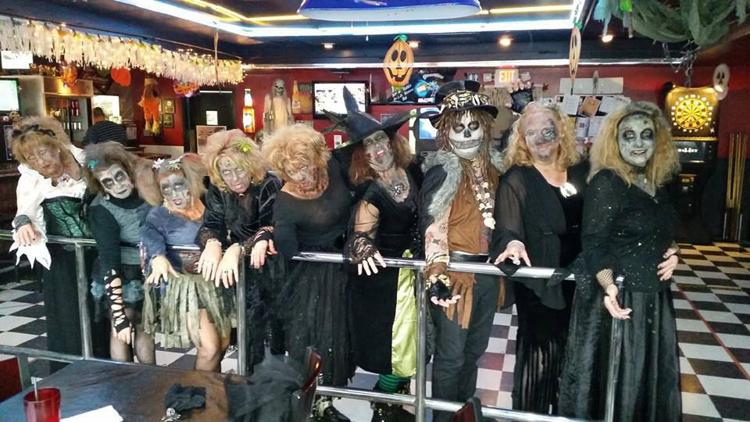 On a recent business trip, Sally Jackson of Rock Island was asked to rattle off a fun fact about herself. No one in the room expected her response: Every Halloween, she dresses up as a zombie and joins a flash mob, dancing to Michael Jackson's iconic hit, "Thriller."
"When I tell people, they're stunned," Jackson, an area human resources professional, said. "Dressing up as a zombie isn't something I would usually do at all. It's out of the box for me."
Jackson is one of 13 Quad-City area women in a zombie-inspired dance crew, named the Monsters of Mayhem, who have made a tradition out of performing the routine from the 1983 "Thriller" music video several times — some planned and some impromptu — during the final weekend in October. Read more.
5. Happy Joe's eyes national expansion 
An iconic Quad-City pizza chain has joined forces with a restaurant holding group, with an eye toward national expansion.
Happy Joe's Pizza & Ice Cream Parlors, Inc., announced the move Wednesday.
Effective Tuesday, the company partnered with Dynamic Restaurant Holdings, a new holding group led by CEO James Smith and CFO Jim Hayes, in a deal that will include a financial partner, AAVIN Equity Advisers, a private investment group based in Cedar Rapids. The investment firm provides "capital for ownership changes, business expansions, mergers and acquisitions," among other things, according to the news release. 
Lawrence "Happy Joe" Whitty and his family founded the brand in 1972. His children, Larry Whitty and Kristel Whitty-Ersan, will join the new team, "with the goal of becoming a large national operator of multiple brands," according to the news release.
Dynamic Restaurant Holdings will be headquartered at the Happy Joe's Support Center in Bettendorf, and will support additional brands of pizza chains nationall. Read more.
6. Witness: I 'saw all the carnage' of deadly downtown crash
Jessica Russell remembered the light turning red as she drove to work in downtown Davenport just before 6 p.m. on Jan. 30.
"I went to mess with my radio and I heard a big, I would say it was like a boom behind me," she said as she broke down into tears. "I went in circles and when I woke up, I just knew I was involved in an accident. It was pretty bad."
In front of her, she could see fire in the road. To her left, she saw a red Chevy Monte Carlo that was driven by Cynthia Elaine Jones, 53, of Davenport. Read more.