A good Monday to all. Winds from the north to northeast will usher in cooler temps for the Quad-Cities with even a little snow in the forecast for the weekend. Here are the weather details from the National Weather Service.
1. Mostly cloudy with frost overnight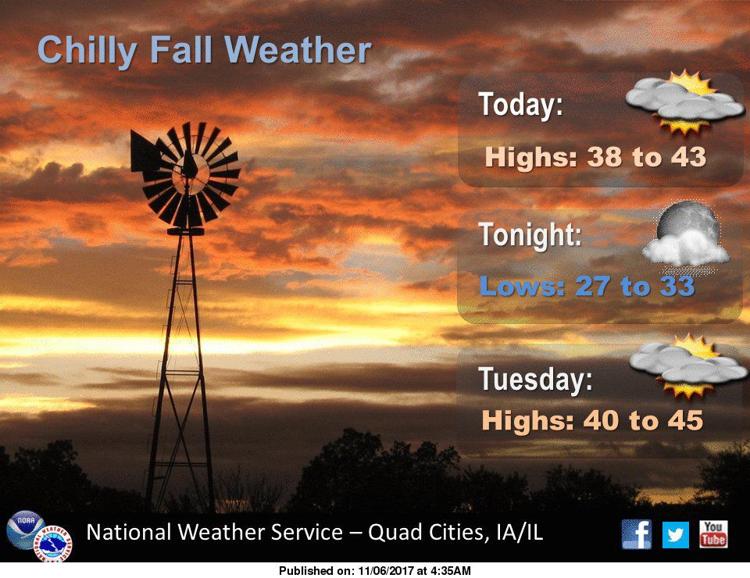 Today will be mostly cloudy with a high near 41 degrees. Winds will be from the northeast at 5 to 10 mph.
Tonight will be mostly cloudy with a low around 30 degrees. Winds will be from the northeast at 5 mph.
Tuesday will be partly sunny with a high near 42 degrees. Northeast winds will be between 5 to 10 mph.
Tuesday night will be mostly clear with a low around 25 degrees. North winds will be around 5 mph.
2. Kimberly/Division road update
All travel lanes at the intersection of West Kimberly Road and Division Street are now open to traffic. That's the good news. The bad? Site restoration work such as traffic signal replacement, sidewalks, grading and sod, will require intermittent day time lane reductions this month, according to the city of Davenport. Drivers are advised to pay attention to signs and changing traffic control while site restoration activities are completed.
And drivers should be alert to another lane reduction on West Kimberly Road in that general area.
The right westbound lane of West Kimberly Road in front of the Kimberly West Shopping Center and west of Pine Street will be closed for patching beginning today. Work is expected to be completed by Nov. 13, at which time, work will flip to the left westbound lane. All work should be completed by Nov. 20, depending on weather and subsurface conditions.
All businesses will remain accessible from both Kimberly Road and Pine Street. Traffic delays are possible. Drivers should use caution and be alert to changing traffic control as work progresses.
3. Work wrapping up on Rockingham Road
Rockingham Road is expected to be re-opened to all traffic between Birchwood Avenue and Pine Street later today or early Tuesday.
Then, beginning Wednesday, Rockingham will close to all through traffic between Division and Howell streets for replacement of railroad tracks in this section of road. This section is estimated to be re-opened by Saturday.
Remaining storm sewer, street reconstruction activities and finish work such as, sidewalks, driveway approaches, raising manholes and valve boxes will be completed throughout the month of November, and may carry over into the spring.
The current CitiBus Route 2 detour will remain in place through Tuesday. A new detour will be issued effective Wednesday through Saturday. The route should return to its normal route on Sunday. Details can be found www.citidbus.
4. Your guide to Tuesday's city elections
Election Day is Tuesday, offering Iowa voters the opportunity to shape the direction of their local governments for the next few years.
More than half of the Davenport City Council could change as the 2nd, 3rd, 4th and 6th wards will be contested while four candidates vie for the two at-large alderman positions.
What's known in Davenport is Mayor Frank Klipsch, Aldermen Rick Dunn, 1st Ward, Rita Rawson, 5th Ward, Mike Matson, 7th Ward, and Kerri Tompkins, 8th Ward, are all but guaranteed to remain on the council because they are running unopposed. Read more.
5. On tap this week in the Q-C
For the fourth time in five seasons, the Bettendorf football team is in the semifinal round of the Iowa high school playoffs at the UNI-Dome. Unlike the previous three trips, the Bulldogs hope to take their season one step further. Read more.
6. Texas church attack leaves 26 dead, small community reeling
A gunman dressed in black tactical-style gear and armed with an assault rifle opened fire inside a small South Texas church, killing 26 people in an attack that claimed tight-knit neighbors and multiple family members ranging in age from 5 to 72 years old.
As the shooter, identified as Devin Kelley, left the church he was was confronted by an armed resident who "grabbed his rifle" and shot at the suspect. The gunman then fled in his vehicle and was found dead at the county line. Read more.