A good Friday to all. Negative numbers return to the Quad-Cities along with some snow. Here are the weather details from the National Weather Service.
1. Cold, nasty wind chills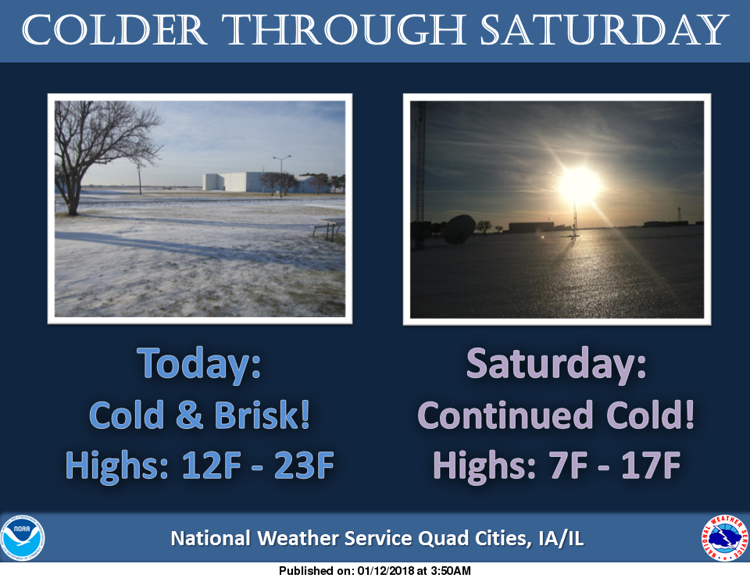 Today will be mostly sunny with a high near 19 degrees and a low around 3 degrees. Wind-chill values will be as low as -10 degrees. North winds around 15 mph will gust as high as 25 mph.
Saturday will be sunny with a high near 13 degrees and a low around -1 degrees with wind-chill values as low as -10 degrees.
Sunday will bring a 20 percent chance of snow after noon. Skies will be partly sunny with a high near 20 degrees.
Snow is likely in the evening with new snow accumulation of around 2 inches..  The chance of precipitation is 70 percent.
2. Man shot during dispute at Davenport barbershop
 A 26-year-old man suffered a non-life-threatening injury Thursday during a shooting at a Davenport barbershop.
Police responded at 12:47 p.m. to Devine Creations Barbershop, 717 W. Third St. The man was transported to a local hospital.
Preliminary information indicates that there was a dispute in the business between two people, which led to the shooting. Read more.
3. Doxsie's impressions from Hawkeyes win over Illini
See what Times sports columnist Don Doxsie has to say about Iowa's 104-97 overtime victory over Illinois. Read more.
4. Moline Sam's Club closing Jan. 26
ICYMI: The city of Moline will be on the search for another big box retailer for John Deere Road after news broke Thursday that the Moline Sam's Club is among dozens of stores being closed nationwide.
Moline Mayor Stephanie Acri said the city received notice early Thursday that the store will close Jan. 26. Read more.
5. What's hot this week in theaters
Browse the trailers and reviews for this week's new releases and box office hits from weeks past before planning your trip to the movie theater. Read more.
6. Work progresses on I-74 bridge
While the weather has been miserable, work continues on the new Interstate-74 bridge across the Mississippi River between Moline and Bettendorf. Here are fresh images from the work site.